You are in the right place if you are not in search of a TIG welder for the exhaust pipe for custom exhaust systems.
The purpose of this article is to present you a few Best MIG and flux-core welders for the exhaust pipe to choose from, depending on what suits your needs the best. Most importantly, the machines listed are practical, to assure you get the best bang for your buck.
Exhaust pipes are not usually very thick unless you are working with heavy-duty machinery, the minimum thickness I believe is around 16 gauge. Even the most primitive MIG and flux welders should get the job done. And if you need a MIG for the stainless steel exhaust pipe, don't worry, we got you covered!
So without further ado, let's get started!
Hobart Handler 500572 100 Amp Welder
For those of you who do not know, Hobart is one of the leading companies in the welding industry. They have been manufacturing filler metals and welders since the beginning of the 20th century. A company that has been around for such a long time itself indicates that this is a brand you can definitely rely on.
The first welder I have to bring to the table, as the title says, is 100 amp, Hobart Handler. The 500572 has everything you might need to start bonding pipes together in no time! (Expect the filler wire) Besides that, it is also one of the most suitable welders, like all wire feeders, for beginners and professionals alike.
The welder can be operated between 30-100 amps and it utilizes flux-cored wire, making it perfect for welding mild steel exhaust pipes, frames and for small repairs on the farm or home garage. Since the flux core penetrates deeper than regular MIG, the recommended thickness range is 18 gauge up to 3/16 of an inch to work with. Assuming you are only looking to weld thin sheet metal, the rated output should be more than enough. At 80 Amps you can run the welder 2 minutes in a row before the machine shuts down because it needs to cool down. At 45 amps the cycle is 60% which equals six minutes of welding, and at 30A it is 100%.
The design of this model is like all their welders. Relatively heavy because of the transformers used to produce the amps yet durable and sturdy at the same time.
Likes:
Pocket friendly
Well-known brand
Fits 10-pound spool
Durable design
Wide voltage range to work with
Dislikes:
Self-shielded wire only
Heavy machine
I have the full review on the 500572 welder here if you are interested
Forney Easy Weld 261 FC-I MIG
Forney is another US brand that dominates the welding market with more cost-efficient products. Their welders are designed to be cheap and durable enough for home users. Since I have heard a lot of good things about the welder from metal DIY enthusiasts and artists, this would be my second recommendation.
The Easy Weld is a bit more capable machine than the Handler mentioned earlier. Namely, the amperage output is far greater. It can be operated between 30 and 140 Amperages according to the manufacturer. Similarly to Hobart though, this one also only feeds flux wire, but for welding exhaust, it will do the work.
Since it produces more amps, it is also possible to weld thicker materials with this one – up to 1/4 inch. Thanks to the bigger amp range, the duty cycle is better as well. At 90A you can weld 3 minutes straight before you need to give some rest to the machine. That certainly is something that gives you more capabilities to work on a wider variety of projects.
The design of Easy Weld is not perfect, but it weighs only a whopping 19 LBS opposed to the Hobart 44 pounds. This makes the machine extra portable. If you are struggling with back pain like I do, your spine would definitely appreciate the decision.
Likes:
Big amperage range
Lightweight
Infinite controls
Great duty cycle
Really cheap
Dislikes:
I have a full review of the FC-I MIG here if you would like to know more.
Century 90 amp fc90 flux core welder
Many of you might not know anything about Century welders, but I would bet my money on that you have heard of Lincoln Electrics. Well, the Century is owned by the Lincoln welders and as far as I know, their quality is up to par with Lincoln.
Besides the quality, the overall built of the machine and the technology used is very similar to Lincoln. It crushes most competitors in the same, 90 Amp class welders.
The Century K3493-1 is one of the very few welders with a maximum output of 90 amps that uses inverter technology. Seems like they are bringing high technology to regular people. Inverter technology offers us a better duty cycle, it is more economical, lighter, yet more expensive.
Amazingly, according to the manufacturer, it is able to weld materials from 18 gauge up to 1/4  inch thick. I think it is a bit of an overkill, but without much hassle, you should be able to work with 3/16 thick material. It is surely more than enough to weld your exhaust pipe.
From the design aspect, it is a lightweight flux-core machine weighing only 19 pounds. For carrying it has a shoulder strap which is really nice. Imagine walking around with one of these over your shoulder to your neighbor's house to do some repairs at his place.
Likes:
Light
Affordable welder
Durable design
Infinite controls
Dislikes:
90 amp machine
Short work cables
I have a full review of the Century fc90 here.
Everlast Power I-MIG 140E
Now I saved the two best welders for last, one of which is this Everlast. The Everlast is a fairly new brand on the market, about 10 years old, yet they are already competing with the giants in the welding industry. How is that possible you might ask? It is unbelievable, but in my opinion, they are offering the best products on the market for half the price. The machines are not bad quality either, but the opposite.  Furthermore, they are so confident in the quality of their products that they offer a 5-year warranty.
The reason I saved this one for last is the price-quality ratio. You probably can not compare it with most of the welders on the market. As a huge upside, it can also weld aluminum and stainless steel because it is not a flux-core welder.
140E is a MIG machine that uses inverter technology, making it a lot more versatile and capable than most in the same class. For under 400 bucks you get a machine that produces 25-140 amps of power. The duty cycle is thanks to the inverter as good as it can get – at 140A it is 20% and 35% at 90 amps.
The 25 amps make it perfect for thin materials like body panels and exhaust
Thanks to the inverter, it is compatible with generators as well, making it possible to use when or wherever you need.  
Likes:
Really affordable
Flux-core compatible
Spool gun compatible
Light and portable
High duty cycle
Inverter technology
Infinite voltage control
5-year warranty
Dislikes:
Not the most well-known brand
No wire included
I have a full review on the I-MIG 140E here.
Hobart Handler 500554 190
Hobart line of welders is exceptionally practical, and for that reason, I have no other option but to introduce you to another model from their line of welders.
This Handler 190 is great welder if you work with metal fabrication on a daily basis, as a matter of fact, it is one of the best options for the thin metal in my opinion. That's because it has a bit more power to work for longer periods of time unlike other machines in this list.
Similarly to Everlast, you can also weld aluminum and stainless steel with it, making the 190 models perfect for pretty much everything you might encounter in a small metal fabrication shop.
As the name indicates, 500554 can produce anywhere between 25 to 190 amps maximum. Ideal for a variety of projects. The duty cycle is rated 30% at 130 amps – A lot more than the rest of the welders in I featured here.
The only downside that comes with that kind of power output is it can only run on a two-phase 230-volt outlet. Many homeowners do not have it, so make sure you are familiar with the current electrical system before ordering.   
Likes:
Can tackle many materials
Wide amperage range
Flux core and MIG process compatible
Can use spool gun if necessary
Affordable
Can work on industrial-scale projects
Dislikes:
Can only be used in 220V outlet
Can not be used with generators
I have a full review of the HH 500554 here.
Welding on exhaust pipe – How to?
I have repaired some flex pipes and fixed a few broken exhaust systems for friends and family. I have to say it is a pain in the butt, to say the least. Under the car, it is also impossible to do, and taking off the whole exhaust system is a must if you want to have great results.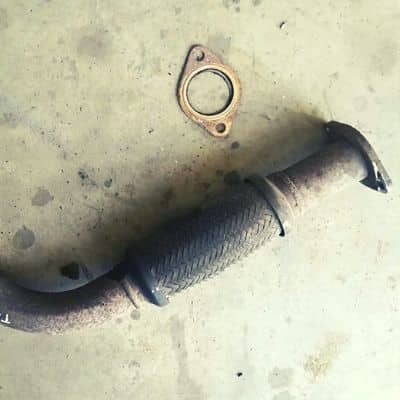 Before taking off the exhaust, depending on the condition of the pipe, you might have to mark down exactly how it was placed before unmounting it. That is important to avoid welding it together in the wrong position. If you are replacing flex pipe, you can do it later on before cutting the old muffler.
Now, the exhaust is almost always dirty, so you need to clean it up with a wire brush or a grinder. Make sure that any damaged or worn down metal is removed so you can replace it with some strips of sheet metal, or when necessary even with some new pipe.
Next, make sure that the ends of the pipes are completely straight and at the appropriate angle if you need the tubes to be bonded at an angle.
The joints have to be straight, most of the time at least. A simple trick to keep the joints seamless and on point is to use angle iron while welding. You can attach the angle iron under the pipe with welding clamps. This is a little neat trick that helps you get everything lined up nicely if you need to weld a straight part of the exhaust.
Welding exhaust pipe with MIG
No matter what machine you use to weld thin metal or exhaust for that matter, keep the beads short. About half an inch or even less to avoid burning trough.
Clean the metals to get better quality welds
Make straight cuts, and make sure the pipe is lined perfectly to avoid redoing your whole work.
Do practice welds before you proceed on the real work to make sure you have the right settings. With most of the machines that do not produce many amps, it is important to keep the weld burning as hot as possible without burning through. Especially with flux-core
Use two hands to control the welding gun. One hand to pull the trigger and another hand to support the nozzle of the gun. Make sure you are using proper welding gloves because the thing will get hot.
Welding with a stick welder
With stick welders, when it comes to exhaust systems, you have one huge advantage. You can also weld exhaust manifolds with proper electrodes. Nevertheless, the principles mentioned earlier under MIG welding are pretty much the same. The only difference is that stick welding is much more forgiving to rusty and dirty material. But still, I would clean the joints for better results anyway.
Overall, with SMAW, welding exhaust is more difficult. It could be done on very low amps and with small diameter welding rods.
Furthermore, striking an arc might be tricky for most on a small round tubing. As far as controlling the puddle goes, this is much harder with stick welding, because you have more control over the arc, and even the smallest movement can ruin the bead.
The only tip I can give you is to not be afraid to place one hand on the electrode for support when striking an arc and while welding. The rod will get hot eventually but it will give you a huge advantage to lay an adequate bead on the round pipe.
Welding Exhaust with flux core welder
 The same thing that applies to MIG and SMAW applies here as well. The major difference, as opposed to MIG, is that you need to keep longer stick-out of the wire. It should be around half an inch or a little less.
Important is to keep your amperage low with flux core. I would advise you to run test beads on similar materials to get the settings right on the real project.
As far as welding cast iron manifolds, it can weld manifold, it has been done, but not recommended at all. Most welders would call you crazy if you would take on something like that. There is a whole process for doing it and even then the success rate is rather small.
Welding exhaust systems Frequently Asked Questions
How can I fix my exhaust without welding?
There are not many options besides welding to repair exhaust systems, but one option that might work temporarily is using an exhaust pipe clamp that can temporarily be used to cover up any holes or cracks.
It all depends on the condition the tubing is in and where it is broken.
Can you MIG weld stainless exhaust?
Yes, you can definitely weld stainless steel with MIG welder. But it is not that easy. If you want your welds to last, you have to use a gun liner in which regular MIG wire has never been used to avoid contaminating it. Furthermore, the right type of shielding gas is needed to bond stainless with MIG.
What type of welder is used for exhaust?
For exhaust, depending on the results or the project you are working on, you can use TIG, MIG or even stick welding.
TIG welding would be recommended for custom exhaust systems that need to look clean.
MIG can be used for mild steel, as well as for stainless steel, but in most cases, it is not equally pleasing to the eye as TIG welds are.
Stick welding is a bit more complicated to do on thin metals, but it can be done without any issues if you have enough knowledge and skill.
Can exhaust pipe be welded?
The exhaust pipe can be welded with almost every welding machine depending on the Amperage output of the machine.
If you have a welder that is really heavy duty one, then it might not have an amperage option small enough to weld such thin metal.
I that case, you still might get the job done with small spot or tack welds laid tightly side by side to avoid burning through the material.
Conclusion  
All in all, picking the best welder for an exhaust pipe is a difficult task to take on which requires doing a lot of research. No matter what you are looking for, choosing one of the welders mentioned earlier on this list would be a decision you most likely will not regret in the future. Without exception, all flux wire and MIG machines are suitable for starting as a beginner and for professionals alike. All of which provide a lot of value for the money.
I am trying to provide you with the maximum amount of value with my articles and I really am hoping that it helped you to make the decision.
Since I have welded quite a few exhausts myself, I assume you probably need an extension cord as well, so check out this post to find one suitable for you.