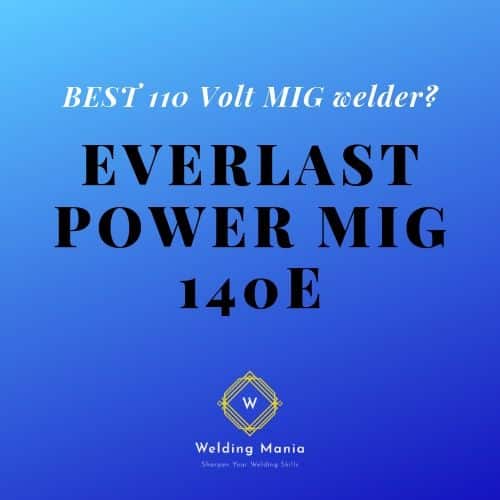 Introduction:
Gas Metal Arc Welding (GMAW) is one of the most well-known welding methods and its subtype, known as Metal Inert Gas (MIG), is the most popular. This is because MIG welding is very easy to learn and there is no cleanup needed. Also, if you have the right welder, this type of welding will give you a higher rate of productivity.
If you want to get into welding but are confused about which welder to begin with, here are some tips to get you started. In this post, we'll discuss the best MIG welders for beginners and also go through a buying guide so that you can make an informed decision.
Everlast MIG 140E Welder
The Everlast MIG 140 E is one of the best entry-level welders on the market. It is very lightweight and is equipped with the latest and most advanced IGBT inverter technology. This machine is perfect for anyone who wants something that is not too heavy and is compact as well. The Everlast MIG 140E is the best 110-volt MIG welder for beginners considering the price tag and the quality.  
Features:
Everlast MIG 140 E is an affordable machine with a low price and is best for some specific people and particular uses. It is an entry-level MIG welder and is good to be used in yard repair, home shop, or as a garage shop welder, for example, it is a great welder for auto body repairs. The welder is designed according to the welding needs of today and is equipped with an IGBT inverter that provides power according to needs. Thanks to the IGBT the welder is more lightweight and can produce more power from 115-volt input with greater duty cycles than regular transformer based welders on the market. Following are the main features of the Everlast MIG 140 E Welder which describe why it is the best 110 Volt MIG Welder:
Portability and flexibility:
The MIG 140 E is a small and compact welder and is very lightweight too. The device weighs only 20 pounds and you can easily carry it around and place it anywhere without having the help of a second person. Apart from being lightweight, the MIG welder is very flexible and versatile to. It can be operated anywhere easily and can be powered by generators as well, that again to the inverter technology. Because of this versatile feature, you can use the welder anywhere in remote places without worrying about the power source. Not only the welder is lightweight, but it has also decreased dimensions of 17 X 8 X 14 inches which is good for industrial projects and small spaces.
High duty cycle:
The Everlast 140 MIG Welder features a high range of duty cycles which is about 20% of the output of 140A and 35% of the output of 90A. This welder is also able to provide 50% of the higher duty cycle while sending 50% more power than regular machines in the same 110-volt class.
Usability:
The 140 MIG Welder is very easy to use as all the parts run very smoothly and no effort is required to operate. The controls are simple and responsive and if you have a little knowledge of operating a welder, you can easily select the settings and start using it. The MIG welder is best suited for garages and home welders for welding stainless or mild steel. Overall the settings are intuitive and easy to learn, you can read more about picking the right settings here.  
If you purchase a spool gun, you can also weld aluminum with it. The welder can be used to weld ¼ inch with good results as it can pump enough power. It can do from 24 gauges up to 3/16 very comfortably. It doesn't come with a flux core function included so if you're looking for flux core welding then you'll have to buy a separate drive roller.
Power:
The MIG 140 E Welder has a 110 V input power which allows you to plug it directly to any source in your home. Another positive thing about the welder is the infinite control of wire speed and voltage which allows you to fine-tune the settings and get the best results. The good thing about this welder is that it can run on very low power and voltage too. Its input power is 110 to 120 V which will deliver an output of around 25A to 140A. This power is suitable for different types of welding such as metal fabrication in home, shop, farm, garage, and so on.
Cost and Warranty:
The cost and warranty of the MIG 140 E are quite less as compared to other welders of the same feature. However, the welder doesn't have a flux core system with the needed drive roll, also changing the polarity to switch between flux core and GMAW might be troubling for beginners. The warranty provided by the company is for 5 years on parts and labor.
FAQs on Everlast MIG 140 E Welder:
Can the Everlast 140 E Weld Aluminum?
The Everlast 140 E can weld aluminum but with the addition of a spool gun. Using the spool gun you can easily weld small to medium aluminum projects. There is a direct connection for the spool gun on the front of the Everlast MIG and it has an on/off switch too. It is rated for being able to weld 3/32 inch and greater thickness and the voltage must be raised to the maximum because the aluminum sucks in more of the heat than mild steel.
What Shielding gasses does the Everlast 140 E use?
The machine can run on pure CO2 or you can use the standard 75% Argon and 25% Carbon dioxide mix for mild steel and for aluminum you'll need 100% Argon. You can also use tri-mix for welding stainless steel. The Everlast Power MIG comes with an Argon/CO2 regulator too. For 100% CO2 gas you'll need a regulator which is suitable to the CO2 gas. Just make sure that the regulator in use has to be placed nearly vertical so that the ball floats freely inside.
Does the Everlast 140 E use solid wires and flux core?
The Everlast Power MIG can use wire spools of 4 inches and 8 inches both and can take spools of up to 12 lbs. in weight. Everlast recommends a maximum of 0.030 wire but you can feed 0.023 inches to 0.035 inches wire diameter. The bad news about this welder is that it doesn't come set up for flux core by default. If you want to run a flux core, you'll need special drive roll to drive the wire which has to be purchased separately.
Is the Everlast 140 E a 120 V Welder?
The Everlast MIG 140 E welder needs a minimum circuit of 20 Amp and it uses normal household power of 120-140 volts. If you want to use the welder at maximum settings you'll need a 30 Amp circuit which will prevent tripping the circuit breaker.
Pros:
It is very easy to carry.
The IGBT components are very durable.
The increased duty cycle increases the welding time.
Cons:
No MIG wire included.
No door chart included.
More details at Amazon: https://amzn.to/2SBWm0p
Buying Guide:
If you want to buy a machine that can do all the tasks for you and isn't too hard on your pocket either, you must first look for the factors that are present in a good-quality welder. There are a variety of welders available on the market, each with different characteristics. However, if you want to find the right one according to your use, you must consider the following factors:
Input Power:
Most of the welders that operate on 110/120 volts will easy weld thin sheets of iron and aluminum. For home projects, a basic MIG welder running at 115V will also weld thin metals, such as the Millermatic 140. The more powerful industrial MIG welders are equipped with tons of power but are expensive too. Welders who most work on heavy-duty projects should go for the All-in-One multi-purpose welder which can operate either on 120V or 230V. To get started, you just need to switch from a low voltage plug to a high voltage plug.
The 220/230 V MIG welders or the multi-voltage welders with adjustable power of 120-230 V can be used for welding thicker materials. A combination unit is quite affordable but it isn't as powerful as the heavy-duty MIG welders.
Wire Feed Speed:
Just like the unit's power, the feed rate or wire feed speed also plays an important role in the performance of the machine. The wire feed speed is the speed at which the MIG wire will get fed from the machine to the gun. An uneven weld is created if the wire is fed too slowly because it will disappear the moment it will come into contact with the metal.
If the wire is fed too fast, it will create spatter as the cord will reach out from the gun. A good-quality MIG welder will be equipped with an automatic speed setting that can easily adjust the rate according to the relative power. If there is a separate setting for speed and power, you'll have to adjust the correct setting yourself.
Thermal Overload Protection:
Welding for too long can cause the machine to be overheated, and if not taken care of, you will have to pay the price. However, you can save your machine from overheating by choosing a MIG welder that features thermal overload protection. You should also check the duty cycle of the welder as it will determine the number of seconds you will be able to weld in a period of ten minutes before the welder has to cool off. If your MIG welder is a long-term investment, you must go for the thermal overload protection that acts as an insurance policy.
Spool Gun:
A spool gun is needed when you're welding aluminum because it gets jammed in the MIG torch while it's being fed from the wire feeder. When you attach a spool gun to the torch, the wire is placed some inches away and this eliminates the wire jams.
Portability:
If you're going to choose a metal inert gas welder, you must first consider its portability. Considering the size of the unit is imperative as it allows you to decide according to your storage space available. If you have a limited storage space, you must go for a MIG welder that is more compact like 140E, which in my mind is perfect small MIG welder to store in home if you do not have much space. Also, if you want to carry it around, consider one that is very lightweight and portable. Portability also depends on the type of welding that you need to accomplish. If you want to move the MIG welder around, you can also have a cart that can make moving around much easier.
Conclusion:
So we have reviewed the Everlast MIG 140 E in this post, which is from a big upcoming brand and is highly reliable and is known for quality. Everlast MIG 140 E is the best 110 MIG welder available on the market as it is the highest performing one and is also available at an affordable price.