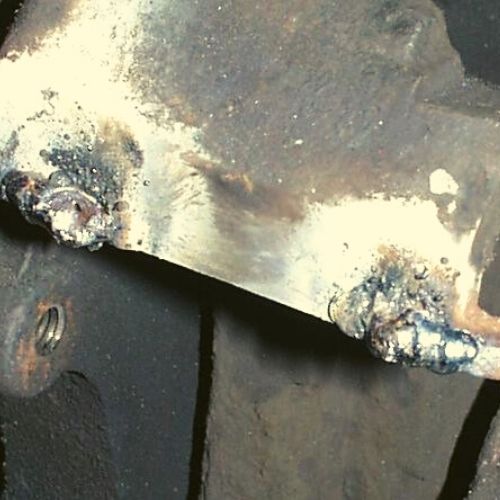 If you are just getting into the world of welding, slag is one word that might be one of the most overlooked topics around welding. A lot of people who are just beginning to learn and get into the world of welding don't really know the basics behind what slag is and how it forms. They might hear about it here and there, or someone might tell them to be cautious about it. I feel that you will be much more comfortable with handling slag and other issues if you know the ins and outs of it.
WHAT IS SLAG IN WELDING?
Slag is a by-product of consumable electrodes containing flux. When these electrodes are used in welding, they create a shielding gas cloud which does the job of protecting the weld pool and the arc – Later, when the weld has some time to cool, it forms a layer of slag. This flux is also responsible for providing the deoxidizers and alloying elements for the welded area. The slag can usually be chipped off after the welding process is over.
Slag can commonly be identified by the elongated lines which are formed along the length of the weld, these can be both continuous and discontinuous.
HOW IS SLAG FORMED AND WHAT'S THE PURPOSE OF IT?
During the welding process, when you strike an arc, the heat generated melts the filler metal and flux coating on the electrode. The melted filler metal is collected with the base metal into a molten weld pool. On the other hand, the melted flux coating generates a protective layer of slag combined with shielding gas. The reason for both of these by-products is to protect the weld pool from contaminants and other atmospheric elements. Once the welding process is complete this slag solidifies and gets collected on top of the weld bead, and it needs to be removed or chipped off after the process is complete.
The main use of this slag formation is to protect the bead against environmental oxidation and is only formed in some specific welding processes. (stick welding and Flux-core wire welding) The chemical nature of slag is a nonmetallic byproduct and therefore it becomes important for you to remove it, especially if there is going to be another welding pass. If you are not careful about removing slag it has the capability of weakening the welding passes.
The composition of slag is not only melted flux but also other atmospheric impurities including gases that were absorbed during the welding process. The formation of both the byproducts, slag, and shielding gas is important for the weld to be protected against porosity.
WHEN, HOW AND WHY TO REMOVE SLAG AFTER WELDING
You should always remove the slag formation if you have to deposit another bead on top of the ladder one to avoid impurities in the next weld. There are multiple methods of removing slag, but the most popular and easy methods are grinding, light chipping, or using a wire brush. As an extra tip, you should also make a note of the different cleaning tools used for different materials like steel, stainless steel, and aluminum. – These metals and metal particles do not go hand in hand when welding and can cause problems while welding. – especially aluminum and stainless steel.  
Sometimes you need to grind the surface of the welds between layers to make sure that the slag has been completely removed. This might need to be done while working with difficult electrodes like 6011 and 6010 with flaky slag. It is usually a bigger problem in narrow V butt joints or when the slag is trapped because of undercutting.
WHAT WELDING METHODS CREATE SLAG?
There is a whole range of welding methods out there that can create slag, the amount and type of slag also depends on the electrode you are using and the flux coating that it has. Some of the well-known and common welding processes are flux-cored arc-, shielded metal arc- and submerged arc welding. Yes, even self-shielded flux-cored arc welding (wire feed welding) and gas shielded flux cored arc welding produce slag.
CAN YOU WELD OVER SLAG?
You might think that the answer is a straight no but in reality, it is a bit more complicated. Usually, it is always better to remove and clean the slag before adding another weld. There are a very limited number of scenarios where you can weld over slag without cleaning provided certain other conditions are met. Although keep in mind that in over 95% of cases the answer is a no.
For instance in gas shielded flux core welding that produces the minimum amount of slag, it would be possible. On the other hand, since this method is for large-scale manufacturing, we'll not go too deep into that. So basically for hobby welders, the answer is no.
WHAT CAUSES SLAG INCLUSION
Let's make sure we understand what slag inclusion is. Usually, the molten slag solidifies on top of the weld but when it fails to rise to the top of the weld pool while it is cooling down, it can lead to the formation of slag inclusions. There can be many reasons as to why this defect takes place, some of them being poor quality flux, improperly handled flux, and lastly which is also the most common – poor welding technique.
Slag inclusion is also the reason why you can not manipulate the 6013 or 7018 rods as much as you can 6010 or 6011. This is also the reason why you can not weld vertical up with some rods.
The formation of slag inclusions will weaken the weld. Furthermore, it can reduce the life of the weld by giving way to corrosions in the weld joint. The crevices which are formed because of slag inclusion can provide extra surface area for corrosion.
WHAT TO DO IF YOUR SLAG IS HARD TO REMOVE?
While a lot of times slag can be easily removed by simple chipping, in some cases the slag formed can get pretty hard. If this happens there are some methods that might make it easier- like abrasive blast cleaning, flame cleaning, and grinding.
IS SLAG PEEL A GOOD SIGN?
A lot of people say that it will be a miracle if you get a good slag peel on a bad weld. Usually, good slag peels happen when the travel speed of the current was just perfect and no excessive ripples were formed in the process. A good technique also ensures that no undercuts or overfills are formed which are notorious for trapping slag within them, making the removal much more difficult.
DOES SLAG RUST?
The straight answer is that slag does not rust. However, one of the ways through which slag reduces the life of your weld is by increasing the rate of corrosion of the metal. The contact of the two different materials, the slag, and the weld can sometimes result in an increased rate of oxidation. One of the reasons I believe would be the fact that water could get stuck between slag and your bead, speeding up the corrosion process because the water or moisture can not evaporate as quickly as it normally would.
By the way, if you are in search of a welding rod for rusty metal, check out this article.
FREQUENTLY ASKED QUESTION
Slag is something which is a worry for welders at all experience levels, but it can be especially worrisome for newcomers. That's why it is important to get your basic concepts clear so you can be confident.
Hope this FAQ section will clear some doubts in your head.
DOES MIG WELDING PRODUCE SLAG?
There are some welding processes out there that do not use any flux, so they produce very little to no slag. For example, some methods like Gas metal arc welding also known as MIG, and gas tungsten arc welding produce very little or no slag. The biggest reason for this is the use of inert or semi-inert gas mixture, which is usually externally supplied, which does the protection job from contaminants.
HOW DO YOU PREVENT UNDERCUT?
Make sure that you are using the correct amount of heat, on top of this try to weld at the right speed. Also make sure that your arc voltage is not too high or arc too long, sometimes even the electrode size and the travel angle can cause undercuts.
Sometimes welding in a vertical position can increase the probability of you forming undercuts, that's why a flat position is always preferred and you might need some practice and experience to weld perfectly in a vertical position.
HOW TO PREVENT WELDING DEFECTS?
Most of the welding defects like porosity, overlap, and distortion have one common way to prevent them, that is to be careful and don't try to jump straight to welding without paying attention to the correct voltage, ampere, electrode, and the welder itself.
CAN YOU LEAVE SLAG ON A WELD?
As I mentioned above, it is never a good idea to leave slag on metal especially if you are planning to add another layer on top of the existing one. Leaving slag on a weld can reduce the overall life of the weld.
WHAT IS SLAG USED FOR?
In a lot of industries, slag is produced intentionally while in the welding industry a lot of people avoid it. In stick and flux core welding slag is used to protect the molten weld pool from external contaminants in our atmosphere. Slag is not the only way to get the job done though. For example in MIG and TIG welding, a shielding gas is used for the job that does not produce any slag.  
CONCLUSION
The aim of this article was for all the people who have just started welding to get a clearer picture of the basics of slag. It is one of those things which can be pretty intimidating. Once you get to know the reasons for its formation, the topic becomes pretty easy. I hope this article achieved the purpose I wanted it to.