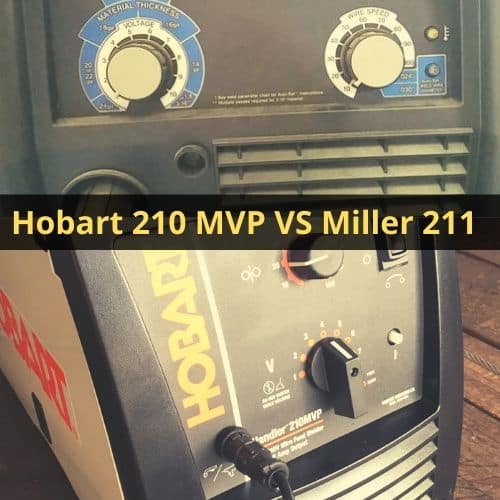 Hobart Handler 210 is not the latest version in the lineup of welders by Hobart, but it is great nevertheless. The goal was to create a design that will work perfectly not only for everyday users but also for a novice. Hobart aspires for introducing versatility and efficiency in its designs to undertake any task with ease. The welder is loaded with the ability to impart excellence in all kinds of user tasks, ranging from light fabrication works to heavy-duty manufacturing projects.
Professionals and veteran users are pros at tackling such machines and taking on complex projects with ease. The problem is with amateurs and novice users who are not adept to handle such apparatuses. This is what gives Hobart 210 distinction among other welders. It is targeted to offer perfection and precision in welding projects not only to hobbyists and do-it-yourselfers but also to professional ones. So it makes a great welder to start your learning process because you have a lot of room to grow before need a bigger welder.
While this may be true, The Millermatic 211 is another highly acclaimed machine, belonging to the category of welders, that has a dual-voltage plug. It has the potential to weld up to 1/4 inch mild steel. It is capable of both MIG and flux-cored welding. It is packed with a lot of additional features and well-designed parts that target reduced set up time. The functionality and flexibility of this versatile machine is ideal for a wide range of projects. The Millermatic 211 is a perfect demonstration of compact design supporting excellent performance.
Hobart 210 vs Millermatic 211
The Hobart 210 and Millermatic 211 are both exceptional machines of the same category capable to offer great performance.  Take a look at their specifications in the table below to find out how do they compare and contrast to each other. 
Specifications
Specification
Hobart 210
Millermatic 211
  Weight
  79lb
  38lb
Duty Cycle
115 V, 90A @ 20%
230V, 150A 30%
115 V, 115A @ 20%
230V, 150A @ 40%  
  Input voltage
  115/230 V
  115/230 V
  The thickness of the base metal
  24 ga. – 3/8 in.
  24 ga. – 3/8 in (240v)
  Type of process
  MIG and Flux Core
  MIG and Flux Core
  Wire Feed Speed Range
  40 – 680 IMP
  60 – 600 IMP
  Amperage range
  25 – 210 A (230 V)
  30 – 230 A
  For More Details Check Amazon
  Details
  Details
When put side by side, you can see that the Millermatic 211 is slightly more powerful and it also has longer duty cycles.  Hobart, however, is a heavier machine with a smaller amperage range. That's because Miller is a bit ahead of it's time when we compare these machines. The efficiency and lightweight are due to the inverter technology used by Miller.
Functionality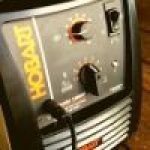 The Hobart 210 MVP is one of the most highly rated welders in the market that works perfectly for both regular home 120 V and 240 V input. The feature that makes it stand out from the cheap welders- it's easy to set up and has simple controls – only three control knobs – on/off switch, voltage switch, and amperage knob. The user-friendly knobs allow for adjustment of voltage and amperage without taking off the gloves which is a huge factor for me personally. It is packed with the ability to weld up to 3/8 inch thick metals and the model also comes with an explanatory chart illustrating what settings to use for welding depending on the type of gas, metal, and wire used. This time-saving technique that works well for beginners.
As for the Miller 211, the highlight of the product is its striking feature of Advanced Auto-Set. You can find a number of simple options on the face of the panel to set it up and start welding. First, the wire diameter – ranging from 0.24" to 0.35" – needs to be selected. Once done, blue light's up at the right of the pane to indicate that the Auto-set has been set. Next, you choose the process type from five options. They are Flux-cored, MIG stainless steel, MIG steel C25 – 25% carbon shielding gas –, MIG steel C100 – 100% carbon shielding gas – for MIG aluminum.
The final step is the selection of metal thickness. After that, the auto-set feature sets the correct welding settings automatically. It's simple, quicker and provides high arc performance intends for excellent user experience as compared to other welders.
Power 210 MVP vs Millermatic 211
Hobart 210 is built with full flexibility aiming to obtain premium quality welds. One of its best features is that it helps you to switch between two individual input voltage receptacles with ease. It will execute a standard voltage and if you unscrew the 230V plug and stick it to regular household output, it will automatically detect the change. You can choose 7 different 230V positions from this segment and 4 different 115V voltage positions.
Its versatility is due to the output range of 25A – 210A at 230V and 25A – 140A at 115V. It gives an operating period (duty cycle) of 20% at 115V (90A) and 30% at 230V (150A).
On the other hand, when it comes to the Millermatic 211, its multi-voltage quality, allows us to use it indoors on household power input or plug it outdoors to a generator as well. The design is suitable for maneuvering between the two with ease.
It has the potential to weld, in one pass, 24 ga – 3/16" steel. It also packs a powerful cooling system controlled by the user, which can be activated when the welder requires cooling. This is available for both reducing waste energy and noise.
Portability
The 79 pounds' weight of the Hobart 210 makes it a heavy machine, limiting its portability. You may require a wheeled cart to carry this welder around. The cart will also come in handy for stacking all your cables and gas cylinder in one place.
As for the Millermatic 211, it is substantially lighter in weight comparatively, a mere 38lbs due to its feature of inverter technology. However, its normal size allows for a wire spool of 10lbs to be packed and carried inside. There is a handle on the machine which helps to pick it up easily from both front as well as rear end. Its portability gives it an edge over Handler 210 and other such heavy welders. Its lightweight makes it suitable for both indoor and outdoor jobs.
Characteristics of Miller 211 and Hobart 210
To say that the Hobart 210 MVP is the MVP in the market holds true because of the versatility, efficiency and easy-to-use design suitable enough even for beginners and amateurs. This heavy-duty MIG welder can tackle any welding project efficiently for a reasonable price.
The Hobart 210's versatility makes it a decent choice for welding aluminum, stainless steel, mild steel, and other materials. It supplies 210-amp power for operation with the ability to run on an input power of 115V or 230V without the need of tools.
The Hobart 210 comes with an optional spool gun for aluminum as well. The gun can be affixed to the welder in seconds without needing extra tools. It is highly recommended for precise and efficient aluminum welding, or if you need to weld with smaller diameter wire like .023".
Its ability to handle a wide range of voltages sets it apart from many welders. The Hobart Handler 210 works exceptionally well with both 120V and 220V power outlets. If you have been connected to a normal 110V power socket, the Handler 210 will use up to 140A to weld 1/8th steel in a single pass not to mention if you can bevel your material. If this is not adequate, then you can easily shift plugs to connect to a 220V power source.
On the other hand, you can also count on the Miller 211 to give efficient results. The small and compact design is packed with plenty of features. It is reliable for welding both thick as well as thinner materials. Its inverter technology with the combination of lightweight makes it the most versatile welder of its type. This gives it a slight edge over Handler 210 which is double in weight.
In terms of price, Millermatic 211 offers great value for money. Also, its user-friendly design is suitable for a novice. Moreover, its multi-use plug can be hooked to both voltage systems without needing additional equipment.
This is one of the best choices available in the market for almost anybody, no doubt about that. But when put side by side both the machines come with easy setup and user-friendly features. As soon as they are out of the box, with easy setup, you are ready to start your welding projects in no time.
Pricing
 The Hobart Handler 210 falls in the pricier category of the MIG welders as compared to some other counterparts from Asia available in the market. It is mainly because the product is made in the USA.  In terms of performance and power, it is somewhat ahead of other welders and hoarded with features that makes it worth the price. It also comes with an industrial warranty. This is an option for those who are looking for a budget-friendly welder that you can count on.
Compared to the Hobart 210, the Millermatic 211 is even more expensive. While this may also be a hefty price tag for some occasional users and do-it-yourselfers, but competing against Hobart 210's price this is a decent amount of money. Its auto-set feature and inverter technology are the most notable benefits of using this machine.  The advanced technology gives Millermatic 211 an edge over Hobart 210, and if you have the bucks to spend, I'm all for it.
Advantages and Disadvantages
Here are some of the advantages and disadvantages of both Miller 211 and Hobart Handler 210 MVP.
Hobart 210
| | |
| --- | --- |
|   Pros | Cons |
| It is compatible with both 120V and 220V power outlets. |   Its heavyweight of 79lbs limits its portability. |
|   It offers variable voltage control and easy set up with reduced time. |   It has a restricted duty cycle. |
| Suitable for do-it-yourselfers, novice as well as professional users. | Transformer based electrical system   |
| Can aluminum welding due to its compatible spool gun. |     |
|   Cast aluminum drive system |     |
|   Really durable machine |   |
| | |
Millermatic 211
| | |
| --- | --- |
| Pros | Cons |
|   It can automatically set voltage and wire feed speed. |   It is too pricy for most |
|   It can be used anywhere due to its variable input power adaptability. |   Its ground clamp is frail and shaky. |
|   Due to its lightweight, it can be easily carried around. |     |
|   It is easy to set up due to additional features. |   |
|   It offers high-quality weld due to infinite power controls. |   |
Conclusion
In conclusion, it can be said that both the Handler 210 and the Millermatic 211 work exceptionally well for hobbyists, novices, as well as for metalwork shop owners.
The Hobart retains its reputation in my eyes by creating this powerful and reliable machine suitable for a wide variety of applications. It tops the chart with its dual voltage feature which works well for both residential 120V and 220V power outlets. The plugs are designed to connect to both power sources. Due to its simple controls, it is the best option for those who want a premium quality welder for home use as well as light fabrication projects.
As for Millermatic 211, it is the best option for those who want excellent quality. The machine falls on the expensive side, but it is packed with exceptional features for those who love detail and precision in work. It has been meticulously designed to not only look elegant but also work up to the mark due to its characteristics of reduced installation time, lightweight, and improved user-friendly experience. It is a little bit expensive, compared to others on the market, but if you have decided to spend money then investing in this welding machine is a safe choice.
Verdict:  To say that Hobart Handler 210 MVP is inferior to Millermatic 211 would be an understatement as both promise exceptional performance and a wide range of usability. However, Millermatic has a slight edge over Hobart 210.  The lightweight and portable size of Millermatic 211 puts it one step ahead of Hobart 210. Also, the duty cycle of Miller 211 is better than Hobart 210 MVP.  When it comes to portability Millermatic is smaller, lightweight and much more flexible. Also, the Millermatic is more versatile as it has the capacity to allow connection to both direct outlets as well as generators. Meaning, it is compatible with both indoor and outdoor use without causing any nuisance to the user.