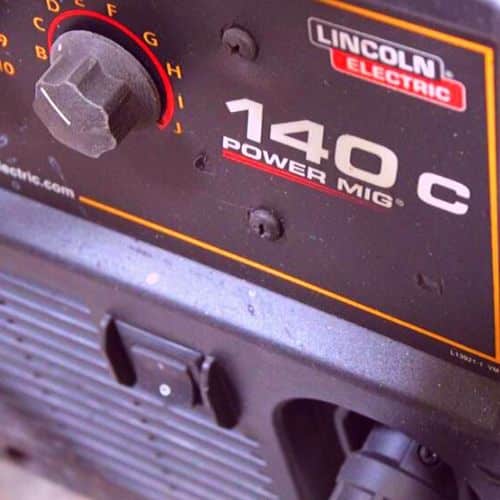 Introduction
Welding is the process where two or more materials are joined together by using a certain type of energy source. This can be done by using heat or pressure to melt the materials and fuse them. It is done on metals, plastics and sometimes, even wood.
Welding is a vital part of the production or creation of things, often not gaining the most popularity. Its developments include gas metal arc welding, magnetic pulse welding to robotic welding. It is famously used in the car manufacturing industries and in other manufacturing. It is not always that large scale though, it is very commonly used in our homes, and while for some, it is a very important skill to learn, for others it is just craft, and they do it for fun and to create art.
Lincoln 140C
One example of welding machines is the Lincoln 140 model, which is a variety of welding machines differing a bit in specifications depending on their prices. One of the newest and most popular ones is the Lincoln 140 C.
Most Lincoln 140 C reviews display how popular they are amongst welding enthusiasts and at home welders. But what makes the 140 C stand out amongst other types of welders like 140 and 140 HD?
The most important point to remember at the time of purchase is that Lincoln 140 C is not a plastic or a cheap welder. It is produced by top of the line welding company called Lincoln Electric. This is a dependable and powerful tool and can work on a 120-volt household with its 140-amp power.
There's a certain misunderstanding between Lincoln 140 welders, and that is due to the fact that they offer two different versions. The specifics between the two resemble, but one is equipped with newer components and is priced differently.
Retail Lincoln 140
The Lincoln Welders are often found online, and at home stores, all of these share the same components and details, they all look identical except for their model names (Weld Pak 140 Hd, MiG- Pak 140, Easy-MIG 140, PRo MIG 140) and face-plates.
Commercial 140 C
Online and local providers sell the upgraded model known as Lincoln Power 140 C. Also known as the ''commercial'' model. Although its details and appearance are similar to the cheaper retail welders, when you look carefully, there are massive enhancements in the voltage control, wire drive and power source.
Features of Lincoln 140 C
1.      Diamond Core Technology:
Lincoln's newest welders like the 140C are developed with a diamond core technology. It is built with a newer power source to deliver automatic inductance control. This helps to provide a much more sophisticated and secure arc. The security of the arc is upgraded in the 140 C compared to the previous models like 140 HD who deliver a smooth arc as well but not as great as the 140 C.
Variable inducting can aid you in creating better welds despite your welding experience. It's certainly more helpful with thin materials and perfect for auto bodywork. When the 140 C is in MIG mode, it works with a smaller rating for broad materials compared to the 140 HD model, which does not contain the diamond core technology.
2.      Wire Feed
It is common knowledge that a wire feed system is the heart of a MIG welder and Lincoln Electronics is aware of that. They made sure they were not taking any risks when it came to this aspect and equipped the 140C with the tough metal wire feed drives, which are flexible from 50 to 500 inches per minute. Although the specifications are similar, Lincoln never uses the same drive in all models.
3.      Wire Guides
Lincoln gives two-piece wire guides. Switching the wires may be a tiring task, but it is fast and doesn't require any tools. The 140 C has also upgraded wires, which are reliable and ensure a more stable arc.
4.      PC Board
Although the regular models of Lincoln like the 140 HD do not regularly encounter problems despite their open PC board, it is still recommended to use a fan or any cleaning tool to remove the dust from the welder. The 140 C comes with a closed and ruggedized PC control board, securing the costly equipment from dirt and possible mishaps.
5.      Spot Timer
Unlike the previous models of Lincoln Electronics like the 140 HD, 140C has the optional K2525-1 spot timer, which is useful for thin metalwork.
6.      No Hassle Tool-less Design
No extra tools are required for the 140 C when it comes to the input design changes, wire spool mounting, polarity changes, and wire drive service. That saves the consumer the extra work and cash.
7.      Spool Gun Ready
The 140 C provides the customers with the option to remove the standard MIG gun and insert the economical Magnum pro 100 SG spool gun for a much-improved aluminum wire feeding experience.
8.      Industrial Cast Aluminium Drive
The 140 C is equipped with dual gear-driven rolls, which promise positive traction. It also comes with individual split wires that assure wire alignment. Alongside this, there is a brass-to-brass gun connection, which helps with important conductivity.
Specs of the Lincoln 140c
Input power 115/1/60
Rated Output 90A/19.5V/20%
Input Current 20A
Output Range 30-140A DC
Net Weight 58 lbs (26.3 kg)
Products included with the 140C
Magnum Pro 100L Gun, 10ft (3.0m)
Gas and Gasless nozzles
Work Cable and clamp
Adjustable Gas regulator and Hose
Spindle adapter
Learn to use DVD
Cable liner
Sample spool of 0.035 in 0.9 mm contact tips
Knurled Drive roll 0.030-0.045
Wire guides (0.025-0.035 inch) and (0.035-0.045 inch)
Products Recommended With the 140 C
Welding Cart
A full cart, which is specially created to transport the machine, 80 cubic foot gas cylinder, welding cables, and other items. Alongside this, there are two shelves for the consumer's access and preference for whatever they choose to put on there as their welding kit.
Check this one out:
Canvas bag is best for the storage of welding tools and accessories.
Magnum PRO 100SG Spool Gun
It is crafted to feed 4 inches, diameter 1 lb, spools of 0.030 inches super glaze aluminum MIG wire. In addition to this, it includes a gun, adapter kit, contact tips, gas nozzle, and a spool MIG wire.
Warranty
Lincoln Electronics has a 3-year part and label warranty. This safeguards your 140C welder. However, this warranty does not apply to the gas regulator (one year) and the MIG gun (90 days). The use and damage of the cable wires are not included, as well.
If the customer needs the warranty, it is advised they entail services from the Lincoln Authorized Service Facilities. However, it falls on the customer to transport the welder to the service facilitator, so it is recommended to check nearby stores before you make the purchase.
Lincoln 140C vs. 140 HD
While the Lincoln 140C and 140 HD share the same specs in output power (30-140a), Wire feed Speed (50-500 imp), and wire-speed control (infinite), there are significant differences between the two. Where the 140 HD has a voltage control of four fixed levels, 140C has infinite control. Similarly, 140 HD is paired with a Magnum 100l, but 140 C comes with a Magnum pro 100L, which an improved version. In addition to that, the 140 C is equipped with the diamond core technology, but the 140 HD isn't. However, 140 C is more expensive than the 140 HD, almost having a $300 difference between the two.
Reviews on the 140 C
The overall, if not most of the reviews on the 140 C are positive, some claiming it extremely helpful for beginners while others commend the long wires making it easy to use the machine in desired places. However, there are some complaints about the welder being too heavy and not portable enough. Alongside this, there is a general complaint of the fan noise being too loud when the welder is on.
Conclusion
There are multiple options in Lincoln Electronic. The 140 is for easy and beginner use, ideal for small, home, or farm-based work. ON the contrast, The Lincoln 210 MP (My post about 210 MP here) is the best option for heavier work having a flexible multi-voltage MIG welder and shares similar to wire feed drive of the Lincoln 140C
However, the diamond core technology with variable inductance, excessive voltage control, and sturdy wire drives, the 140 C delivers a unique experience. It works for regular usage in small houses or even for enthusiasts and passionate welders. Not only this but it is also perfect for consumers who work on bigger projects and look at welding as more than just a hobby.