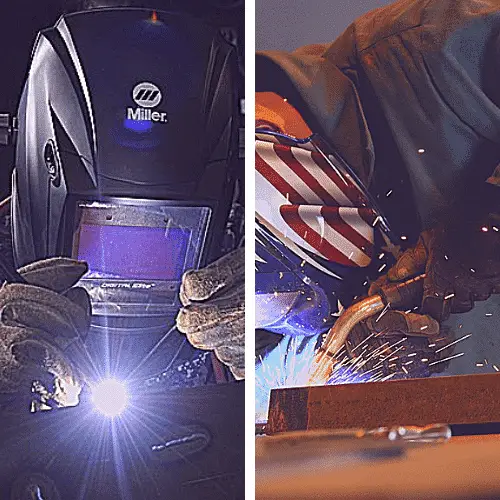 The days of using a different welder for every type of job seems to be coming to an end, mainly because the multi-process welders are the best when it comes to functionality and versatility. Multi-functional machines are simply designed to do every job possible that one can do in a workshop.
If you are a professional, looking to add some equipment to your arsenal of tools, or just a beginner welder who has some interest in learning multiple welding methods, then the best multi-purpose welder, in my opinion, would be the Everlast 251 Si.
For those of you who don't know, 3 in 1 welders are fairly new to the market, due to that most of them are extremely expensive or produced and copied by some cheap companies. I did some research and talked with a few of my old friends, and found out that this Everlast is well worth the money considering what you get.
So without further ado, let's have a look.
Features & Benefits:
The list of this multi-functional welder's features actually seems endless, I tried to write down the most important ones but you can find out more about it on Amazon.
Inverter-based, which helps to squeeze out more power for less input.
Dual voltage so it is possible to use it in every possible location you can think of.
Process types: MIG (spool gun compatible to weld aluminum),  Stick and TIG
Max wire speed: 600 ipm
Can fit 12" wire spool
Wire sizes between 0.30-  0.45 inch
TIG output and range:
– @120V 150A 40% duty cycle/ 10-250A
– @240V 250A 40% duty cycle/ 10-250A
Stick output and range:
– @ 120V 120A 40% duty cycle/ 10-120A
– @ 240V 200A 40% duty cycle/ 10-200A
MIG output range and range :
– @ 120V 150A  40% duty cycle/ 30-125A
– @ 240V 250A  40% duty cycle/ 30-250A
Pulse MIG from 20-500HZ and for TIG .5-250HZ
MIG and SMAW arc force control
Can run on flux-cored wire
Synergic function for GMAW
9 channel memory system to save your favorite settings
2T/4T torch trigger
The Design of 211 Si Multi-Purpose welder
Unlike other multi-functional welders, what really pleases me with this particular model is that when you start the machine, you can't hear the cooling fan running. It may not seem like a big deal, but if you have to sit in the same room with a welder that sounds like a tornado then by the end of the day I would go crazy.
The control panel itself looks complicated at first even to experienced welders because there are a ton of buttons and options to choose from, but it is actually extremely logical if you dive into it. The buttons on the welder are really good and responsive thus there is no problem fine-tuning the settings while you have the clumsy leather gloves on.
It is super easy to navigate between different modes and it is even possible to save your MIG settings as well as TIG And Stick settings, (in total 9 settings) which can be very useful if you have to weld on many projects at the same time. Furthermore, very impressive feature worth to mention, while you are moving the amp notch in standard position, it changes the amps one by one, and if you push the notch in, it moves at ten amps at the time, meaning you do not need to go crazy when you are adjusting the settings manually and on the other hand if you need to use really precise settings, it is possible.
What really makes this the best multi-purpose welder, it has fully synergic mode for welding settings which helps to match the voltage and wire feed speed, and for this price tag, in my opinion, it is mind-blowing!  It really saves a lot of time and helps you to get up and running a lot faster while making it much easier for beginner welders to use as well.
TIG Welding Function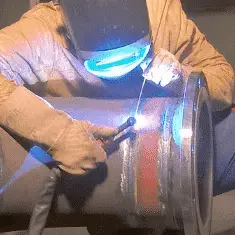 As expected, it includes a TIG kit with foot pedal made out of stamped steel making it unbelievably durable, and if you don't want to use that, it has thumb control as well. What's really cool, the TIG hose is covered with a heavy-duty denim sheet, which is a very nice addition to add durability and increase the lifespan.
On the front side of the machine, it also has a gas port, so the setup is more similar to a regular GTAW machine than some multi-process welders which require additional valve on the torch. Furthermore, unlike many other brands, this piece of equipment does not only offer a lift start but it has high-frequency start as well, and to my knowledge, it is one of the few multi-purpose welders on the market with HF start.
While welding, you can't say anything bad about how it runs, the arc itself feels really smooth and crisp. One minus is that you can't weld aluminum with the GTAW method, because it is AC only, but it still is compatible with a spool gun.
The SMAW Function
As you could've expected from 3 in 1 welder, it has stick mode as well. It runs a 40% duty cycle at 200 Amperages as I mentioned before, helping to find the best use for this multi-purpose welder whether you have to work on delicate parts or on rusty farming equipment.
251 Si comes with a very strong and durable stick lead which you can find almost on every Everlast SMAW welder. If you have used one before, you know that the design of the stinger lead and the electrode holder is top-notch and it has a standard connection.
The stick process comes with an adjustable arc, hot start, and like everything about this machine it feels phenomenal, the arc is really smooth. It is unbelievably easy to weld with 7018 rods and even with 6010 electrodes that usually struggle to run on inverter welder run really well.
GMAW Function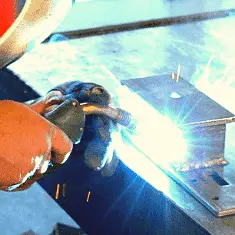 While being capable to run at 250 amps, this multi-process welder includes ergonomic MIG gun with nice, soft touchpads to make it more comfortable. As a huge plus, it also has a standard European connection socket, meaning it is really easy to attach the gun and find spare one if you need it. Furthermore, the Everlast 251 Si comes with a gas regulator made out of solid brass with a proper scale in cubic feet per hour.
What I personally really like is that the nozzle end of the welding hose, it has a nice clean look because it is covered with chrome making it so fancy that you probably even don't want to use it.
Like all the quality welders on the market, it has heavy-duty cast aluminum wire drive system which is not very common among most cheap manufacturers and the welder itself can hold up to 12-inch big wire rolls, which is nice to save some money if you want to weld a lot.
Pros:
What you do not see on many multi-process welders at this price point is that it has a high-frequency start and pulse welding feature for MIG welding as well as for the TIG process.
Includes standard, common leads and torches except for the spool gun
The duty cycle is long thanks to the inverter technology amps
The price is relatively cheap for all the features that you get even if compared to smaller welders on the market.
5 Year warranty
Cons:
As a downside, it does not have AC current function so if you want to weld aluminum you have to use a spool gun, but yes, you can use pulse function with spool gun as well.
Conclusion
This multi-process welding machine does everything it is supposed to do, and considering the cost, it really over-delivers on the functions. It is fairly easy to set up and switch between different welding methods thanks to the synergic dialing function. Furthermore, it has different start functions and pulse welding capabilities that can come really handy. I can't keep from mentioning the quality of  Everlast's 251 Si wire drive system and that they do not try to save money on things like torches.
As you know, the list of functions and positive things about this welder are endless. It simply exceeds every expectation when it comes to versatility, functionality, and to price-quality ratio, making this undoubtedly the best multi-purpose welder in my opinion.
If you are still considering whether to buy one or not, I would say go for it. Even if compared to other entry-level beginner welders which some are in the same price range at least not too far off, it seems like an easy decision to make, since, with the 5-year warranty, you do not have much to lose.
If you are still on a fence, you can read my article comparing the two multi-process welders from veterans in the welding industry, Miller 215 vs Lincoln 210 MP