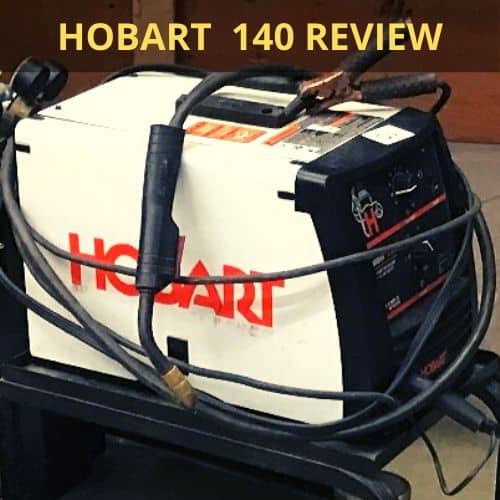 The Hobart line of welders needs no introduction. Amongst professional welders, the Hobart line has a very well-established reputation. For a very reasonable price, you get an excellent product. As with any American product, it is well designed with a great interface. Highest quality and excellent craftsmanship are the most apparent features of the Hobart Handler. This is the smallest machine in the flux/MIG piece of equipment in the Hobart range. It is a standard machine that runs on the standard power source and weighs as less as fifty-seven pounds. This makes it a portable device that makes it suitable for homeowners as well as professionals.
Specifications of the Hobart Handler
The Hobart Handler (500559) 140 welder is a compactly built welding machine with extensive functionality. This machine can be used for various welding processes, such as MiG, as well as the flux-cored. This means that you have the flexibility to weld both, outside, in the wind, or with the shielding gas, inside. Given the welder machine's size and specifications of the machine, the results are surprisingly professional. The machine gives superb quality and versatility even on an ordinary household power supply. It would not be wrong to say that this is the best-selling wire welder from Hobart. To make it even more portable, you can invest in a welding cart as well.
Reasons to buy Hobart Handler 140
There are several reasons to buy the Hobart Handler. It is very easy to use the machine and a significant consideration if you are looking for an entry-level or just a very portable machine for smaller jobs.  It is the right tool for stainless steel, aluminum, and carbon steel, be it a household job or a professional job.  With respect to value for money, this product is the right one. This has an endless list of capabilities. You can weld trailers, work machinery, BBQ pits, grilling devices, sports equipment, ornamental design, artwork, etc. This machine may be small, but it pulls its weight like a donkey. It is not a heavy-duty piece of equipment, but nonetheless, it gives you excellent results, day after day no matter how hard the work is.  In this model, there are a lot more pros than cons and shortfalls. The cons are pretty few for this price point and can be easily overcome.
In terms of settings as well as fixtures, there are proper settings for both MIG welding as well as for more heavy-duty work with flux-core.  The most surprising and impressive feature is the safety regulators, along with the added spare contact tips as well as a spool of wire. All these small things that manufacturers pay attention to add to the value of Hobart 140. The machine is extremely easy to use and easy to put together. It doesn't require any expertise or a high level of experience to begin using it. This makes it great to use at home. Similarly, if you are looking for a lightweight, portable machine for use around the workshop, this is the perfect choice for anyone who needs to take on smaller projects.
Features:
Exceptional build quality: the quality of the machine is evident as soon as you open the box. It is on par with most of the well-known and expensive brands. The machine is sturdy, made of steel, but the light at the same time. The guns and the cables are lightweight as well, so it is easy to carry and does not tire you out while using.
Portability: One of the greatest qualities of this welder that differentiates it from others is that it is very portable. It can be taken anywhere with you, whether it is the backyard, neighbors house. Especially for a workshop, it is similarly easy to carry. This means that you have the flexibility to weld almost anything and anywhere. The design makes it easy to set it on a welding cart, and this makes it even more portable.  
Using standard power supply: The Hobart Handler 140 may not be usable with generators, but it doesn't mean that you can't use it at home. It works on a standard power supply, so as long as you are indoors, or in a range of a power supply, it is a safe and reliable way of welding. As long as your home or workplace has a standard 115 volts, you don't need to worry. You plug it in, and you are good to go. It is safe to use at home.
Versatile: the machine can run between 25 and 140 amps and can easily weld material ranging from 24 gauge to even mild steel 1/4-inch thickness in multiple passes. This makes it an all-rounder device.
Excellent arc control: it doesn't matter what materials you are using, the arc created will be smooth and steady. This depends on the voltage selector, which has the option of five settings that you can select. This means that you can easily select the voltage that will suit your material and your project.
Ready to use: If you need to get started right away with the MIG welding, you don't need any extra equipment or large installation to get started. This makes it an extremely cost-effective product and even quicker to use.  
Safety features: other than the flexibility that the Hobart 140 offers, there are plenty of failsafe systems and safety precautions that keep the usage of this welding machine safe. These include an overload system that has the capability of resetting itself as well as a mechanism that makes the wire safe until you pull the trigger. It also protects you in case there is a case of a high surge of current.
User manual in the box: The machine is as it is very simple to use and assemble. This takes just a few minutes to install, and once you're done, it's a breeze to use. If you ever get stuck, there comes a handy manual that lets you get out of problems.
Excellent results: Even though it is a comparatively low power machine, it has impressive penetration and very smooth welds.
Pros and Cons of the Hobart Handler 140
Pros:
Versatile in terms of power consumption
Smooth wire feed; does not get stuck while drawing in our out
Full of safety features: this is a huge advantage this product has over similar machines in the market
Compatible for home use
Clean results with smooth arcs and welds
Comes with the user manual
Cons:
Not to be used with generators: although it is portable, and can be used for heavy work, it is not compatible with a generator. Hence it cannot be used without power outlets. The welder might be portable (although picking it up and moving it regularly can be exhausting work. The leads are too short to be practically used outside. It should be a bit longer to make it useful. This limits the portability of the machine in a way. Of course, you can buy an extension cord suitable for welding.
A smooth wire feed is tough to set up: this is usually done if welding has to be done with flux core wire. Some complaints were received about not being able to feed the wire smoothly through the machine, with the wire getting stuck. An additional drive roll has to be used to keep the feed line straight.
Gas cylinders are not needed: The MIG function for the Hobart Handler 140 is not perfect. It should be remembered that a gas cylinder is required. This is an added cost that may accumulate over time.
Can't be used industrially: Although the Hobart 140 is very suitable for lighter operations as well as household tasks, it is unsuitable for the heavyweight, industrial jobs. Due to this, it is not very useful if you need to weld industrial-grade thickness., it won't be of much use if you tend to weld with thick materials or do a lot of industrial work.
Conclusion
All in all, the Hobart Handler 140 MIG welder is an amazingly versatile and efficient welding machine. It's ideal for amateurs but gives such great quality results that you can use it easily to progress your welding career.  The result is smooth and seamless, without any rough edges. If you are an amateur or merely looking for a welder machine for home, this one is for you.
Although the welding machine comes with a higher recommendation of lighter applications, the results on some larger and heavyweight products were seriously impressive. It isn't high powered and industrial grade, but other than that, it fits in everywhere, and the versatility is unmatched. The portability and the fact that it runs on home grade power makes it the best welding machine to own. It is excellent value for money, with the typical high-grade robust build and finishing. Its safety features are on another level, which enhances your smooth experience by providing safety as you drill. You can't industrial tasks on this, but it handles every other heavyweight job. Easy to assemble and easy to use; it is a gem of a product with a fantastic user experience.