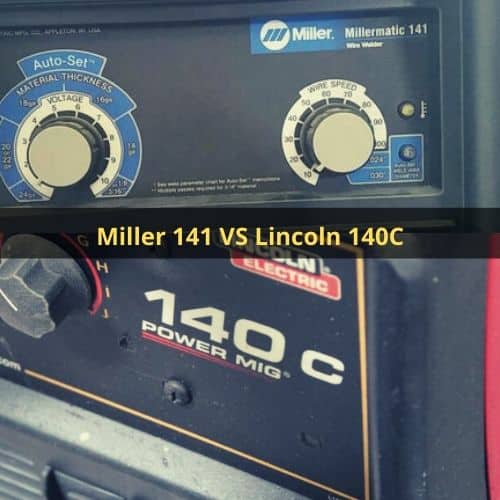 The Miller Millermatic 141 is definitely an upgrade to the Millermatic 140 120V welder. It is one of the Millermatic welders that are highly appreciated and admired by professionals and occasional users alike. It excels at offering flexibility to the user in order to get done with a variety of different tasks, ranging from serious professional jobs to simple at-home DIYs. Coming with excellent control and enhanced user experience, the Millermatic 141 is one of its kind.
As for Lincoln 140C, no one can deny the expertise of the Lincoln line of welders. The Lincoln 140C is one high-end welder that operates smoothly on 120V. Ranging from functionalities to design and affordability, the Lincoln 140C has no match. Weighing about 57 lbs. and offering Flux core, as well as MIG welding, using a standard power source, it is a portable and professional machine that works great for avid users, as well as homeowners.
Lincoln 140C vs Millermatic 141
The Lincoln 140C and the Millermatic 141 are both highly reviewed machines with amazing capabilities. How do they compete with each other? Let's find out!
Specifications
| | | |
| --- | --- | --- |
| Specification | Miller Millermatic 141 | Lincoln 140C |
| Height | 12.5 in. | 14 in. |
| Length | 20.5 in. | 18.6 in. |
| Width | 11.25 in. | 10.15 in. |
| Duty cycle | 20%  at 90 ampere | 20% @ 90A |
| Input voltage | 120 V | 115V |
| Type of process | Flux core and MIG | Flux core and MIG                               |
| Weight | 51 lbs. | 58 lbs. |
| Thickness of weld | From 24 ga. to 3/16 in | From 24 ga. – ¼ in. |
| Speed range of wire feed | 15-360 IPM | 50-500 IPM |
| Amperage range of welding | 30-140 A | 30-140 A |
| Check More Details on Amazon: | https://amzn.to/31UlsvV | https://amzn.to/2Sp4nqZ |
When compared, you can see that the specs are basically the same. No major difference there. What differs the machines the most is actually the user experience.
Usability
The Millermatic 141 offers the best usability, especially due to its auto-set control. Once the auto-set control is activated, all you need to do is select the wire diameter and material thickness. It makes the entire process very time-efficient. With quick set-up, amateurs are good to start their work. However, if you prefer manual settings, it can be done with ease, and the chart on the inside of the filler wire door helps with that. The Millermatic 141 allows steel and stainless steel weld (24 gauges to 3/16 inches), as well as aluminum (14 gauges to 18 gauges).
However, you need to know that, in order to reach a full 3/6 inch, you will have to use the flux core wire or bevel your base metals.
As for the Lincoln 140c, the settings need to be manually selected for both the Flux core and MIG welding.  The highly appraisable and impressive features are the PC board protection, which protects the sensitive parts of electrical components, along with the spool gun ready for instant use, as well as a minimalist design to make it easier to be carried.
Other than that, the Lincoln 140c is an amazing welder that is easy to use. Even with a little know-how of welding, you can start working with this welder. You can use it at home as well as in workshops without any worries. Such features make it equally great for professional use, as well as small work projects and art. Looking into its portability and lightweight, you will know that it is easy to carry and move around.
Furthermore, the quality of the diamond core technology makes it stand out and makes it on par with most of the well-known and professional welders. The machine is sturdy, as it is made of aluminum and this means that it's highly durable.
Power
The Millermatic 141 comes with an amperage range of 30A to 140A. For 90A, the duty cycle stands at 20%, however, at 40A, you get full 100%. This means that it takes 2 minutes of welding time at 90A. To cool down, it requires around 8 minutes. The thermal load safety feature on the Millermatic 141 reduces the chances of overload for that matter. Using 120V, it goes well with the usual residential power supply. You need not look for the high voltage for quality operation.
The Millermatic 141 further offers great control through flexible voltage settings. This defines the enhanced user experience Millermatic 141 is manufactured with.
With regards to the Lincoln 140c, it is a uni-voltage machine that runs smoothly at 120V power. Due to this, no extra power or any powerful plug or socket is needed. The duty cycle, as you know, is decent here as well. It also has a user-controlled power cooling system, which either the user turns on, or it turns on itself when the welder needs to be cooled down. This is present for the reduction of waste of energy, as well as noise reduction. The machine can run between 25 and 140 amps, and can easily weld material ranging from 24 gauges to even mild steel 1/4 inch thickness. In addition to this, it can weld different kinds of metal, whether they are aluminum, steel, mild steel, stainless steel etc.
Features
Relating to the price, the Millermatic 141 features a wide range of features. The auto-setting and infinite voltage are two of the most prominent features. In addition to these, its redesigned drive system is mounted at an angle to work perfectly well with 15 feet long MIG guns. With its auto-spool gun detection system and 10 feet spool gun, you need not look for a switch nearby. Also, it comes with a double gauge regulator. For manual settings, you can use the manual door chart.
With such amazing features, the Millermatic 141 has proved to be a high-quality welder. This makes it a great machine to put your hands-on, at the beginning of your welding career. By reducing the set-up times, it has made the use easier for beginners. Even for the hobbyists, the Millermatic 141 is a high-end welder to get quality welds in simple DIY projects.
In comparison, the Lincoln 140c offers similar power but is less portable due to its weight. The manufacturer has incorporated several fail-safe traps and safety precautions to offer safe usage. It also protects you in case there is a sudden surge of current. However, it works only with standard 120 V plugs.
For beginners and occasional welders, Lincoln 140c is one of the best welders out there. Even though it comes with a higher price tag attached than some other welders, its user-friendly design and advanced features make it worth the price. Despite its relatively low power, its penetration power is appreciable, which results in smooth welding arches.
Both the machines, however, offer easy set-up and quick assembly. You can start using them after a simple set-up that takes hardly 5 minutes. The user manual largely helps with installation and set-up. Moreover, you only need to choose the material type, thickness, wire diameter, and the kind of gas. You will understand the process in no time to set the machine up and pick the right settings.
Portability
Both machines cannot classify as incredibly heavy machinery. Both have been designed with portability in mind and weigh just between 51 and 60 lbs each. This makes it so much easier to pick up and carry around. The Millermatic 140 comes with two new handle slots, in addition to the handle on the top so that handles can be added and it becomes easier to carry. That said, 51 lbs and 60 isn't a small amount of weight, so it is advisable to use a wheeled cart for transportation.
Pros and Cons
Below are some pros and cons for both the machines to get a better picture for both:
Millermatic 141
| | |
| --- | --- |
| Pros | Cons |
| Infinite Voltage gives maximum control and quality, depending on the type of metal.   | It cannot be used for thicker metals |
| The design makes it easy to transport.   | Same class welders are slightly cheaper |
| Due to the auto-set feature, it becomes super easy to install and start.   | |
| 120V input power makes it perfect for use at home. |   |
| No spatter at all and a very smooth start, due to which the weld is cleaner.   |   |
| |   |
Lincoln 140C
| | |
| --- | --- |
| Pros | Cons |
| Has creat user control options | Does not support generators |
| Compact and durable | Heavier machine |
| Two additional knobs for greater control | |
| Best for flux core welding and MIG welding |   |
| Clean welds |   |
.
Price
Price is an important factor while comparing two heavy-duty machines. So, when it comes to Millermatic 141 vs. Lincoln 140c, the Millermatic 141 has a higher price. However, it does feature some great specs such as auto-set control and infinite voltage control which give this machine an edge. If you are a professional, you might like investing in this welder to get done with your welding fast, especially if you have to switch between different materials and thicknesses often.
Lincoln 140c is comparatively inexpensive and, if the price point is your main concern, consider the Lincoln 140c as a more cost-effective option. Also, it's specs like the diamond core technology, industrial cast aluminum drive roll, and spool gun ready makes it altogether a better option. It comes with toughest PC board protection in the welding industry, which puts it on an advantageous end in regards to durability.
To conclude, both of these welders can be expensive for beginners, as well as for professionals. So, if you are looking for an economical option between these two, the Lincoln 140c is the clear winner.
Miller 141 vs lincoln 140 – The Face-off
Before the face-off argument, let us make it very clear that each machine comes with great welding power and specs. Yes, one might win over another in specific cases, but that win in itself is due to a very slight edge. As many features are quite similar, there are still some additional specs that make each machine unique. So, let's see where the Millermatic 141 has a slight edge, and where the Lincoln 140c makes it to the win.
The Millermatic 141 wins when it comes to portability. As the Lincoln 140c is heavier, it might make it a bit difficult to carry around. Moreover, Millermatic 141 has an auto-set feature and quick-select drive roll system, which makes it a breeze to use the machine.
Therefore, looking into the areas that Lincoln 140c wins in; its diamond core advanced technology is the first one. This diamond core tech features a typical high-grade robust build and top quality finish. Its safety features are also admirable and add to the protection of use. No welder in the industry has reached safety standards that the Lincoln 140c has acquired.
As far as the professional tasks and household welding jobs are concerned, the Lincoln 140c works well.
This way, it depends on your prioritized specs which welder is a winner in your view. For us, it has to be the Lincoln 140c due to its advanced tech and safety, good performance, and affordable price. 
Conclusion
As we conclude the comparison, it would not be wrong to put forward that each of these welders is great for hobby welders. The Millermatic 141 is definitely a high-end welder that is capable of performing high-grade welding tasks. Its new auto-set feature revamped design, and minimal set-up time has further added to the performance and quality. This makes it the best choice for people looking for professional arches and makes their mark in the welding career. Coming as an upgrade for the Millermatic 120, the Millermatic 141 has definitely adhered to the purpose of the upgrade.
As for the Lincoln 140c, it is the top tech welder for people just getting into their welding hobby or profession. It delivers great quality MIG welds, whether you use it indoors, outdoors, or do simple DIY projects. With respect to its incredible safety features and professional design, this is an efficient welding machine. The results are smooth and seamless, without any rough edges. If you are an amateur or simply looking for a welder for home, this one is for you.