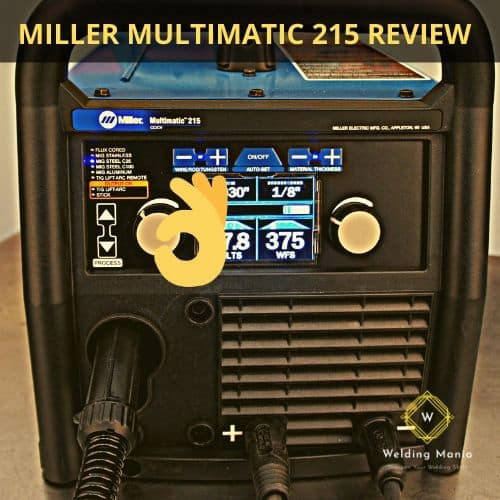 In today's fast and growing world everyone wants stuff that is versatile and offers several benefits at a reasonable price. When talking about welding machines, welders usually search for one that is versatile and portable. If they find these features in one product, they will not give choosing that product a second thought. Miller Electric has manufactured a multi-process welding machine named Multimatic 215. As the name implies, it is capable of handling several welding processes, which include MIG, TIG, Stick, and flux-cored welding. Note that all these features come in a single package at a very low price comparing it to buying three different high-quality welders.
Whether you are just starting in the world of welding as a novice or you already are an experienced welder, Multimatic 215 is a great choice for anyone. It can be used for home workshops, small-scale projects (such as home repairs), metal-art, restoration, farm and ranch work, and many others. Its lightweight, adds value to its portability and you can easily move it around. This review article contains Miller Electric Multimatic 215's main features that will help you in finalizing your decision. Due to the excellent features and performance, we find this machine one of the best products available on the market.
The versatility of Miller Multimatic 215
A product's capability is judged by the actions and tasks it can perform. The first question that comes to mind regarding the product's capability is whether the product is capable of performing several tasks or not? Multimatic 215 is an excellent product that possesses multi-process capabilities and the best thing is that it is a complete package for performing different types of welding jobs that include DC TIG, MIG, flux-cored and Stick welding. It comes with separate gas inputs for TIG and MIG, so that, for example, you do not need to remove the MIG gas tank if you want to try TIG welding.
Multimatic 215 can tackle all these welding processes, which is why it is called a multi-process welding machine. It makes use of different electrodes to handle all these tasks. This is only possible due to its versatile nature.
Ease of Use
Whether you are a novice or an experienced welder, you will find setting-up (can set up in less than 5 minutes) and operating this machine to be quite easy. The color LCD panel is a huge plus that adds great value to its usability and guides you through the easy setup process. This feature not only guides you but also makes the setting-up process quite easy. You do not have to be a professional to do this job, as you can complete this task on your own, even as a complete novice. It also comes with a user manual.
The automated LED panel and knobs on either side of the display, help you trim out voltage and wire-feed speed to create the perfect weld. The Auto-Set Elite feature assists you in setting weld parameters for the material you are working on. While setting up, the function asks you for the following parameters: desired welding process (TIG, MIG or Stick), material thickness and diameter of the rod, wire or tungsten. After selecting them, it automatically determines the weld parameters. It also comes with a guide sheet, but you might not even need to use it as the digital interface feature can walk you through the easy setup process.
Portability of the 907693 Multimatic
The weight of any product plays an important role in its versatility. If the product weighs heavy, it is very difficult to move and carry it around, in this way it decreases the product's benefits. However, if the product weight is reasonable, then it offers great portability. Multimatic 215 is built with portability in mind. It weighs about 38 pounds only. This is quite reasonable as compared to other welding machines that are available on the market. On-site, as well as off-site welding tasks, can be done easily using Multimatic 215.
The machine is built with inverter-technology that not only offers lightweight but also provides the ease, to use it in remote locations. Another benefit is that you can conveniently hook this machine up to a generator in case of power fluctuations and disconnection. Portability and high-power performance are only possible because of the excellent inverter-technology.
Power
The power factor is the key benefit offered by Multimatic 215. Do not worry if you have a variable input-voltage power supply. This welding machine can operate on both 120 V and 240 V input voltages. While the output range is 20 to 230 amps. To switch between power inputs, you do not require any tools for configuration. Simply choose an appropriate plug, connect to the power cord and you are done.
Multimatic 215 offers a good duty-cycle that varies for each type of welding process. For MIG: 20% for 240 V and 60% for 120 V. For TIG: 20% for 240 V and 40% for 120 V. For Stick: 20% for 240 V and 40% for 120 V.
Moving towards the welding capability of the machine. It offers a wide range regarding this aspect. It can weld up to 3/8'' mild steel at 120-volt input and twice as much with 220-volt input. This welder can also weld aluminum and stainless steel. However, the task of TIG welding aluminum cannot be done, as it is DC only. But you can do this with MIG welding, by making use of an additional spool gun.
Smooth Start
How the machine starts, gives a quick idea of its quality or lack of it. If a machine is not capable of giving a good start, it starts losing the customer's interest but if it provides a smooth start then it automatically gains the customer's attention. Multimatic 215 is built with keeping this aspect in mind. It has a smooth start feature that is due to the smooth run speed of the drive motor. The motor starts operating at a slower speed and then gradually increases to reach up to normal speed.
This feature of the machine creates a smoother arc with less spatter while eliminating popping start.
Durability
Multimatic 215 has an excellent and robust design configuration which helps in resisting any shock or stress, caused by moving and carrying the machine. The design is very useful for transportation and makes carrying it around easier. It possesses a built-in cooling system that runs only when needed. This helps to maintain the temperature within the machine during operation, making the system energy efficient, reduces noise and the number of contaminations.
Miller Electric makes the durability and longevity of its products guaranteed by conducting different tests. Similarly, Miller 215 ensures excellent durability and can resist large amounts of abuse.
Quick Select Drive Roll
The machine features an angled drive system, by making use of the three grooves offered by quick select drive roll, you can switch between different sizes of solid wire (2 out of 3 comes handy here) or a flux-cored wire (with the help of 3rd one).
Specifications
Miller Electric Multimatic 215 is a multi-process welding machine that can perform different welding jobs including MIG, TIG, Stick and flux-cored welding.
It comes with separate gas tank inputs for TIG and MIG welding so that you do not have to remove one to perform the other welding task.
It can be used for small scale projects, home workshops, restoration, metal-art, farm and ranch products, and many others.
The dual input voltage provides you the freedom to choose one according to your needs. It comes with a fan to maintain temperature and reduce noise.
The color LED display and automated panel makes the setting-up process a breeze. With these features, you can easily set up your machine without getting any type of assistance.
The welding machine is built with inverter technology that adds great value to the product's performance.
The lightweight of the machine (38 pounds) helps you to move and carry it with ease. While the durability of the product is due to its robust design.
The Quick Select drive roll offers 3 grooves.
It offers a smooth and spatter-free start.
In case you face any problem while using this machine, you have a way to get out. The product is backed up by a 3-year warranty.
Conclusion
Miller Electric Multimatic 215 has created a great amount of hype all around. This is all due to the excellent features that make it one of the best multi-process welding machines available on the market. Welders have appreciated this amazing product because of its versatility, usability, and portability.
However, to perform aluminum welding, you need to purchase an additional spool gun which means extra expenses. Also, the TIG kit is not included in the package.
Regardless of these cons, the fact remains unchanged that Miller Multimatic 215 is excellent for welding, as it not only offers great features but also performs exceptionally. We want you to take some time deciding and to spend your hard-earned money wisely. As we are certain that you will never regret your decision of choosing Multimatic 215.