Heat up your welding skills.
There is just nothing quite like the feeling you get when you make your first perfect welding bead or finish a cool project, especially if the project turns out better than you would've expected.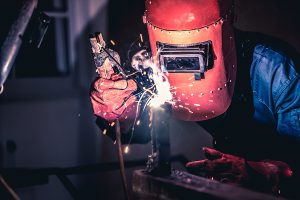 If you can weld, and you have some basic metalworking skills, you can make almost anything. Metal is strong, its reliable, its unchanging – except for the few with the skills to work it into something useful. Something beautiful.
Welding is becoming more and more popular among people and I think that this is one of the main reasons. It's just amazing how creative you can be and how much money you can save (or earn) if you know how to marry metal. Welding and metalworking skills are highly-practical, and give you a base of creativity and self-reliance that few others have.
Welding skills are in-demand.
Since welding is an in-demand job in the US, I decided to share my experience in the field with other people through this blog. The main focus of my work is mostly to help out beginners, hobbyists, students/apprentices and first-time welders by sharing tips, tricks, guides – plus my own personal opinion – to give you a bit more insight before you start buying and welding equipment.
Obviously, I can't cover everything there is to know about metalworking. But even if you get 20% more informed after reading this blog, it's a win. Here you are going to find all kinds of information whether you are into MIG, TIG, or stick welding – or all of the above.
Helping beginners learn to weld.
It may seem a little daunting to learn a new skill or start out as a beginner, but once you start getting things, it will all be worth it! If you are a complete beginner, I would suggest that you start from the newbie section, and more specifically our beginner's guide to welding.
Just like any other skill, learning to bond metals will take some dedication and work before you really develop the skillset. But everyone (and anyone) can learn it if they are willing to put in the time and effort. And WeldingMania is here to guide you along the way.
On this site, I share my own experience to make the learning curve as flat and seamless (get the pun?) as possible. We'll start from the beginning and basic questions about the process, we'll discuss the best welders on the market, and from time to time we'll even review essential welding gear and tools.
---
Check out some of our posts:
---