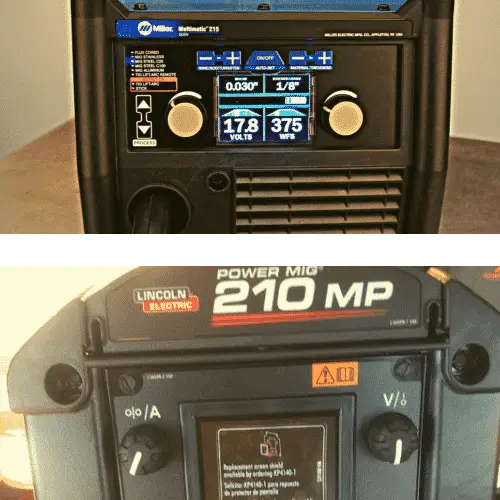 Welding is a serious business. Even if you take it up as a hobby it requires time and attention to detail. The welder used for welding materials together needs to be on point in order to give the best results. If the welder is not a good one, your work of art will not be perfect and you will not be satisfied with the results. You can work on bigger projects that require the backyard or even from the comfort of your garage if you get your hands on either miller 215 or Lincoln 210.
Welding is the process that joins together two materials at high temperatures. It is used in every industry, from cars to planes to fences. If you have been welding for some time, you might have already been introduced to popular manufacturers like Lincoln electrics. They provide some of the best welders. But what if you had to compare between their Power MIG 210 and Multimatic 215? Both of them provide almost the same functionalities. What do they differ in and how to make the right choice?
If you are faced with this question, you are not alone. Some of the best welders have been faced with it too. We will take a deeper look at the features of both these welders and try to see which one suits your needs best.
Which one to buy Miller 215 vs Lincoln 210 MP?
Both the welders we are going to look at today are multi-purpose as they are capable of performing stick, MIG and TIG welding. If you want to determine which machine you want to buy, you should ask yourself why you need a multi-purpose welder in the first place. If you are unsure about a multi-purpose machine, think of it this way: it is just like combining a camera, GPS and cellphone together. It is about ease of getting multiple things done by a single machine. It is best for people who don't have much storage space and for those who plan to travel. Both of these machines are small and as light as a welder can be. You can throw them in the back of your trunk and start moving on the road. (If you are into more heavy-duty multi-process welders I would recommend Everlast 251 SI-detailed post here)
Lincoln 210 MP
Multimatic 215
Max amperage
220 Amps

230 Amps
Duty cycle
200A @/25%
100A @ 40%

200 A @ 20% duty cycle
110 A @ 60% duty cycle

Weight (pounds)
40
38
Dimensions
14 x 10.75 x 19 inches
12.5 x 11.25 x 20.5 inches
Input voltage
120/230
120/230
Link to Amazon
More details
More details
Lincoln Power MIG 210 MP
This is a multi-purpose welder. If you are a hobbyist or working on complex and bigger projects, this can work wonders for you because of the functionality it provides. It comes with a digital control system and a display screen which makes it easy to operate and setup. This device provides you with a basic welding experience and takes you further as you grow.
Apart from that, if you value quality, the products Lincoln Electrics manufacturers are one of the best. They are durable and last for a long time before they start to show any type of problem. If you are someone who wants a onetime investment and don't want to waste time on repair, you should surely look into this.
Features
Let us discuss some of the common features of this welder.
Portability
This is lightweight and hence, portable. You can take it anywhere you want to work. Shifting it is quite easy considering the functionality it provides. Its weighs 40lbs.
Dual voltage system
It has a dual input voltage. This gives you the ease of plugging in the machine at any common power supply.
User-friendly controls
There is a digital control for the ease of the user. Not only that, the colorful screen display is user-friendly and helps guide you through the whole process of setting up the system.
Durability
The machine is tough and durable. If you are somebody who values the quality of the material, you should consider this one.
Ease of access
The more advanced options are easy to access because of the user-friendly design and display system.
Multi-purpose welding system
The functionalities include MIG welding which can weld mild and stainless steel as well as aluminum.
Flux-cored
It is also flux-cored which can tackle one of the biggest welding jobs.
Cooling system
It has a cooling system that includes a fan. This is a demand system that operates only when needed. This reduces energy consumption and noise as well. This on-demand system also reduces the number of contaminants pulled through the machine.
Welding arc
The arc of the welder is extremely sensitive to the variations in arc length and the speed.
Automatic gun detection
The machine has two gas connections for the MIG and TIG. This is an automatic gun detection connection that eliminates the need to switch.
Pros
Some of the major advantages of getting this system are stated below:
Lincoln power MIG 210 does not weigh too much which makes it portable. You can easily put it in the trunk and take it with you while traveling. The less weight also lets you set up the system from one place to another.
This is a multi-purpose machine that gives you many functionalities in one system. You don't have to buy separate machines for separate types of welding.
The machine is CSA certified and comes with a three years warranty.
It has an automatic fan which turns on when the machine starts heating up. This is an on-demand cooling system that not only reduces energy consumptions but is also cost-effective.
Cons
There are a few drawbacks of getting this machine, but they are minimal and can be disregarded.
It doesn't include a TIG kit for TIG welding.
This machine doesn't come with a spool gun. For that, you need to buy your own if you want to weld aluminum.
This is one of the best welders you will find in the market in my opinion.
Multimatic 215
Multimatic 215 as the name indicates and as we discussed before, a multi-purpose welder. It is used to do TIG, MIG and stick welding. Miller is a well-known brand whose products are durable and good. If you have taken up welding as a hobby, this is a good machine. Even if you take up bigger projects once you affiliate yourself with welding, this machine will give you enough room to grow. It is very easy to use because of its user-friendly digital controls. All you have to do is enter the thickness of the material to be welded and it will automatically set the parameters for welding. If you want to do a fine and better job, you can choose the manual option as well to fine-tune the settings.
This is one-of-a-kind welder and once you get it, it is bound to stay with you for a long time because of the durable design.
Features
Some of the common features of the Miller Multimatic are given below:
Multi-purpose machine
It is a multi-purpose machine. It is used for TIG, MIG and stick welding. It also has flux-cored welding capabilities. With so many functionalities, you don't have to go and buy additional welding machines. This will get all of the jobs done for you.
User-friendly controls
It comes equipped with a colorful LCD. This gives a user-friendly design and helps you control the output of the weld. You can automatically set the arc by entering the thickness of the material. If you want to fine-tune it and get better results, you can use the manual setting as well.
Ease of use
This is easy to set up and use because of the ease of control. With these controls, you can easily manage the arc and get a fine product as a result.
Multiple voltage inputs
The multi-voltage inputs allow you to connect to 120 and 240 volts power supply without the need for any additional connections. All you have to do is plug in the machine with the plug that fits the needs of your welding.
Overheat protection
Another feature of this welder is that it automatically shuts down when overheated. This is one of the most important aspects as it saves the Multimatic welder from heating up. It also shuts down if the duty cycle exceeds. This feature allows the machine to stay safe from unwanted breakdowns because of the heat.
Automatic gun detection
Miller Multimatic 215 has an automatic spool gun detection system. It automatically detects if MIG or a spool gun is attached. This eliminates the need for a switch. It also makes it quite easy to use.
Durability
The Multimatic welder is a durable design. Once you get this system, you don't have to worry about replacing it any time soon. The durability is one of the features which attracts the customers. Nobody wants to waste their money on something which doesn't last long, and they have to make another investment on a similar product.
Portability
Because of the lightweight design, this machine is portable. You can set it up in the garage and get to welding. If you are working on a bigger project and need an outdoor office, you can carry it to your backyard as well. This is highly effective for people who have to travel around a lot. If you are one of those, you can put it in your trunk and get going.
Pros
Buying this product comes with its own advantages. Some of them are mentioned below.
This multi-purpose welder will cater for all your welding needs. You wouldn't have to look for additional machines if you take up a project that requires MIG or TIG welding. It can even manage a flux-cored and stick welding.
The controls are easy and there is no need to spend lots of time studying this machine. You just need a little time getting used to it and you will start making quality welded products in no time.
Multimatic 215 has an automatic fan which turns on when the heat increases a certain threshold. This is not it, the machine also has a system for shutting down due to overheating. This protects the welder from heating up beyond repair and saves you from the hassle of checking for heat up from time to time.
The welder starts very smoothly. This is especially attractive since not many welders are spatter free.
This is a portable design because of its light weight. You don't have to worry about the difficulty of moving it around if need be.
There is an automatic arc feature which gives you the required output arc if you enter the material thickness.
Cons
Although there are not many disadvantages of getting this system, a few customers have complained about the fact that this does not come equipped with added accessories. Who doesn't like free accessories? But this is not the reason that should keep you from buying this amazing welder. This has everything that a welder requires from a machine.
This is a multi-purpose machine that is capable of multiple welding results. The ease of use and user-friendly designs are an attractive feature for its customers. The durability is another reason that people prefer this machine over other welders.
What is the main difference?
Lincoln power MIG 210 MP and Miller Multimatic 215 have come in a head to head competition. They are both very similar. If you ask welders, most of them would suggest that the only difference between these two is the color. They would be right to some extent as both the machines provide the same functionalities. To say that there is a huge difference between them would be wrong.
But if they are both same, how do you make a choice between these two? The answer to this lies in your welding needs. Multimatic can go up to 230 amps output with a 240 Voltage input. Although this extra output can cause a huge difference when it comes to the welded result, the manufactures also limit the thickness of the material to be welded.  Multimatic also has user-friendly features. The smooth start of the machine is a huge plus for its customers. Another feature that people love about Multimatic is thermal protection. This is an automatic feature that saves the machine from unwanted failure.
But just as Multimatic, Lincoln also comes equipped with its own set of user-friendly features. This should not be the determining factor for you buying a welder.
They both differ in their prices as well. Lincoln is a little cheaper compared to Multimatic. If you want to save a few bucks and get the same quality welder, you should consider Lincoln, but for user friendly interference and cool little extra features, my personal recommendation would be to buy the Miller Multimatic 215.
Frequently asked questions:
How to use the spool gun?
Both the welders, Miller 215 and Lincoln 210 mentioned come with a spool gun capability. Spool gun gives a better performance for aluminum wire. This gun can easily be plugged in and used in place of the standard gun. It doesn't require any additional tool for changing the guns. There is no need for an adapter or a control box to use the spool gun by either of these welders.
What is MIG welding?
MIG welding stands for metal inert gas welding. This is the process in which an arc forms between an electrode and a metal. This arc causes the metals to work and join together. This is the easiest type of welding. This method is also quicker as compared to the traditional arc method. Because of the ease of this method and the simplicity of the operation, people with different skill sets can use this welding for different types of welding projects.
There are many advantages associated with this type of welding. One of them is that this reduces the amount of smoke produced by traditional welding.
Final Verdict
The fact remains that when it comes to getting a product, you should ask yourself which one is best suited to your needs. The good thing about both these welders is that you can't go wrong with either one. Both will give you quality welding results. You need to decide which is the deciding factor for you. If you need a product that is more user-friendly, you should go with a Multimatic. But the con of it is that it is a little expensive as compared to Lincoln's power MIG 210. If you want to save a few bucks, you should definitely consider Lincoln's Power MIG over Miller.
If the output amperes matter to you and you have taken up a project that needs thicker materials to be welded, the newer version of Multimatic gives 230 AMPS output for finer results thanks to the inverter technology.