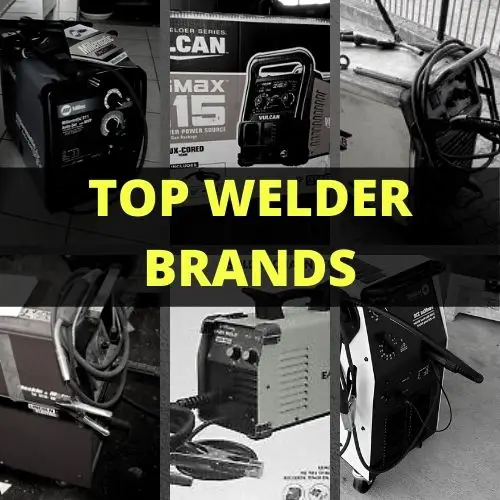 If you are new to the world of welding, then choosing the right company will obviously be a tricky decision for you. A lot of people don't really know which company is better than the other and the price is not always the correct measure to determine the quality of products they are offering. This problem can especially be exaggerated if you move to another country or another part of the world where your previous company doesn't operate in. In this article, I will try to make a short list of the most popular welding equipment manufacturers from all parts of the world.
Each company has something to offer which the others might not, it depends on your preference what factors are more important to you. Remember that no option is wrong as long as you are comfortable using it. If you are confused, you can try looking at different forums about different brands and come to a conclusion.
TOP WELDING EQUIPMENT MANUFACTURERS IN THE UNITED STATES
When it comes to welding equipment, the obvious device which comes into mind is the welder but along with the welder are also associated accessories, consumables, and even protective gear. Among the accessories are the grinders, the electrodes, clamps, etc. Of course, the best-case scenario is if you can find one company for all these needs, but it's rare. Let's take a look at some of the companies which may satisfy your needs.
COLFAX
Colfax has been rapidly expanding its operation in multiple countries, namely the USA and Europe, interestingly it acquired ESAB in 2012 which was one of the leading welding equipment manufacturing companies in the world, especially in Europe. One unique feature which Colfax offers to its clients is an online database of welding data known as weld cloud which you can use while selecting the products you want to use.
I have heard some testimonials which state that their productivity increased because of this available online data, but I would not take it as a fact. Colfax manufactures welders and welding equipment in all categories of welding including TIG, MIG, and Stick as well as the electrodes and wires which you might need.
ESAB which they recently acquired has been a prominent player in the automotive and pipeline industries all over the world. Colfax increased their portfolio with the coming of this company.
ILLINOIS TOOL WORKS
Another great company which you could go for is Illinois Tool Works which is also known as ITW welding. One interesting thing about this company is its placement on the Fortune 500 list. There are two names under which this company sells its products.
MILLER
The first one, Miller is mainly focused on manufacturing equipment related to SMAW, MIG, Stick, and automated system welders. ITW on the other hand is mainly focused on producing ARC welding supplies.
Another part of the industry where ITW operates is in manufacturing auto-darkening helmets which are especially used a lot in today's day and age.
LINCOLN ELECTRICS
Lincoln Electrics might be one of the most well-known companies out there, easily coming in the top 10 manufacturers in the world. apart from manufacturing the usual stick, MIG, TIG welding equipment, they also partake in submerged arc welding, engine drives, and regular FCAW wire feeders.
But apart from this Lincoln electrics also manufactures automated welding equipment and that's one of the reasons why a lot of big welding groups in the world choose to go for them in the first place. The automated system can save a lot of money for companies. They also manufacture air filtering devices specially designed for dealing with welding fumes. These can be a good investment if you lack proper ventilation in the room you are welding in.
One advantage of going with this company is their availability around the world. I think their welders are available in most of Europe as well as America.
GRAINGER
In this list, Grainger is one of the companies which is mostly only based in the US and mainly only caters to its US based clientele. The focus of this company is largely towards manufacturing safety equipment for not only large-scale developers but also for home use while at the same time offering industry-grade safety at a good price point.
Among their portfolios are blankets, helmets, jackets, curtains, screens, gloves, and about 1.5 million more products. The unique selling point of this company is its service of same-day pick-up and delivery across the US. Currently, they have about 250 plus branches.
SWAGELOK
The Swagelok was founded in 1947 and has considerably expanded its business which ranges to about 70 countries at this point. They are known for manufacturing cost-effective equipment with a specialization in orbital welding systems to be used for GTAW specifically in tubes and pipes. They also offer devices with modern ways of interfacing including touchscreens for people to easily configure their welding settings. Swagelok is preferred not only by big players but also by people looking for portable welding solutions at an economical rate for industrial purposes.
ARCO WELDING SUPPLY
This Arco can be a good choice for people who do not want to spend a lot of money on equipment they are not sure they will be using a lot. They can go renting welding equipment for short periods of time. Arco provides a range of welding equipment from different manufacturers from all over the world. Another great service they provide is on-site repairs and consultations.
HOBART WELDERS
Hobart Welders is another leading welding manufacturers which have attained a strong presence in the welding sector. They have been catering to not only do it yourself amateurs but professional welders who might have custom welder needs as well. they increased their overall lineup with the addition of auto-darkening helmets as well in 2000. On top of this, they also provide guides about welding on their website and blogs. They have been operating in this business for about 100 years which adds to their experience.
EVERLAST WELDERS
Everlast is a relatively new company but still has managed to increase its foothold in about 6 countries and the EU as well. Because of their relatively younger age, they are also striving to create more competitive products to increase their customer base. If you are looking for a product that is cost-effective but also provides great value this brand may be the one to go. They produce anything from TIG, MIG, SMAW to plasma cutters so all of your needs can be taken care of here.
EASTWOOD
One great thing about Eastwood is its presence within the do-it-yourself community. They built up their brand name in the late 9070s by attending car shows and other welder meets, and they pride themselves on listening to what their customers need. They offer about 4000 products from all the categories and you can even order online from their website. One added benefit to all the hobbyists out there is their do-it-yourself advice customer support which helps you out if you are confused about what products to go for.
TOP WELDING EQUIPMENT MANUFACTURERS IN ASIA
Asia being as big as it is, having a ton of local welding equipment manufacturers which I can't fit into in this article, I will put forth the companies which operate in a large number of countries while offering the best quality products.
AMADA HOLDINGS
Amada Weld Tech is one of the biggest welding manufacturers in Asia coming out of Japan, it was formed in 1946 and is a subsidiary of Amada Holdings. They are majorly focused on welding equipment that requires high levels of precision like laser welders, resistance welders, and laser markers.
Their products are usually used for working on electrical-based devices most commonly cars and household appliances and the medical industry. Amanda is known for manufacturing high-end technology in its products and being at the cutting edge of technology. Usually, hobbyists don't really go for their products because of their relatively higher costs and required skill level.
ARM WELDERS
Based out of India Arms Welders offer a wide range of welders and equipment including safety equipment at one of the most competitive prices compared to the rest of the world. They specialize in Spot Welding guns, seam welding machines, and special purpose automation machines.
VIRDI WELDING
Another company coming out of India, but the difference being that they specialize in catering to medium to big size businesses, they don't really cater to amateurs and hobbyists because of which they are not that well known in general public.
VULCAN
Vulcan is another great company coming out of India. They have been operating since 1980 in all kinds of welding equipment ranging from inverter-based welding to pneumatic spot welding and MIG, TIG, and even step-up transformers. Vulcan Welders are also widely used in the US because of the competitive prices.
TOP WELDING EQUIPMENT MANUFACTURERS IN AUSTRALIA
UNIMIG
Unimig is known as the top-rated welding equipment manufacturers in Australia. They have amassed a loyal customer base by providing local countrywide support and a 6-month warranty on most of their product line. They manufacture everything from MIG welders to Plasma Cutters and welding helmets. The reason for the popularity of this company is the fact that they target not only professional welders but also hobbyists and beginners.
TOP WELDING EQUIPMENT MANUFACTURERS IN EUROPE
FRONIUS
Based out of Austria and founded in 1945, Fronius is known for being involved in almost all kinds of welding techniques out there. Ranging from MIG, TIG, Stick, Plasma, Laser Hybrid, etc. They claim to provide products that help you to form the perfect and most stable arc at all skill levels of welders. Fronius is considered to be one of the top companies involved in both manual and robotic solutions for welders all over the world.
KEMPPI
Kemppi is not only a leading welding equipment manufacturer but is also known for making smart software and tools to help welders with their projects. They have also created a proprietary technique known as Wise Root + which they claim will increase the overall productivity and time it takes for undertaking the root pass welding process. This technique has been adopted by some of the pipeline applications both onshore and offshore uses.  The company originated from Finland in 1949.
ESAB WELDERS
I mentioned ESAB before as being part of the Colfax corporation, they have a solid footing in the European market. ESAB stands for Elektriska Svetsnings-Aktiebolaget and was founded by Oscar Kjellberg, he is also credited with making the first coated electrode in 1904. The company originated in Sweden but at this point has a near-global presence.
MIGATRONIC WELDING
Coming out of England, Migatronic has been present in the welding industry for over 50 years and they have a strong focus on increasing their customer's return on investment. They aim to provide cost-effective welding solutions to people with welders that can also deliver high-quality welds and increase productivity. They are also moving towards automated solutions for welding and one added benefit of buying products from them is their focus on the environment.
TELWIN
Telwin has been one of the biggest leaders in terms of manufacturing welders and welding equipment and has managed to create a foothold in all 5 continents. They pride themselves on being at the cutting edge of current technologies. They cater to everyone ranging from companies constructing shipyards to hobbyists who are looking for cheap reliable products.
TOP WELDING EQUIPMENT MANUFACTURERS IN CANADA
CANAWELD
Canaweld is also one of the companies which manufacture high-quality portable machines while at the same time offers support for building custom machines according to different people's needs. They manufacture everything from MIG, TIG, Stick welders to other niche techniques. They have a strong footing in the Canadian welding industry.
TOP WELDING EQUIPMENT MANUFACTURERS IN CHINA
HUGONG
Hugong currently holds the largest market share in terms of welding equipment in the country and is even listed on the Shanghai Stock Exchange. They have also become one of the largest exporters since 2013 and boast of about 60 years of experience in the field. Besides manufacturing regular welders, they specialize in manufacturing semi-automatic machinery targeting oxyacetylene cutting and high-powered steel preheating devices.
Some of the other smaller companies in China include the Shanghai Unique Engineering Co., Hebei Jiaoyang Wire Mesh Machine Co., and Shanghai Powercox Machinery Co. among others.
CONCLUSION
To sum it all up, there are a lot of choices in the market all over the world for good quality welding machines and equipment at all price points. One thing to keep in mind is that choosing the right welding equipment is extremely important for your welding experience. It doesn't matter if you are just starting out or are a professional. Make sure to go through all the options around you before coming to any conclusion.
I would advise you to read this as well: What size MIG welder do I need? If you are ready to become a welder, check out this post listing 69 welder sayings you have not heard before