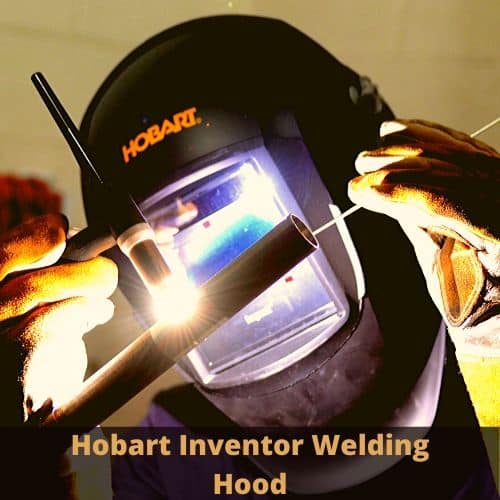 If you have ever stacked beads in your life, you know how important is to wear top of the line safety gear to protect yourself from all the hazards welding has to offer.  Auto-darkening welding helmets play a big role in that. Without a proper welding hood, it is difficult to do the job properly. Getting arc flash or using a fixed-shade welding helmet causes a lot of frustration. Trust me, I know.
If you are looking for a great welding hood, you have come to the right place, and without any further ado, let's dissect the Hobart Inventor welding hood and figure out if it is the right helmet for you.
Hobart 770890 – Features
Hobart inventor actually packs some nice features. It is a decent mid-premium level welding helmet suitable for beginner hobby welders and professionals alike. If you are a beginner welder, investing in that particular model, you probably do not have to upgrade to a fancier helmet in the near future if you know how to take care of your things.
I think from the features side, it is not necessary to say it is an auto-darkening one. Overall from the features side, it is nothing too fancy compared to the premium level hoods. It has a regular lens, not a true color one and I think that is why the price is so reasonable.
For those of you who are wondering if 770890 features a grinding mode, of course, it does. That is one of the main things you can expect from helmets at this price range. Nice little neat thing added to this helmet is a flashing led inside of the hood which blinks when the grinding mode is on. It is a really good feature to remind you if you have grind mode on to help avoid flashing yourself.
Lens size and specs
The lens is decent I have to say. It always could be bigger, but 3.95 X 2.36 is still a massive lens compared to the lower end hoods. The shade and the sensitivity are also adjustable like with all auto-darkening hoods. Shade ranges from 8-13, making it possible to weld from very low amps with thin metal up to 300 amps.
Light state of the hood, or in grinding mode, is shade 3 and it is rated down to 5 amps. So it is safe to use it with TIG as well. What makes it even more suitable for TIG, or any work for that matter where you have to keep your hands close is the fact that has 4 arc sensors. It is a decent amount of sensors. Even some premium ones have only three, so you should not worry about getting the arc eye because of blocking the sensor.
Although I have never needed one, for you it might be important that it can be also used with a magnifying cheater lens. They are not included though. Hobart only includes 4 external covers and three regular inside replacement covers. Enough lens cover for quite some time I believe, even for every day welders.
Optical clarity
It is hard to find an answer to the actual rating of the Inventor hood, but it is good. You can see the welding puddle clearly, but some, who have used true color lens before might find the typical greenish color not the best. The size of the lens and fair price makes up for that in my opinion. At least you can see your workpiece even in awkward positions, and if you are welding outdoors, you can see your surroundings, which in some cases is even more important.
The design
The Inventor 770890 has a nice matte finish, some prefer that over the glossy one. From the weight aspect, it is not heavy, bit over a pound. It could be lighter, but it is made out of nylon polyamide, making it more durable to impacts.
The shape of the hood provides good protection to your neck and ears. Bended lower edge helps to keep sparks from flying in and it also helps to deflect some fumes. I think Hobart has put some thoughts into this design. After all, they have been in the welding industry since the beginning of the 20th century.
It is all very nice, but now let's get into the most important part. The headgear. The headgear, in my opinion, should be comfortable for everyone. It includes a soft headband on the headgear. The tightening ratchet on the back is big as well. Big enough to tighten if with clunky welding gloves on.
That said, it also is adjustable in every way possible. The point where it stops when you put it down as well as the distance from your face. It is not adjustable enough to fit a respirator underneath it, so that is something to keep in mind before making your final decision.
One of the downsides of the hood from the design aspect is it does not have knobs outside of the helmet, which makes it difficult to adjust. Every time you need to adjust the settings of your hood you need to take it off. It is not necessarily a bad thing, but for some welders who switch between projects many times during a day, it could become annoying.
Meets all safety standards?
Hobart is a large brand, and it is obvious that it meets all the necessary safety standards. So without any worries, you should be able to wear it in any condition. Whether you are working in a factory or tightly regulated construction site, this model is a perfect fit – Unless you need to wear a hardhat with it, I believe that the headgear is not compatible with that.
Helmets highlights
Pros:
Durable hood
Good quality
Auto-darkening
Fair price
Comfortable
Cons:
No outside adjustment knobs
Not hardhat compatible
Conclusion
As a conclusion of this review, overall I think that Hobart inventor 770890 is a solid investment to make. You get exactly what you pay for and the quality of the hood itself is up to par with Hobart brand. The design is neat, and it packs all the features and safety standards you might need to work on your projects and whatnot. You just can not go wrong with Hobart welding hoods, and this is one of their best. They just are good at designing practical equipment and pricing them adequately.