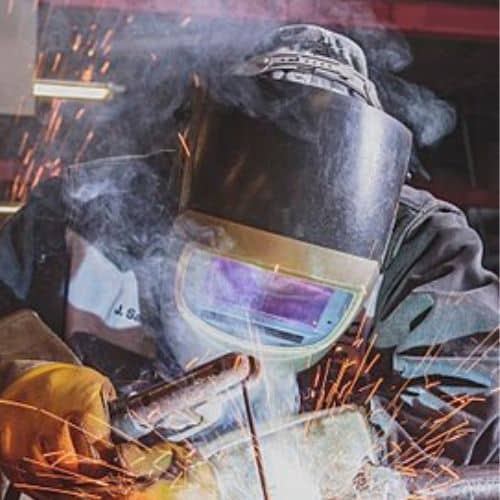 Since you are already here, I probably do not have to explain it to you that you have to spend the bucks to get the premium equipment. You more than likely already see the value and benefits of high-end products as a user. If you are an experience welder – or even a beginner – its easy to see why having a high-quality welding helmet is a key piece of equipment to ensure your safety and accuracy.
But yes, making the final decision is difficult. It's quite a headache to find the best top of the line welding helmet, the market is filled with great welding tools and equipment. In the end, I believe it all comes down to budget and personal preference.
For me, I prefer to use helmets with fixed-shade, mostly because I do not weld very often anymore, and I do not like to get arc flashes.
As you continue reading this article, I am sure that you can not go wrong by picking any one of the listed hoods since they truly are the best ones available today. So without further ado, I present to you the 5 best welding helmets (aka "welding hoods") on the market today:
Lincoln Electric Viking 3350 Welding Hood
I believe that anyone who has ever welded knows about the Lincoln brand. It is a big name in the world of welding and that for a very good reason. They are one of the first companies that brought welding to regular end-consumer. Although some debate that their products are not worth the price, they make really great products, and this excellent hood is one of them.
When you are in search of a durable mask that can handle any task you throw at it, then the Viking 3350 is a good option. What's good about it I think is the fact that it is a bit more rugged which is common with Lincoln products. The more rugged design makes it more durable, but on the other hand, it's a bit heavier than others masks.
The helmet is suitable for MIG, TIG and Arc welding, but taking into account the design, weight and that its hard-hat compatible, it is for guys who work on the field regularly. So if you are into TIG welding it is not probably the best option. (if you are pipeliner consider pancake helmet as well)
The best thing about the hood is that it has an enormous lens with 4C technology. What that means is, instead of a regular green view, you get this blueish, really crisp view over your work while welding. Furthermore, since the lens size is huge, if you are working outdoors, you can get a good view of your surroundings which in some cases is necessary.
I could keep on listing all the amazing features this helmet has, but these I mentioned are the most remarkable ones. Besides you can go over the details yourself on Amazon, for example, I will put the link below.
Pros:
Optical clarity rating is 1/1/1/1
Warranty Is for 3 Years
12.5 square inch lens
External grind button
Comes with a bag
Cons:
For the optical clarity rating, the numbers represent respectively the following: Optical class/ Diffusion of light class/ Variations in luminous transmittance class/ Angle dependency class
Jackson Safety BH-3 Welding Mask
Jackson tends to do a good job with welding hoods and with PPE in general. They have been on the market for quite a while for now, I believe around 100 years, so they definitely know what they are doing. Over the years they have made numerous great products including the BH-3 welding mask we are discussing today.
Though this model has been available for quite a while for now and it is not top of the line welding hood per se but it is pretty darn close. The design might not be the coolest compared for example with Optrel or Senitle in this list, but it has its own purpose. The shape of the hood is designed by engineers in a way to help deflect fumes, heat and lead away possible moisture from inside of the mask to avoid fogging the lens. The biggest design flaw I would bring out is that it has only two arc sensors, therefore, if you have to weld in awkward positions, you will more than likely get flashed.
I believe that the helmet is suitable for all welding types, but unlike the Viking mentioned earlier, I would say it is more for you if you are working in a fabrication shop. The reason is it seems a bit fragile to me to use on the field, but I think it is possible to use hardhat with it if you buy some extra accessories.
When it comes to the lens, it has balder technology which in my mind is almost the same as Lincoln's 4C technology. At least the outcome is pretty much the same. The view unbelievably clear both when welding and when not welding. The size of this lens is not small either, about 10.2 square inches!
This Jackson does not have all the bells and whistles that many of the hoods here have, but I still think it is great value for money. Seems to me like the engineers have put quite an effort into this mask and probably it will stay in the top ten list of welding hoods for years to come.
Pros:
Optical clarity rating is 1/1/1/1
Warranty for five years!
10 square inch lens
Lightweight and durable material
Cons:
3M Speedglas 9100XX
3M is a massive company employing nearly 100 thousand people. They produce a variety of products, not only equipment for welding but many other things in various industries that include energy, electronics, and healthcare. With their work, they strive to create innovative solutions to our problems, making top of the line products with the use of science.    
The pricey Speedglass is a lightweight yet durable hood with numerous features. The most notable design element what makes it stand out from the rest are the side windows, which make your field of view 3 times wider than with regular welding mask. The lightweight combined with the one of a kind headband makes it really comfortable to wear for many hours straight. Furthermore, as opposed to Jackson Safety for example, the top of the hood covers your head better, which helps to keep sparks from flying under the helmet.
Lens on this hood is almost as big as it gets, 2.8 X 4.2 inches and the view is clean, but I personally would prefer the 4C or balder tech over this one. The only negative aspect I would mention is that the 9100XX does not come with solar assisted battery charging. That's because the XX model has the largest lens available for Speedglas, thus there is no room for the solar panel. The battery still lasts for about 2000 hours opposed to the 2500 hours the ones with solar assists do.
Considering the features and the field of view I would say with comfort that it is all around welding helmet but it's especially good for tack welding since it has comfort mode for that. So if you are into fabrication work with MIG or TIG, it would be a good fit.
Pros:
11.7 square inch lens
Grind/torch mode
Mode for tacking
Optical clarity rating 1/1/1/2
Buttoned controls as opposed to knobs
Comes with a bag
Cons:
Esab Sentinel A50 Welding 5ask
Esab is a company based in Sweden, who more than likely, everyone in the world is familiar with. Esab provides us with great quality welding products since the beginning of the 20th century. the dedication and quality are up to par with the biggest welding supply companies in the world.
Let's be honest, this hood looks a little bit like an astronauts helmet, which clearly stands out from the rest. The headgear has a lot of adjustment options, with five total straps, that are made out of relatively good plastic, making it freaking comfortable piece of equipment.
The coolest thing about Sentinel A50 is the touchscreen! I believe that many of you are going to appreciate that the helmet's settings are adjusted through a touchscreen. It is really responsive, fast and a breeze to use.
The negative thing I would point out is that the large cover lens tends to wrap if you are too close to the puddle while welding on high amps.
The lens is 3.93 X 2.36 – decent size, it could be bigger and the optical clarity rating is not as high as it could be, but nevertheless it has better clarity than most, cheaper end hoods, exactly what you can expect from a welding helmet at this price point.
The hood is up to par with any work environment and with any welding method I believe, but as I mentioned, high heat tends to warp the outer cover lens, so be aware of that. For those of you who need to wear a hardhat, it has an adapter available for that as well.
Pros:
Cool design
Comes with a bag and cap
Extra clear cover lenses
External grind button
Optical clarity rating: 1/1/1/2
Cons:
The cover lens tends to warp
Optrel Crystal 2.0 – top of the line welding hood
And last but not least Optrel. Optrel is a company based in Switzerland. And as we all know, the Swiss are great at making high-quality stuff. When it comes to welding helmets, Optrel is one of the leading company's responsible for ADF and real color view as well.
The shape of the hood, like Sentinel, looks like something out of this world. It's freaking neat, weighing only 18 ounces, the crystal 2.0 technology provides a real-color view and exceptional clarity. Meaning, that when you are not welding, it feels like you are just looking through regular glass. Yes it is that clear!
Besides that, this premium welding hood packs a ton of cool things! Just like the design is out of this world, so are the features! There are a lot of ways you can tweak the settings on this hood manually so it has quite a few knobs, but what makes it stand out from any of the hoods listed here is the autopilot feature. This means that the helmet automatically detects the arc and applies a shade between 4 and 12 based on the brightness of the welding arc. That is something that is unheard of in the world of welding.
It is really suitable for any kind of job, especially for TIG. If you decide to invest in that, you probably will not regret your decision.
Pros:
Autopilot
Really clear view
2+1 year warranty
Hardhat compliant
Lightweight
Cons:
Welding Helmets Buyer's Guide
There are many thing to consider before buying a welding helmet, but since you are looking for a high end one, you probably already know a thing or two about what to look out for, so I will keep this part short.
Lens
All the helmets listed here have a decent size lens and premium optical clarity, so you do not have to worry about that. What I would like to go over is the fact that if you decide to buy a lower end helmet, make sure that it has a grinding mode since it is a really useful feature. With helmets in this list, there is no need to worry about that, especially with the Optel Crystal 2.0, it does everything automatically.
Also if you do not have a hood like Optel,  picking the right shade range for your welding procedure is essential to protect your eyes. If you do need guidance on how to pick the right shade for your helmet, I would refer back to this article if you want to go deeper. Usually, if you buy a new welding hood, they come with the table that shows you the recommended shade depending on the amperage.
Comfort and features
It is unreal how the technology has evolved from fixed-shade welding hoods to the mind-blowing features welding masks have today. When looking at top of the line welding hood today, for 200 bucks you can already get a ton of features not to mention comfort, but if you are willing to go up from there, even more, things get unrealistic even for a younger generation.
The only thing most of these helmets are missing is a respirator, besides that, they have all the features that one might desire.  
I think from the comfort side, most of the welders reading this article are looking for a lightweight welding helmet, which they all are except the Lincoln Viking which is a bit more rugged hood.
Design and looks of the hood
Welding helmets come in all shapes and sizes. Usually, with the high-end ones, the look does not affect the performance or the functionality of the welding mask. The simple, one colored finish gives you as an artist a great opportunity to stand out from the rest and customize the helmet yourself with some cool stickers for example. It is definitely something that some of you might want to consider.
FAQs about Welding Helmets
How can I protect my eyes from welding?
To protect your eyes from welding, you need to wear a welding hood with appropriate settings to prevent damaging your eyes with ultra-violet and infrared light
What helmet has the largest viewing area?
In this list, the Viking 3350 has the largest filter size – 12.5 square inches.
How dark should my welding helmet be?
It depends on the amperage that you are welding at. for example, when welding around 80 amps, shade 10 is suitable.
Do welders go blind over time?
More than likely no. It is possible to damage your sight when welding, especially if you are not wearing suitable welding equipment to protect your eyes.
What is the minimum shade for MIG Welding?
I believe the minimum shade for MIG welding is 8. That only when welding at very low amperage. Most auto-darkening welding hoods, however, have the minimum shade set at 9.
Conclusion
To sum it all up, if you are looking for a top of the line welding helmet, you have to pay a premium for it, no doubt about that. If you are not interested in any of the listed ones, check out this post as well, which lists some of the greatest hoods for fraction of the price.
Anyway, I hope this article helped you to make the final decision and if you have any questions, drop us a comment below!