It is usually considered that Flux-Cored welding (or FCAW) shouldn't be used on body panels and thin sheet metals but is it possible if you are in a pinch? Some people are ardent believers that this should not and cannot happen while some others believed that it can be done. I went through countless blogs and forums in search of this answer and I think I have found it.
Welding body panels using flux-cored welding is possible, but not recommended. With FCAW the body panel will be more prone to burn through and warping due to the excessive, localized heat. There are some ways to increase your chances and make it happen.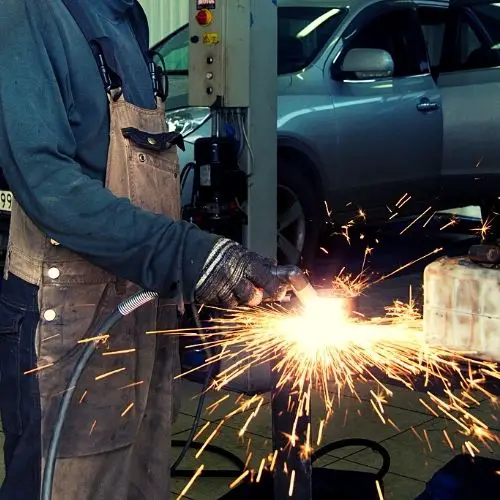 SHOULD YOU WELD BODY PANELS WITH FLUX CORE?
Most people will not recommend welding body panels with flux core. This is due to the thinness of body panels, which can range into some pretty thin sheet metals depending on the car you are working on. Typically FCAW is only recommended over the thickness of 14 gauge for adequate results whereas body panels range between 20 and 18 gauge. (0.8 – 1mm thick)
The heat generated during FCAW welding can be very intense which is not recommended for thinner metals. The excessive heat can easily blow holes through sheet metal or lead to warping. There is also more spatter and slag formation using FCAW which can cover small holes on the welded metal creating further issues. The whole process of cleaning and fixing the entire thing can take up a lot of time.
If you are not an expert in FCAW welding then I wouldn't recommend that you fix your body panels using FCAW.
Begin with the right wire selection, you should use e71t-gs with 0.30" diameter and try to run the settings as low as you can. Some other tips include using series of tack welds, backing bars, and doing lap joints rather than butt joints. That's to decrease the chances of blowing holes into your workpiece. (This wire should be good based on my research, It's not an affiliate link)
Be aware that MIG welding is a much better method to be used on sheet metals and body panels, though even MIG requires some serious skill to get the job done.
WHAT IS THE IDEAL THICKNESS OF THE METAL ON WHICH FLUX CORE METHOD SHOULD BE USED ON?
As I have mentioned above, it is usually recommended that you use flux-cored welding on materials thicker than 18-20 gauge or about 1.0mm. In my experience, I would suggest that you shouldn't go below 13 or 14 gauge, which is about 2.0mm. This is also the suggested thickness for FCAW according to Millerweld's official website.
I have come across people who have successfully welded on materials that are as thin as 20 gauge, but almost all of them faced some kind of an issue with the final weld.
HOW TO WELD ON BODY PANELS USING FLUX CORE WELDING?
Use lap joints rather than butt joints
Make sure the joints are tight and precise, any caps between joints will increase the odds of burn trough
Use low settings, thin wire, fast traveling speed
Go with tack welding rather than doing longer welds
Use copper backing bars
Clean Your base metal properly
If you don't have many options and you want to give FCAW welding a shot, then there are a few factors and techniques which might help you out. The first thing which you should keep in mind is the settings for the welding job.
FOR THINNER THAN 18-20 GAUGE OR 1.0MM PANEL
Most of the official company websites don't specify the settings for welding this thin metal. I had to do some experimenting and digging to find out what will you need to weld using FCAW.
The wire selection here becomes even more important, so far the Select 700GS was the perfect match for this kind of job. This wire is specifically designed to be worked on thin metals, the diameter to go for would be  .030" or 0.8mm.
Running this on 30-40 Amps and 100-120 IPM wire feed speed should do the trick. If you are going to be welding T joints, then aim the welding gun a bit more towards the vertical plate to reduce the chances of blowouts. Try to keep the settings as low as possible although I doubt most FCAW welders will go below 60 Amps.
One thing I would suggest is to do a lot of practice runs before the actual job. You might have to play around with the wire feed speed and the voltage a little bit to find that sweet spot for you.
OTHER FACTORS TO KEEP IN MIND
One piece of advice here would be to keep the traveling speed a bit on the higher side. Spending too much time on one spot will easily lead to holes in the metal. A lot of people also blame Flux-Cored welding for producing a lot of spatter and slag. But in reality, some users are welding with the wrong polarity, are using low-quality wire, or don't clean the base metal properly. Keep in mind that usually FCAW will work with negative or reverse polarity and don't be cheap! Invest in quality welding wire!
Welding sheet metals successfully is all about managing the heat. If there is excessive heat on the metal then there will be burn-throughs. There are some very clever techniques through which you can minimize this heat localization.
The first technique is spot welding, this is a resistance based welding method wherein two copper electrodes are connected to the sheet metals. Due to the resistance of the base metal, heat is generated when an electric current and pressure is applied through the electrodes. This heat and pressure leads to the two metal pieces being welded.  This technique needs a different equipment which can be cumbersome and expensive. Another way to do would be doing a lap joint and drill a small hole through the top sheet. You can then make a tack weld into the hole, bonding the two sheets together similarly to spot welding.
Another technique is using a backing bar to dissipate heat faster. You can set up a bar made out of any metal, preferably copper because it conducts heat much more efficiently. Place the copper bar right behind the area you are going to weld. The heat will dissipate much faster when compared to atmospheric cooling. Just to be clear, as body panels are attached to a car, you will have to set the backing bar behind the welding area on the car itself, which in some cases could be impossible
If you have a choice over the type of joint you can do, I would suggest going for a lap joint over something like a butt joint. The simple reason behind this is that with lap joints, the heat gets to spread over a larger area and there is more metal underneath the heat affected area. This will further reduce the chances of a burn through.
Butt joints and lap joints will both need a lot of precision especially if you are using flux-core. For example, doing lap joints, there cannot be any gaps between the two sheets. That's just asking for trouble. The fastest way to ruin your panel is not to set up the joints tightly. You'll blow right through the panels
WHY IS MIG WELDING CONSIDERED TO BE A BETTER CHOICE FOR BODY PANELS?
If you ask any welder out there, their usual choice while welding body panels and sheet metals would be MIG welding. There is a very simple reasoning behind this, MIG welding does not run as hot as flux-core. During the latter, the wires use more heat as the arc also has to burn the flux inside the welding wire.
Basically, MIG welding is much better at managing heat during welding, which leads to fewer holes and warping.
You have to use the smallest wire possible for the job, smaller wires use less heat to melt. For welding on materials that are thinner than 20 gauge, 0.023" wire is recommended although some people also use 0.030" sized wire. For the latter, your wire feed speed should about around 90-100ipm.
In terms of shielding gas, an Argon heavy gas mixture is more suitable as it carries less heat, 75-25 Argon-CO2 split at 15-16 Volts is ideal. Although you can use CO2 it tends to have deeper penetration and might be a bit too hot for the sheet metal, operate this at lower Volts. The Amperage range should be around 40-55.
While for the wire, the AWS E70 wire in S-2, S-3, and S-6 care ideal for welding on mild steel, but for aluminum, you should use ER4043 and ER5356. For stainless steel, you can go for ER308 and ER308L.
FREQUENTLY ASKED QUESTION
There are a lot of places on the internet that warn you about using flux-cored welding with body panels and thin sheet metal but very few of them clearly tell you if and how it can be done. I have tried to compile a list of everything Naturally this will lead to some questions in your head. I have tried answering some of the most common questions, hope this clears things up.
WHICH GAS SHOULD BE PREFERRED WHILE DEALING WITH BODY PANELS OR SHEET METALS?
Although CO2 will be the one which consumers usually gravitate towards due to its cost-effectiveness, in this case, you should go for a 75-25% mixture of Argon and CO2. It will help reduce the heat on the thin sheet metal.
WHICH METHOD IS BETTER FOR WORKING ON BODY PANELS?
As I have mentioned above, MIG will be much easier and much more reliable while working on thin body panels. This method is much better in handling and managing heat levels.
WHICH WIRE SHOULD YOU GO FOR WHILE WELDING ON BODY PANELS USING FCAW?
If you are going to be using FCAW on metals thinner than 18 or 20 gauge then I would suggest going with Select e71t-gs, with a diameter of about 0.030". It works pretty nicely with thin metals.
CONCLUSION
If you are in a pinch, then it is possible to weld on a body panel using flux-cored welding. You will have to be very careful while doing so, as the metal will be very prone to burn through and warping. A lot of welders feel that it is not worth it to weld using FCAW and they suggest using MIG welding for this process (including me). Make sure you select the right wire and the right settings before you try to do the welds.
Anyway, once you have tried it out, shoot us an email and let us know how it went!