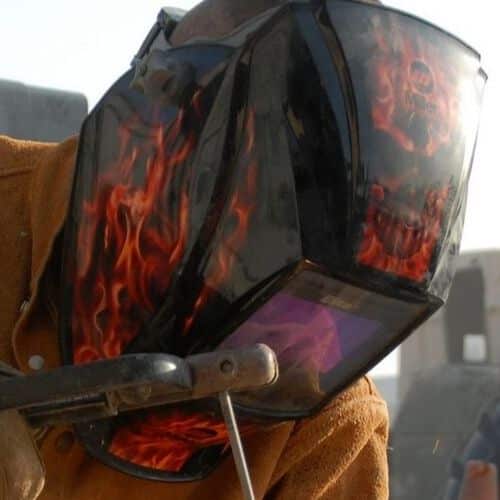 Why Welding Helmets are necessary?
Welding helmets are necessary for professional welders as well as for hobbyists. If you are a welder, then you need to find a top-quality welding helmet for your own safety. Also, if you want, there are tons of cool welding helmets on the market that stand out from others.
Every welder must have a welding helmet, but a Badass Welding Hood is even better. For those of you who don't know, welding helmets protect the eyes, neck, and face from hot sparks, infrared light, extreme heat, and ultraviolet light.  Ultraviolet light flashes from the welding can cause Photokeratitis, which is also known as a flash burn or arc-eye. It is a very painful condition considered as sunburn that makes you feel like having sand in the eyes and also causes watery eyes.  These symptoms are recoverable and short-term, and it can be cured if you take proper rest.
However, extended exposure can cause long-term damage to the retina. Welding helmets come with dark UV-filtering plates that help you avoid eye damage and these badass welding helmets give you the comfy welding experience.
Buying the best welding helmet is just one element of safety equipment for welders. But, you should also consider buying welding jackets, welding gloves, welding helmet respirators, welding pants.  If you work on only brazing or cutting, torch soldering, then it is important to wear welding glasses or goggles to protect the eyes. 
Here you can find in my opinion the top 5 Badass Welding Helmets. Maybe this list helps you to pick the right one.
If you are looking for something more durable and not designed to just be cool and pretty, but more practical, read this review about Jackson safety helmet.
KOOLWOOM Welding Helmet – The most eyecatching
Neiko 53932A is a battery and solar-powered auto-darkening welding helmet and it is the best option for MIG, TIG, MAG/CO2, and MMA welders, comes with red skeleton design and with the balanced fit. This lightweight skull-shaped welding helmet designed for comfort and safety and comes at an affordable price.
The solar and battery-powered helmet contains two self-regulating arc sensors, UV and IR protection, and lens darkening reaction time is 1/25000s. It protects the user from working temperatures between -5C and 55C, and the helmet as can be expected can stand severe working conditions.
Suitable also for plasma cutting, the auto-adjustable shade ranges from 9 to 13. The sensitivity adjustment feature permits you to regulate the light-sensing of the helmet as per your needs, and so as the delay feature. 
It comes with a large lens for high visibility, improved optics that includes a spare inner lens and spare cover lens along with the battery.  With Neiko53932A you look cool and stay safe, as you can tell, this skull-shaped helmet designed to be cool.
In my opinion, it would be a great gift to a welder.
Features:
Two separate arc sensors
Long battery life
Working temperature between -5C and 55C
1/25000s lens darkening reaction 
Weight: 1.9pounds
DIN16 IR protection
Dislikes:
Lincoln Electric K3087-1 Auto-Darkening Welding Helmet – The Meanest
As always, when talking about welding equipment I can't leave out Lincoln,  This model is an Auto-Darkening one, and it is really lightweight.  It comes with a 9 to 13 variable shades as most welding hoods and features a 13/4in x 3 13/16in auto-darkening lens.
Features:
Comfortable Headgear
Eye-catching design
Lightweight Shell
2 spare outside polycarbonate force resistant clear lenses
Color: Black, skull design
Variable shade 9-13
Weight: 2lbs
Material: Plastic, Polycarbonate
Viewing Area: 6.7in2
Dislikes:
Hefty price tag
Colibrox – The sexiest
Colibrox Pro solar welding helmet is the perfect welding helmet for Grinding and welding this product is designed to be durable, multifunctional and cool at the same time.  The pro-solar welding helmet reacts immediately when you start the work.  The observing window darkens instantly when the arc strikes. The advanced welding helmet is perfect for all types of arc welding, electro welding, gas shielded welding, and more.
The welding helmet is made with strong and durable fire-resistant material and features ultra-light design.  This stylish Colibrox allows users to have comfortable wear and offers high-performance lithium batteries and solar cells. Also, it comes with adjustable delay and Sensitivity time, welding and grinding mode can be selected and contains permanent IR/UV protection HD protective filter.
 The Colibrox Pro Solar offers 10 years guarantee period which is nice.
Features:
Perfect Quality
Mask Material
Brand New and Durable
Color: Black with durable material
Material: Polypropylene
Viewing Area: 6.3in2
Weight: 1lbs
Lens Shade Range: 9-13
Antra Welding Helmet – The most neutral design
This Antra model is a Digital Controlled Solar Powered Welding Helmet that comes with a wide shade range (4/5-8/9-13) and grinding feature.
It is the perfect option for every application and easy to understand control panel removes the guesswork. This lightweight Antra welding helmet is very versatile and it is perfect for cutting, welding, and grinding applications.
It is a great upgrade version for a fixed shade helmet if you are a beginner that is available at a very affordable price.
Features:
UV/IR Protection: DIN13 permanent shade
Digital controlled delay and sensitivity setting
Fully automatic ON/Off power
Hard hat adapter available separately
Power off delay
Color: Multicolor
Material: Polyamide-Nylon
Viewing Area: 13.5in2
Viewing Area: 13.5in2
Weight: 1lbs
Lens Shade Range: 5-8, 9-13
Audew welding hood
The Audew Solar welding helmet is a good option for grinding or for any welding process, and suitable for high-welding temperatures.  It offers 3.62 x 1.66in viewing area and comes with fully automatic on/off the power.  During normal temperature conditions, the response time is greater than 1/30000 seconds which is a bit more than other masks, but you really can not tell the difference.
Audew Auto-Darkening welding helmet comes with unique dark-tinted viewing lens glass with a UV coating. 
Features:
A lot of Space and very safe shell
Powered by a lithium battery with solar backup
The Perfect option for high welding temperature
Perfect for Grinding or Welding
Adjustable sensitivity and outside shade number
Large view window measurement for easy observation
Convenient while operating
Color: Black with skull design
Viewing Area: 6in2
Weight: 1lbs
Material: Plastic
Lens Shade Range: 9-13
It is great, but a bit cheap and the quality could be better.
Finding the Best and the Coolest Welding Helmet for You:
There is a large range of welding helmets available in the market that come with a wide range of features. Finding the best welding helmet can be very confusing for those who have just started their welding career. This guide can help the individuals find cool welding helmets and protect themselves from health risks.
Here you can find four different categories based on versatility and features:
High-end Auto Darkening
Mid-level Auto Darkening
Entry-level Auto Darkening
Passive Welding Helmets
Top-level Welding Helmets:
These helmets are top-of-the-line and probably best suited to the professional willing to invest in a high-quality, lightweight, comfortable and durable helmet.
Medium-Level Welding Helmets:
Mid-level Auto Darkening Welding Helmets are similar to high-end helmets but with a few fewer features, (removed features include, smaller shade range, fewer sensors, no solar or reduced solar capability). Also, these helmets do not offer good optical clarity.
Basic-Level Welding Helmets:
The entry-level auto-darkening helmet comes with a few attractive features but do not offers the best protection and comfort to the welder.
Fixed shade Welding Helmets:
These helmets are a basic helmet that doesn't come with auto-darkening features.
What type of welding are you normally doing?
If you are doing one particular type of welding task every single day, then you can choose the budget-friendly welding helmet that protects you and meets your regular task needs. You don't need to look for a costly helmet that comes with extraordinary features and versatility.
For every welder, grinding is one part of the process. Some of the best welding helmets come with a grind mode.  Choosing the grid mode option helmet is best when the grinding needs to be done right after welding. The exterior grind control option allows you to switch the helmet to grind mode just with a push of a button. Also, it adjusts the lens and provides safety as you don't need to take out the helmet to make the required adjustments.
What is your welding environment?
If you do outdoors welding a lot, then it is advisable to choose a helmet with the best features like Millers' X-mode feature that auto-darkens as per the electromagnetic field of the arc.  Traditional auto-darkening can be afflicted by sunlight or by a body part, or by material blocking the arc.
If you are doing a lot of overhead welding, then it is advisable to choose a welding mask that is specifically designed to prevent slipping and to make sure that the head is covered properly with a welding cap or a hardhat.
What is your budget?
The budget is also a vital factor to consider. It is always recommended that purchasing the welding helmet that meets your requirements. Don't get tempted to buy a fancy helmet that comes with extra features, which you will never use. It is always important to know your requirements before buying the welding gear. However, there are several models that you can find in the market.
FAQs:
1. How do I know which welding helmet to choose?
Choosing the right welding helmet is very crucial as it is the equipment that you need to research thoroughly before buying.  Make sure that the helmet is not heavy, and before choosing the helmet consider the range of jobs that you will do.
2. What is an Auto-Darkening welding helmet?
An auto-darkening helmet contains an exclusive lens with liquid filters and crystals, it darkens automatically when exposed to the welding arc.
3. What is the ideal lens size on a welding helmet?
Usually, most of the welding helmets will have a 2×4,25″ size lens. These dimensions are enough for welding tasks, but for more difficult tasks in awkward positions, you should look for a larger lens. As a rule of thumb, the bigger the viewing area, the better.
Conclusion:
Choosing the best auto-darkening helmet is important as it protects the individuals who do the welding task from harmful light and heat. The listed helmets can darken the lens in milliseconds using the LCD (Liquid Crystal Display) technology thus allow you to do more work continuously, reduce stop-and-start time and protects from any welding danger while looking cool.
Hope this article was helpful in terms of giving you some ideas. I personally would go with the first one. It really stands out and looks awesome although I probably would not weld with it daily.