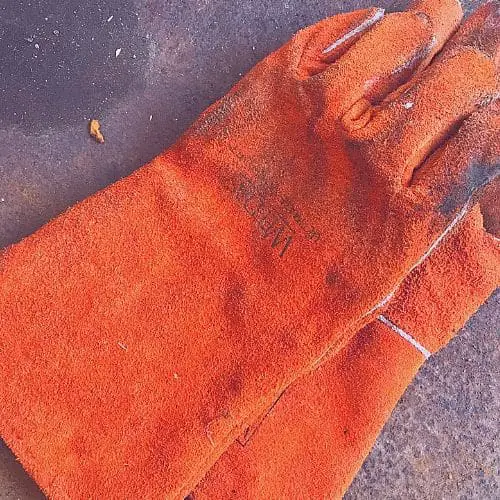 Whether you are a professional MIG welder or you just weld occasionally, welding gloves are an important safety accessory to have. While you weld, a number of sparks, heat and radiations such as UV and IR are produced. These can harm your eyes and cause skin burns.
In order to keep yourself safe from health hazards, aside from welding pants and a good helmet, welding gloves are a basic necessity for every welder. With a good pair of MIG welding gloves, you can protect your hands from sharp metal edges, harmful sparks, and red hot metal.
There are a number of MIG welding gloves available on the market. With such a wide range, you might be confused about choosing the best one for you.
We have listed down the top 5 best MIG welding gloves for your ease and convenience. Read on to know more!
Lincoln Electric Traditional MIG/Stick Welding Gloves – The best overall
When it comes to top welding machines and protective gear, no one is unaware of Lincoln Electric. As a leading brand, it has given some of the best ever welding gloves to its customers.
Featuring high-quality cowhide material with soft cotton lining, Lincoln Electric traditional welding gloves are best for people specifically looking for MIG welding gloves. It has almost all the features that the best welding gloves should have.
I found its heat-resistant and puncture-resistant nature to be its great feature. It adds a lot to the protection and safety. Its built-in cuffs are highly effective in terms of protection too.
Moreover, these gloves are quite comfortable. They come with a full sock lining on the interior side for durability. Not only this, they also protect you from daily exposure to sparks and spatters. Its Kevlar stitching makes it a reliable and durable product.
I highly recommend Lincoln Electric welding gloves. Even without straps, these fit perfectly well and will never fall off. Whether you are a beginner or professional, these welding gloves are the best option to consider.
Pros:
Ideal for Metal inert gas welding
Heat and puncture-resistant
Excellent protection
The durable and high-grade leather material
Kevlar stitch
Cons:
Does not come with straps
Miller Electric Arc Armor MIG/Stick Welding Gloves – The Most Durable
Miller Electric is second to Lincoln Electric when it comes to welding products. Over time, it has manufactured the best quality welding gloves which are known for their durability.
If the durability of a welding glove is something you prefer the most, Miller Arc Armor MIG welding gloves are the best option. These are made up of premium grade pigskin and cowhide which are flexible and soft top-grain leather materials.
These two materials are known best for their durability. No matter you use these at high or low temperatures, these are not going to show any signs of wear and tear anytime soon.
Another best feature of these welding gloves is its ergonomic fit. With pre-curved fingers and wing thumb design, you are going to get great comfort and dexterity. Also, the material makes it highly cool and naturally breathable.
Furthermore, it comes with reinforced double layer patches on its palm and back. This adds to the durability as well as protection. Lined with wool, these are 100% flame resistant.
Coming at a fair price, these might be a little expensive for some. However, you will not regret spending on these Miller welding gloves as they are going to last a long time.
Pros:
Premium leather
Soft and flexible
Ergonomic design
100% flame resistant
Cons:
John Tillman & Co Medium Pearl Top Grain Cowhide Gloves – The Most Affordable
John Tillman & Co is known to manufacture excellent products at affordable prices. Its welding gloves fall in the list of best welding gloves.
If you are really interested in Tillman welding gloves that will suit best to your MIG welding career, its Pearl Top Grain Cowhide gloves are the answer. The best thing about these welding gloves is their inexpensive price.
Coming at a considerably cheap price, these are highly affordable yet giving out a great performance. These welding gloves come with split leather reinforcements. Also, a split leather back with an elastic fit and fleece lining are added qualities. It is very rare that large top-grain welding gloves with all of these qualities come at this price.
Overall, these are great welding gloves for MIG welders. If you are looking for a cheap yet good quality cowhide welding gloves, go for Tillman's top grain welding gloves.
Pros:
Affordable
Strong and sturdy
Convenient use
Fits perfectly
Breathable
Cons:
Caiman American Welding Gloves – The Ideal Size
Caiman is undoubtedly a well-reputed brand. With years of experience, it has given some best welding gloves to the welders.
I found Caiman 1878-5 American Deerskin welding gloves as the only welding gloves that offer an ideal size. The main strength of these gloves is the length. Being 21" long, they fully cover your wrists and a quarter of your forearm too.
Another great feature of these welding gloves is the level of comfort. These are super comfortable. They come in pre-curved fingers that give off a good shape when you wear them.
Moreover, there are extra paddings and reinforcements that provide superior protection. Also, there are straps to ensure that your welding gloves do not fall off automatically.
I really dig these Caiman welding gloves because of their fireproof ability. Being fireproof, the protection you get with these welding gloves is enhanced greatly.
Overall, these are a good pair of welding gloves combining ideal size, paddings, comfort, and fire-resistant capabilities. I would advise anyone to consider this American Deerskin welding gloves by Caiman.
Pros:
Great 21" length
Comfortable
Reinforced and padded
Fireproof
Do not slip down
Cons:
US Forge 400 Welding Gloves – The Best Heat Resistant Gloves
US Forge is known for its superb quality. For years, it has stuck to its mission of producing the best welding gloves in the market.
When it comes to best heat resistant welding gloves, US Forge 400 welding gloves stand at the front with its light blue color. The best thing about these welding gloves is that they are made up of premium quality top-grain leather material.
This is mainly due to this leather material that the US Forge 400 are greatly heat resistant. With this quality, you are free to deal with metals at extremely high temperatures.
In fact, these welding gloves come with a cotton lining that enhances the comfortability. So apart from being heat resistant, these are also comfortable and support hand movements with its well reinforced frictional parts.
Another great feature of US Forge 400 is that these are really lightweight despite having robust construction. I totally loved this feature since it helps give you a high level of protection from molten materials. And apart from being heat resistant, it is also resistant to wear and tear.
Pros:
Heat resistant
Durable
Cotton lining
Lightweight
Grips well
Cons:
Buying Guide
In order to choose the best MIG welding gloves, here's the only buying guide you will ever need:
Welding Glove Materials:
The material of a welding glove is extremely important to choose for MIG welding. The best material for MIG welding gloves is the one that is thick and comes in multiple layers. Following are the main kinds of material used for MIG welding gloves:
Cowhide
This is also a form of leather though it is tougher and sturdier. With top-grain cowhide gloves, you get ultimate protection. These are manufactured with the top-most layer of cow's hide. Its high quality and long-lasting abilities make it the most suitable material for MIG welding.
Pigskin
Pigskin is another well-known leather material. It is soft and easy to wear. Also, it provides added grip and comfort side by side. As it is highly sturdy, it is suitable to use even in wet and oily conditions. Apart from being soft, it is breathable as well.
Deerskin
When it comes to ideal fitting, Deerskin welding gloves are the best. The best thing about deerskin is its dexterity and natural feel. Being not very heavy, they are easy to work with. A number of gloves that require perfect fitting are made of none other than deerskin.
Cotton
Cotton is another popular material for MIG welding gloves. Even though they are quite handy, they are not very protective. If you are doing lighter MIG welding tasks, cotton welding gloves are good. Otherwise, it is advised to choose one of the leather material for your welding gloves.
Protection Level:
The second most important factor to consider is the level of protection offered by your pair of MIG welding gloves. You must examine the level of protection before buying a welding glove.
A MIG welding glove should be protective enough to save you from severe heat. As MIG welding comes with high-level welding, metals are usually difficult to handle. Therefore, MIG welding gloves must be highly flame resistant and heat resistant.
In order to check the level of protection, look for the material and liners of the gloves. Liners adds a lot to the level of protection offered by gloves.
In the above list, US Forge 400 is the welding gloves that provide the highest level of protection with its excellent heat resistant capabilities.
Flexible and ease of movement:
It is important to go for welding gloves that are very flexible. It should be easy to move your hand while you are wearing your gloves. A welding glove supporting hand movements is best for MIG welding.
In the case of GMAW welding, you can only do your job really well if the gloves provide enough dexterity. The level of dexterity offered in different welding gloves is different. So you need to choose carefully.
Proper Size & Length:
Size is the most important factor when choosing a new pair of welding gloves. You would not want your hand hanging in the glove. It adds to the unease and difficulty while doing the job.
A welding glove should fit your hand really well. In the case of MIG welding, however, it is advised to look for a welding glove that covers some of your forearms as well.
As MIG welding exposes your wrists and arms to heat and metals, you need to protect them as well. Therefore, you must consider how much of your arm is covered with the welding glove.
The right size compliments the comfortability. If you feel comfortable with a pair of MIG welding gloves, this means this is the right size for you. Different manufacturers produce a single fitting welding glove while others come with different sizes such as S, M, L, and XL so you can choose the best for you.
And so, we found Caiman 1878-5 with 21" length as the ideal sized welding gloves.
Durability:
A pair of your welding gloves must be durable enough. Durable products last longer. As you cannot afford a new welding glove everything you are up for MIG welding, get a pair of welding gloves that makes a longtime partner.
Durability highly depends on the material of welding gloves. Good quality materials such as pig leather and cowhide come with high durability. We came across Miller Electric Arc Armor welding gloves as the most durable MIG welding glove on the market.
Affordability:
The cost of a product is an essential element. When it comes to buying anything, the cost is the first thing people consider.
When looking for MIG welding gloves, it is important to look at its price as well. There are different MIG welding gloves that come in a wide range of prices. A welding glove can cost as low as $5 and as high as $100. On average, a good MIG welding glove costs $20 to $30.
With such a large variety, you can choose the one that suits best to your budget. However, we think Tillman Top grain Cowhide gloves are the most affordable ones.
Overall Performance:
The overall performance of welding gloves cannot be judged before you put them to use. However, there are some additional features that add to the overall performance.
Many welding gloves come with Kevlar stitched. These improve the durability of welding gloves. Very often, there is extra padding present in the back of your gloves as well as in palm. This adds more to the ease of work.
Straps are an added feature that does not come in all the welding gloves. If present, they make sure that your welding glove does not fall at all. If you look into some extra features, you can have a good idea about the overall performance of your welding gloves. We found all of these features in Lincoln Electric Traditional MIG/Stick welding gloves.
The Best MIG Welding Gloves – Frequently Asked Questions
What are some good MIG welding gloves brands?
Lincoln Electric, Miller, Caiman, Tiller, US Forge are some high-end brands when it comes to good MIG welding gloves. These brands manufacture high-quality products that are durable and affordable.
What are MIG welding gloves usually made of?
Usually, MIG welding gloves are made of leather or different forms of leather. Welding gloves come in different forms of leather to suit different welding jobs. When it comes to MIG welding, pure leather, cowhide, and deerskin are the most recommended ones. These materials are really strong and enhance the protection you get with a pair of welding gloves.
Should MIG welding gloves be fireproofed?
When it comes to the severity of burns caused by MIG welding, it is advisable to get welding gloves that are fire-resistant.
Fire-retardant or heat resistant welding gloves are good at withstanding extremely high temperatures. You will see no holes and tears on your welding gloves, however, they can not stand direct contact against fire for long periods of time.
Do welding gloves last really long?
Well, this depends on a number of factors. The most important factors include material and frequency of use. If you get good quality material and use your welding gloves twice a week, they can easily last as long as two to three years.
However, if you are a professional welder, you might need to change your welding gloves every six to eight months.
How much does a pair of welding gloves cost?
Welding gloves can come as low as $4 to $5. But they might not be of good quality and durable. Good quality welding gloves cost $20 to $50. If you want premium quality welding gloves, you can choose the one that costs $100 or more.
Picking the right MIG welding gloves
Choosing the right MIG welding gloves for yourself can be a big deal. However, we can assure you that after going through our best welding gloves and buying guide, you can easily get a pair of MIG welding gloves for yourself.
Make sure you remember all the above mentioned important factors to get the best Gas metal arc welding gloves for yourself.
Best of luck!