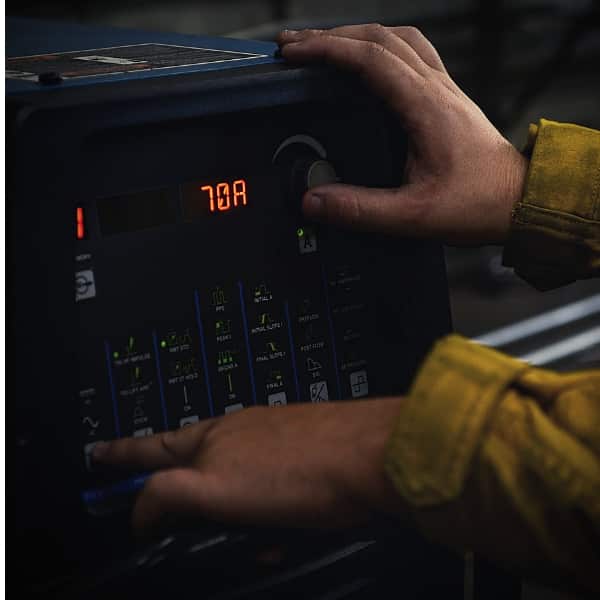 It is a well-known fact that finding a new, best welder as beginners in today's market is quite a headache, you can even read all MIG welder reviews on the internet, but still, the options between different brands and functions seem endless.
What makes it even more stressful is that people tend to have different opinions about different brands and machines. It is like an endless debate on which is better, Coke or Pepsi. Because of that, it is difficult to make a final decision without hesitation and it is completely normal.
There are actually many things that can go wrong if you decide to invest in a new welder without doing proper research. The main thing would be that higher cost does not necessarily indicate that the machine is a perfect fit for you, though you have to spend money so you can save money.
I've gone through the research struggle myself trying to find the best MIG welder, so I thought I'll share my work with You by writing this wire feed welder review including a buyer guide to ensure that you get the best machine without blowing a hole in your budget for no actual reason.
So let's get started!
Lincoln Electric Easy MIG 140 – The Best MIG Welder for Beginners
Lincoln is a well-established brand in the industry that released its first welder in 1911. Today Lincoln Electric is referred to as America's most successful manufacturing company when it comes to welding supplies. Some people even describe the company as the Harley Davidson of welding because of the passion and dedication the brand expresses towards their work.
This Lincoln is one of the most intuitive, therefore one of the best welder for beginners you can find in the category; reading the instruction manuals and familiarizing yourself with the guidelines of operation that are included with this machine, is sufficient enough to help you kick-start your journey and start welding away at your DIY projects!
The Lincoln MIG 140 wire feed welder can be connected to any 120-volt electrical outlet which enables its usage in a wide variety of locations. Additional specifications include an output of 140 amperages and at 90 amps at a duty cycle of 20% with wire feed speed from 50 IPM up to 500 IPM. The wire speed and amperage are easily controllable with a simple 2 knob control system which makes it easy for beginners to set the right parameters.
With the maximum amperage, it is possible to weld up to 3/16 of an inch thick materials in a single pass using GMAW process, using FCAW wires, it is even possible to marry metals up to 5/16 thick.
The machine is a little heavy for the power output, weighing 62 pounds, but still, it is easy to transport the welder without breaking a sweat. Making it even more appealing,  this model comes with all the basic parts and supplies you need to start, including two spools of wire with one being a flux-cored. Aside from gasless setup, the machine is capable to weld other metals with proper wires, such as aluminum and stainless steel.
This machine would be suitable for those who intend to purchase a reliable MIG welder, in order to work on simple projects as well as those who pursue welding as a hobby. With easy to follow instructions included for beginners, there is no other welder which would boast such a small learning curve as for the price as this model.  
Specs:
Net weight: 50 pounds
Wire feed speed: 50-500 inches per minute
Wire size range: for solid wire .025-.035" and for flux-cored 0.30-0.35"
Input: 110/115/120 volts
Duty cycle: At 90A 20%
Output: 30A-140A
Pros:
Works on household current
Everything included to get started
Portable
Well-established brand
3-year warranty
Cons:
Hobart Handler 140- The Best MIG Welder for Home Use
Hobart is one of the most trusted welder brands in the world and for a very good reason. The company was founded more than 100 years ago, and as you can assume, after a hundred years of experience in the industry, they must know a thing or two about what they are doing. From their product range, one can find a variety of products starting form this great welder for beginners to the more heavy-duty wire welders suitable for more advanced users.
The Hobart Handler 140 operates on an industrial drive aluminum system and has similar specifications with the Lincoln MIG such as the input power of 115 volts and the output power of 90 amperes at a 20% duty cycle, as well as the flux-cored welding process compatibility. Against overheating, Hobart has a built-in safety feature that resets the machine when the temperatures start exceeding the critical level to avoid any damage to the welder.
The overall design is few pounds lighter than similar machines produced by competitors and the wire feed speed for this machine ranges from 40 IPM to 700 IPM and the material thicknesses that this machine can handle range from 24 gauge up till 1/4 of an inch with mild steel.
The 500559 model comes with everything you need to get started, including spare contact tips, safety regulators and even heavy-duty ground clamp that is designed to stand more than needed, 200 Amps of current. It also has 5-position voltage control that helps to ensure smooth and stable arc at all times
The Hobart Handler 140's performance is almost equivalent to the previous wire welder and although it has better specifications in certain features, surprisingly, the price is better as well. And there is a reason for that, namely the design of the 500559 model is designed to be more cost-efficient welder, robust and at the same time being fairly light and compact. What really impresses people is that every part of that machine is sturdier than the competitor's products while Hobart does not try to save money on simple accessories like the gas regulators and ground clamps. All in all, these features make it really the great welder for beginners as well as for simple home and farm use.
Specs:
Net weight: 57 lb
Wire feed speed: 40-700 ipm
Wire size range: for solid wire .024-.030/.035" and for flux-cored 0.30-0.35"
Input: 110/115/120 volts
Duty cycle: 20% duty cycle at 90A
Output: 25-140A
Pros:
5-year warranty
Superior quality and durability
Uses standard household current
Smooth arc control
Quick select drive roll
Cons:
Not suitable for bigger projects
Hobart 500553 Handler 210 MVP- Best Wire Welder for the money
With Hobart's exceptional reputation in welder production, we are obliged to include yet another machine of their making. Another wire feed welding machine we recommend for your shop would be Hobart Handler 210.
The Hobart 500553 Handler 210 is a MIG/Flux Core Welder that can operate on both, 115 and  230 volts systems with an output power ranging from 30 up to 210 amperes while being equipped with self-resetting thermal overload to ensure that the system does not exceed the duty limit. It has a 30% duty cycle at 150 amperes and with 110v input 20% duty cycle at 90 amps. As always, so does this Hobart model has a quick change drive roll system made from durable cast aluminum, making it possible to change wires with ease.
The 500553 is designed for maximum versatility to ensure that you get the job done. A notable advantage of this device is its providence of 7 different voltage settings which enable precise controls during the welding process, making it possible to weld 24 gauge up to 3/8 inch mild steel in a single pass. And not only that, this model is the only Hobart welder which can run on such high power while being in a portable case. Furthermore, it has a built-in spool gun control circuit that can be used to work with aluminum wire.
210 MVP's performance is comparatively superior and more versatile than the last welder for beginners aforementioned, so we would recommend this particular model for enthusiasts who definitely want to tackle bigger and more advanced projects in the future. Overall, it is one of the best dual voltage MIG welders on the market.
Specs:
Net weight: 79 lb.
Wire feed speed: 40-680 ipm
Wire size range: for solid wire .024-.030/.035" and for flux-cored 0.30-0.35"
Input: 110/115/120; 220/230/240 Volts
Duty cycle: 20% cycle at 90A on 115v and 30% cycle at 150A on 230v systems
Output: at 115v 25-140A at 230v 25-210A
Pros:
3-year warranty
Dual voltage
Produces high-quality welds
Fairly compact
Quick select drive roll
Cons:
Millermatic 211- The Best Portable
Like other popular welder manufacturers, Miller started in the welding industry at the beginning of the 20th century. It went from a one-man army to one of the world's biggest cutting and welding equipment manufacturers. Thanks to their innovative, lighter and more cost-efficient design, their machines are rated as best welders for beginners in terms of ease of use.
Unlike most lightweight welders, Miller 211 can operate on both, 110/220 voltage system, with the amperage range being from 30 A – 230 A, making this welder extremely versatile, it possible to weld mild steel from 24 Ga – 3/8 in and aluminum from 18 ga – 3/8 in. It has a 40% duty cycle at 150 amps in the 240-volt network and 20% at 115 A with 120-volt input.
The design of this Miller wire feed welder is really top of the line, all parts are made from quality materials and inverter technology makes it more efficient, much lighter and provides a smooth arc start. Overall, it's ahead of time in terms of the welding technology.
What makes this Miller MIG welder unique is that it has advanced auto-set features, including five different wire/gas combinations making the machine extremely easy to use. To make the set-up process even less painful, it is equipped with a quick-select drive roll, offering three grooves for different wire sizes.
Weighing only 38 pounds, having the auto set feature and dual voltage system, it is the best welder for beginners who are willing to invest some extra bucks in a top-notch welder to tackle a variety of projects in different locations. Miller has proved once again that they are producing best professional MIG welders that can be used by experienced workers and novices alike.
Specs:
Net weight: 38 lbs
Wire feed speed: 60-600 ipm
Wire size range: regular wire .024-.035" flux-cored- .030-.043"
Input: 110/115/120; 220/230/240 Volts
Duty cycle: 20% cycle at 115A in 110v system and 40% cycle at 150A in 220v system
Output: 30-230A
Pros:
Really intuitive
Lightweight
Very versatile
Inverter technology
Auto-set feature
Multi-voltage
Quick select drive roll
3-year warranty
Cons:
Everlast MIG 140E- The Best Under 500
The Everlast has been on the market for little more than 10 years now, and they are already competing with well-known brands when it comes to welders. Most of their success comes down to their price-quality ratio which is actually really good.  
The Everlast PowerMIG 140E can only operate on 110/120 volt current, and thanks to the inverter system it has a better duty cycle than average transformer welders: 35% duty cycle on 135 Amps with the maximum reaching up to 140 Ampers. According to their specs, the machine is capable to weld minimum 24 gauge up to a maximum of 3/16" in single pass whether you are working on steel, stainless steel or aluminum.
Over-all design is pretty decent, it is really small and light, weighing only 25 pounds, it is designed to hold wire spools up to 8" big. Unlike regular welders on the cheaper end, it has a sturdy wire drive system made from cast aluminum to add durability and make the welder long-lasting.
Which impresses most people is that 140E does not have a proprietary welding gun that you can find on many branded welders, instead it has a standard quick-connect socket on the front that is commonly used in every part of the world. So if you happen to break it or it wears out, it is really easy to get a new one.
Everlast PowerMIG 140E is the best welder for beginners who are trying to find a machine to get small jobs done or for someone who wants to get into welding with a limited budget. I would consider it the best MIG welder under 500 bucks, taking into consideration all the moving parts that MIG welder has, I would say with this particular wire welder you get much more than you actually pay for.
Specs:
Net weight: 25 lbs.
Wire feed speed: –
Wire size range: for standard roll .023-0.30"
Input: 110/115/120 volts
Duty cycle:  60% cycle at 90A
Output: 30-140A
Pros:
step-less control for wire and voltage
Spool gun ready
Inverter technology
Cast alloy wire drive system
5-year warranty
Cons:
No quick start guide on the door
Does not come with a wire to get started
Choosing the Best Wire Welder for Beginners- The Only Buying Guide You'll Ever Need
Selecting the best gas welder is a challenging process for most of us as the vast majority being marketed to target professionals rather than beginners and hobbyists. However, there are several efficient MIG welding machines in existence which are mostly left aside by the people.
When you are looking for a best-rated MIG welder, you want to ensure that you opt for one which is efficient, best caters to your specific requirements, provides value for your money and most importantly, produces quality outputs which meet your standards and expectations.
As a rule of thumb, if we are comparing welders in the same class, the price of the welder is in direct correlation with how difficult or easy it is to use the machine in the field. For example, the Miller 211 is really easy to use as a beginner thanks to the auto-set feature, but on the other hand, the price is a lot heftier than on Lincoln machines and Hobart MIG welders.
How thick materials are you planning to work with?
The main thing you need to make a decision on is how thick materials are you going to weld. Manufacturer's claims often vary on how thick material is it possible to weld and often they state unreasonable numbers which should be taken with a pinch of salt. I would advise taking into consideration this table for steel.
Maximum amperage
90
110
130
150
180
Max thickness for butt
joints
5/64
3/32
1/8
5/32
13/64
Max thickness with V
cap
1/8
5/32
9/64
15/64
19/64
Don't forget the minimum amperage if you plan on working with sheet metal. Any welder having the lowest possible amperage over 30 would be not suitable for thinner materials like car body panels simply because you would blow holes in your base metal.
On the other hand, you want to make sure that the machine is capable of welding the maximum thickness that you want to weld. The general rule would be that for every 3/64 of an inch you would need 30 amps of power for both steel and stainless steel
The duty cycle
With power and thickness, you need to take into account the duty cycle as well. For example, if you want to weld 5/32 thick steel, you would need 150 amps. And if you pick machine on which the max output is 150 amps, you would run it flat out all the time, causing the machine to overheat pretty fast. So you need to consider if the duty cycle is suitable for your needs. The best way to go in my opinion is if you want for example weld 3/32 steel most of the time, get a wire feeder that can produce at least 200 amps of power.  
Power supply
Next, you need to determine what power supply you have. Do you have a 120v or 220v system and how big is the amperage output? For example, if you are working at home and you only have 30 amps of output it will limit what you can do. In general, you can run MIG welder on about 130 amps off a 30 amp plug and beyond that, you are going to run into the problem of popping fuses. But still, with 130 amps it is possible to weld materials that are 5/32 of an inch thick on a single pass.
The number of power settings on the machine is a very important factor as well. Some people don't recommend buying a welder which has less than 4 power settings. The more the better, but at least 4-6 power settings on a 200+ amp welder would be decent.
Gas supply
Many small machines use disposable gas cylinders which have a lower upfront cost. With bigger machines that have a tray on you can use refillable gas cylinders, they do have a higher upfront cost but will be cheaper in the long run. If you are going to spend a lot of time welding then industrial gas would be the best way to go, although it would make the machine less portable.  
For smaller welders, if you plan to use refillable bottles, consider buying a welding cart that allows you to but the gas cylinder on the back.
The type of machine
Inverters tend to be more expensive, but they are about 40% lighter and electrically more efficient, so you can squeeze a little bit more power out of them for the same amount of input. From a 30 amp plug can get 140-150 amps out of them without blowing a fuse is realistic. If you are interested in more advanced machines, check out the post about the GMAW-P process.
What size of spool you want to use
The larger the spool the cheaper the price per pound is, so, in the long run, you can save quite a bit of money with larger spools. There are 3 sizes in total, but most machines can fit 2 different sizes: Mini (4 inch) and midi (8 inch) spools or with most heavy-duty machines, they can fit midi and maxi (12 inch) wire spools
Torches
Avoid torches that are fixed, the problem with them is that when they wear out or break, the replacement can be a pricey and difficult process. Also keep in mind that some lower end wire feed welder manufacturers try to save money by not including the contact inside the welding gun, that means the welding gun is constantly passing current so even when you are not welding, if you touch anything with the welding wire that is connected to the ground clamp, you will get an arc.
Top MIG welder brands I would recommend
Before making a final decision on what welder to buy, whether it is from this review or not, I would encourage you to pick a welder from one of the following brands:
Hobart
Miller
Lincoln Electric
Everlast
All mentioned brands have proved themselves to the market over and over again, so there are fewer things that can go wrong.
The worst-case scenario is that you buy a welder and then refund it, or if you need to upgrade later to a more heavy-duty machine, you can always sell your old welder and get most of your money back. The equipment from well-known manufacturers tends not to lose their value over time as fast as most of the cheaper ones.  
Frequently Asked Questions
What else do I need once I buy a new welder?
The welders do not come with proper safety equipment. To start your journey you need at least a welding helmet, safety jacket, leather gloves, and heavy-duty denim jeans or even better fire-resistant jeans.
Make sure that you work in a place where proper ventilation is in place or good airflow is present. It is extremely important that you have strong ventilation if you weld using the FCAW method.
For solid wire, you want to use CO2 or even better, 75/25 CO2 and argon mix for better arc control and fewer splatter. The gas mixture plays a massive role in terms of bead quality.
With MIG welding you will need a spool gun that feeds the wire straight into the welding puddle from the back of the torch. That is important because the aluminum wire is really soft and it would jam your wire inside the welding hose.
For aluminum welding, it is important that you use pure argon gas to avoid the oxidation of the base material.
Picking The Best MIG Welder- How to Make The Right Selection
As you already know, GMAW method is not the cheapest method to kick start your projects, but it definitely is the easiest one to master as a beginner.
Buying a best wire feed welder from an established brand can last a lifetime or if you take good care of it they can last forever. All five-wire feeders mentioned providing value as a return on the money invested in them and are high performers in their own distinguished manners. The most important factor to consider when you buy MIG welder is the extent to which both the device and the output satisfies your specific requirements and caters to your wants and needs.
We hope this guide was beneficial to you in terms of answering the question of what is the best MIG welder and aiding your decision-making process and bid you the best of luck with your future welding activities using MIG welder of your choice.
What is your take on the Best MIG welders? Comment Below!