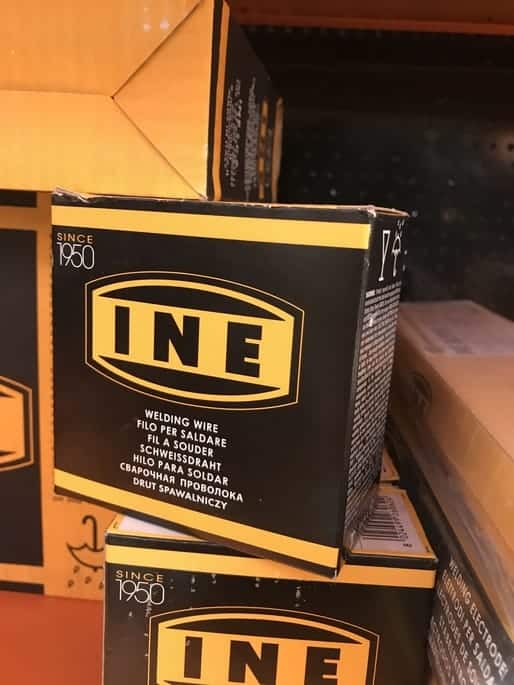 Welding is a term used to describe the method of joining two pieces of metal. MIG welding is the name for Metal Inert Gas Welding; it is used to melt two pieces of metal together along with filler wire. This method is used to create a strong joint as the metals cool together. Using MIG welding, you can join almost all types of metals but the strength of the joint depends on the wire used for welding. The most commonly used metals for MIG welding are stainless steel, carbon steel, and aluminum.
MIG welding is used widely in the construction and building industry and it helps in building structures such as planes, high rise buildings, and bridges. This welding has played an important role in most of the amazing and mind-blowing skyscrapers around the world. In this post, we'll help you choose the best MIG welding wire for your business.
Product Reviews:
The easy learning process and multi-application of the MIG welding make it a great choice for most of the welders. MIG welding has a lot of uses and it is useful for beginners and pros both. Following are the best MIG welding wires in my opinion:
Inefil ER70S-6 Carbon Steel MIG solid welding wire- (best overall):
INEFIL makes one of the best welding wires in the market. The Inefil ER70S-6 is a good quality solid wire and is equipped with a lot of impressive properties. It is affordable and is very durable too. If you are welding pure carbon steels or carbon-manganese then you must get this one. Whatever your welding work is, including construction projects or automobile repairs, this welding wire will help you in producing the best results.
Key features:
The wire is highly stable, and it serves for a long period. It is very compatible and is suitable for a lot of tasks.
It has 510 MPa tensile strength, which is a great choice for the single and multi-pass welding applications.
The wire's material is non-porous and has gone through high-quality manufacturing processes.
It uses Carbon dioxide but you can also use a mixture of argon and carbon dioxide.
Pros:
very long-lasting.
affordable.
feeds smoothly.
The diameter of the wire is consistent.
It is the best MIG wire for mild steel.
Cons:
The copper coating isn't as much as expected.
Hobart H305406-R22 ER70S-6 Carbon Steel Solid Welding Wire- (Best filler to use with shielding gas)
Hobart is a popular and respected brand and this wire is equipped with a lot of innovative features. The wire is American made and is quite famous in the farming community. The wire is available in varying sizes, that is, .024 inches, 0.030 inches, and .035 inches.
Key features:
The wire can be used on tank, shaft building, shop application, and truck bodies.
The wire is a combination of nitrogen and argon gases and you can use 100% argon gas only.
It is very long-lasting and you can use it for an extended period without any worries.
It weighs 10.7 pounds and has dimensions of 8.3 inches X 8.1 inches X 2.6 inches.
Porosity-free welds and carbon steel sound with powerful deoxidizers for you to work with shielding gases.
Pros:
very affordable.
long-lasting.
from a popular brand.
There are no snags.
The feeding is consistent.
Cons:
The plastic spool is flimsy and not very durable.
Delivery damages are there.
TGB ER70S-6 MIG Mild and Low Alloy Steel Welding Wire- (best MIG wire for sheet metal)
The TGB ER70S-6 wire is very useful for structural plate steels and sheet metal applications. It has the most content of the combination of manganese and silicon deoxidizers. It is a good choice if you're working with materials that don't have too much rust oil or mill scale. You can choose from a variety of spool weights and diameters according to your requirements.
Key features:
It is intended for general use and it features manganese and silicon.
It holds well up to heavy usage and will give you a higher weld current.
There is no need to post-weld cleaning as it gives a smooth weld bead all time.
No need to stop to clean the soot.
Pros:
The company offers great customer service.
saves a lot of time and effort.
features amazing quality.
affordable.
the best MIG wire for sheet metal.
Cons:
The plastic spool isn't of good quality.
INETUB BA71TGS Carbon Steel Gasless Flux Cored Welding Wire- (Best endurance power)
The INETUB BA71TGS is an amazing welding wire that is equipped with a lot of derivatives. The brand also offers amazing customer service as compared to the other brands. This particular wire is for flux-cored welding, but it is really good nonetheless. (You can check out my article about FCAW wire here)
Key features:
The slag ejection of this wire is very simple and is porosity free.
It is perfect for a single pass and multi-pass applications.
The spatter rate is very low.
It is widely used in steel construction and other small and heavy-duty structural projects.
Pros:
versatile in function.
good for beginners.
gives excellent performance.
offers high feed ability.
Cons:
It has a bit more splatter than other brands.
Blue Demon E71TGS Gasless Flux Core Welding Wire-(Best cheap MIG wire for mild steel)
The Blue Demon is equipped with a lot of fancy derivatives and is a very user-friendly one. It gives an amazing performance and is available in a variety of sizes such as 0.030 inches, 0.035 inches, and 0.040 inches.
Key features:
It features DCEN polarity which makes it easier to weld on galvanized and rusty steel.
It doesn't require shielding gas and is good for lap and butt welds.
The maintaining process is very flexible and affordable.
Pros:
available in variable sizes.
gives good value for money.
is one of the best MIG wires for mild steel.
Cons:
It is not suitable for multi-pass applications.
Buying Guide: How to Choose The Best Welding Wire for The job:
Choosing the correct type of MIG welding wire is important for the strength and the look of the welds you want to create. As explained earlier, the common metals used for MIG welding are stainless steel, carbon steel, and aluminum. Each of these metals has different properties and have their pros and cons. Following are some factors to consider before choosing a MIG wire for welding:
Size:
Size (as always) plays an important role in the performance of MIG wire. By size, we mean the diameter of the wire and the spool size. To get the right MIG wire size, you must first go through your MIG welder's instructions where it is stated about the electrode it is rated for. It is important to go for the rated electrode otherwise you'll end up having a too small or too large wire. You also need to take into account how thick materials you are going to weld.  (For more detailed guide check out This guide!)
A too-large wire can cause feeding problems and it ruins the feeder line. MIG wire is measured in pounds instead of length, and thus you'll have to pay more attention to the spool size and to the size your machine can fit.
Right wire metal:
The MIG wire's metal should be the same as the metal to be welded. If you're going to weld stainless steel, you should use stainless steel wire and aluminum wire should be used for welding aluminum metal. Steel wires are sometimes coated in copper so that oxidation is prevented. Some great MIG wires even use other elements along with the primary metals such as manganese, titanium, and silicon which help in deoxidizing the weld and make it less porous and more stable.
You should always consider the wire's primary metal when you choose the wire. If you're unsure, you must discuss with the local welding supply shop or the salesperson. Lincoln and INE welding wire companies are known to provide good customer service.
Wire thickness:
The second important factor in selecting the wire electrode is its thickness. The diameter of the wire is actually determined by combining the thickness of the base metals that are being welded together. There are many manufacturers that include a thickness chart in the package too, I would suggest that you check that out, but in most cases, for hobby users the .030 wires are great.
Consistency:
One thing you should remember is that all filler electrodes aren't manufactured equally. Always look for a wire that offers consistent feed ability, chemistry, wire diameter, and arc performance. If there are variations in the wire, it may result in high operating cost, lower productivity, and inconsistent welds. Inconsistent wire diameters can cause feeding issues and as a result, you'll have to do repetitive procedural adjustments between the spools or within a spool. (be aware, do not use the cheap wires produced in China)
Gas vs. Flux Core Wire:
Before choosing a MIG welding wire, you have to decide between a gas or gasless wire (if you are interested, here's guide how to pick the right gas for the job). Flux core wires have an internal coating that allows you to run without the shielding gas mixture. If you have an enclosed shop or area, this is not a good option as it leaves slag and produces toxic fumes too. Flux core wires are more helpful in outdoor areas. A regular MIG wire requires you to use a shielding gas along with the welder. It offers slag free and clean welds in indoor settings but is not suitable for inclement conditions.
Gas shielded arc welding wires are further divided into three categories; Solid gas metal arc welding wire (GMAW), Composite GMAW (metal-cored) wire, and Gas-shielded flux-cored arc welding (FCAW) wire. GMAW requires a composite metal-cored electrode or a solid wire electrode. Metal-cored wires are tubular electrodes and they have metallic constituents in the core. Metal-cored wires produce a slagless weld just like solid GMAW wire and it requires no cleanup. Gas-shielded FCAW wire is tubular electrodes that contain fluxing agents in the core along with deoxidizers to give protection from the atmosphere.
FAQ Section:
What are the prices of the welding wire?
The prices of the welding wires depend on the brands, spool size and types of wire. Some of the brands are quite expensive while others are cheap. MIG welding wires are not that expensive and you can get a good one within $25 to $40.
What are the perfect diameters and sizes?
The perfect size that can be used for most jobs should be at least 0.030 inches. If there are thicker items that you need to weld, you should go for 0.035 inches of thickness.
How durable are the welding wires?
Welding wires of good brands are quite long-lasting and durable. If you take good care of them, you do not need to worry about ruining it. (storing it in right conditions)
How many types of wires are there?
The wires are divided into two categories; flux core wire and gas shield wire. Flux core wire prevents weld contamination and is good for outdoor tasks when it is windy. Gas shield wire is good for working indoors. Gas shield wires provide amazing protection against contamination and give smoother finish with less time spent on post-treatment.
Conclusion:
A good welding wire needs to be changed according to the base metal you're working with and the type of environment you are working in. It is very important to choose the correct type of wire so that you can get the best results with minimal effort put in. If you want to choose the perfect MIG wire, you must consider the durability, check the size, and prefer the versatile goods. To maximize the lifespan of the welding wires you store it in a safe place and dry place. As always it is good to follow the instructions and the manual to get the best results.
If you are looking for a new welder as well, WeldingMania got you covered to use the wire, check out my guide about the best welding machines!