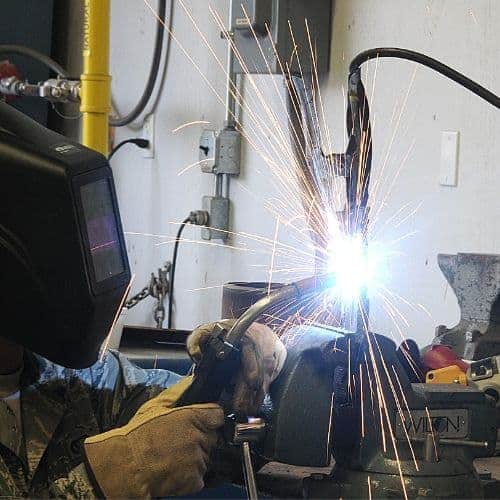 Millermatic 211 is one of the best dual voltage MIG welders available in the market that comes with an inbuilt feature that allows you to set up the machine, switch between jobs and weld different metals very easily. Even though there are a lot of manufacturers that build and develop MIG machines, Miller is one of the renowned faces in the industry.  Miller produces a lot of welding products and accessories and in this article, we are going to take a look at the Miller 211 MIG welder, its features, the pros and cons along with the product highlights.
Best Dual Voltage MIG Welder – The Features
The Millermatic 211 comes equipped with the latest and advanced inverter technology along with the popular auto-set feature. Miller has recently upgraded its technology and features across its products and accessories to a great extent. And no wonder has Miller rose to one of the best MIG welders in the market, thanks to its incredible features.
Millermatic 211 is widely renowned for its auto-set feature that allows you to work with various kinds of materials along with various kinds of gases as well as wires. The 211 is truly a versatile welder that every welder to have one in his possession. And what's more, the machine also comes with a dual voltage option, and it works with various kinds of wire diameters including 0.024, 0.30 and 0.35 inches.
Setting up the welding machine is quite simple as all you need to do is choose the kind of material with the type of gas you are going to use for the job. Along with these you also need to choose your desired wire diameter and material thickness and that's it, you can start welding right away.
Usability of the Machine
One of the major advantages of using the Millermatic 211 is the advanced auto-set feature that sets apart the welding machine from other MIG welders in the market. The machine comes with an easy to use front panel with all the controls that will get you started right away. People love this machine mainly for its ease of use as it allows you to choose the wire diameter as your options to select from 3 different diameter options including 0.24″, 0.30″ and 0.35″. Once you have chosen the diameter, an LED light in blue color lights up indicating that the auto-set feature has been enabled.
Next, you need to choose your desired process type and you have 5 options to choose from including Flux-cored, MIG stainless steel, MIG Steel C25, MIG Steel C100, and MIG Aluminum. Once you have chosen your welding process, it is time to choose the metal thickness you want to weld. And once you completed all your selections, you are all set for your welding job and the auto-set feature will ensure that the arc acts the right way, and if necessary, you can fine-tune the settings even further manually. That is the reason, the auto-set feature is one of the major advantages that people choose MIG Miller 211 over other welding machines.
The machine is designed in a way that is quite simple and easy to operate, as any beginner level user can also get accommodated with the settings quite easily within a few hours of using the machine. What I really like, is that the welder comes with a wire drive system made of cast aluminum that is slightly raised at an angle, which makes it much easier to pull off the spool and feed a new wire into the liner.
And as I mentioned earlier, another highlight of the Millermatic 211 is the quick select drive roll feature as it provides you with 3 groove options for your wire. It also allows the welder to easily switch between pools with just a minimal effort. Out of the 3 grooves provided, two are given for MIG wires and one provided for the flux-cored process.
Power
When it comes to the power settings of the Millermatic 211, it is equipped with the best dual-voltage settings that allow plugging the welder right into the available socket at hand, no need to adjust the machine manually. it is truly very easy to switch between 120V and 240V power outputs. While producing 30-230 Amperages this proves to be really helpful for welders working in different environments as it allows them to switch the power output according to the environment. Whether you are working from household power or through a generator, Millermatic allows you to easily choose the power option accordingly. It is really useful if you are just starting out as a hobby welder and you don't yet have the 220-volt output but you want to upgrade later on in the future.
Switching between the power outputs is also made simple as all you need to do is turn the ring provided on the backside or just replace the plug with the correct plug required for the power output. And you don't need any other special tools or equipment to accomplish it as everything can be completed within a matter of seconds, making it one of the top dual voltage welders in terms of ease of use.
Transport of the Welder
One of the major advantages that make the Millermatic 211 as one of the most popular MIG welding machines in the market is its lightweight design. It just weighs less than 38lbs which makes it one of the lightest mig welding machines around. The reason that Millermatic is able to build it so lightweight is because of the fact that it comes equipped with inverter technology. Even though it is light in weight, it comes with a decent build size that can easily fit around 10lbs of wire spool inside the welding machine compartment. And when it comes to transporting the machine around, there is an easy to use handle provided that makes it pretty simple to transport the welding machine easily wherever you go and since it has a dual voltage option, you can use this welder almost everywhere.
Product Highlights
Durable Cast Aluminum Drive System
Auto Spool Gun Detect
Fan-On-Demand
Multi-voltage plug
Tip Saver Short Circuit Protection
Smooth-Start
Latest Auto-Set feature
Inverter Technology
30-230 Amperages output
Conclusion
When it comes to choosing the perfect MIG welding machine, Millermatic 211 stands alongside some of the best welding machines in the industry. It is an excellent choice for anyone looking to select a welding machine that can weld metal with variable thickness and is also perfectly suited to work in different environments. With all the extra features and quick drive roll switch system and inverter technology, there is no doubt that Miller 211 is the best dual voltage MIG welder.
Thanks to the machine's portable properties, versatility, and ease of use while considering the output that this machine can produce it is the best portable and dual voltage machine I have seen, and if you are looking for a reliable machine that is versatile, and easy to use, you can not go wrong when you pick this piece of equipment.