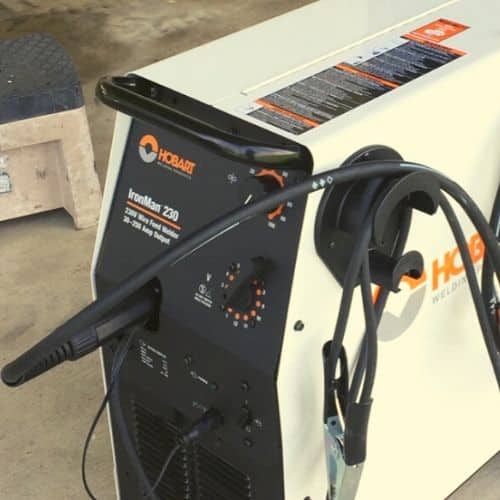 First and foremost, if you ended up reading this article then you know that most of the articles you find on Google are complete and utter crap. Most of the guys do not know a thing about welding and it seems that they even have not done proper research on the welder itself. Just a ton of factual mistakes combined with basic info about welding in general. There is no actual value in the review articles you can read about Hobart Ironman 230
If you have been following me for a while you know that I am a huge fan of Hobart products and 500536 Ironman is no exception. Although it is a bit behind its time with transformer-based technology, looking at the price tag and the amount of power that this machine produces it is still no brainer. For the money, you can not get a more durable machine that produces 250 Amps and welds 1/4  inch thick metal in a single pass.
Usability of the 500536
Like most MIG welders, you can weld mild steel, aluminum, and stainless steel. Since it is capable of producing 30-250 Amps, you can weld thin sheet metal like car body panels, and also use it for more bigger industrial-scale jobs welding up to 1/4" of thickness in a single pass.
The wide range of amperage selection makes it suitable for beginner welders as well as metal workshop owners. The only limiting thing is the weight of the machine, which is a little less than 200 pounds. However the machine comes with wheels, it is not difficult to move it around on concrete, but it would be difficult to move it around between different jobs outside the shop. (For jobs that require a lot of moving like construction and repairs the Handler 210 from Hobart line of welders would be a much better option.)
Furthermore, as you can assume, Ironman 230 is a spool gun compatible, which makes it a bit more valuable and versatile. If you need to work with aluminum or with thin, .023" flux-cored wire, spoolgun makes life a lot more easier.
One thing that most hardcore welders probably do not like about a machine in this price range is a tapped control settings knob. Most welders like infinite settings for a better fine-tuning. I personally do not mind that very much because the 500536 has 11 voltage settings to pick from and the wire speed knob in fact is infinite, giving the welder enough control.
Another small thing from the user perspective worth mentioning is the fact that you can screw on extra hose reels to the side of the machine, making the storage of the Ironman much more convenient.
Performance of this heavy-duty MIG welder
As I already mentioned, this bad boy packs a punch, from 30 – 250 Amperages. Although it uses transformer technology, the duty cycle is pretty impressive as well – 60% at 175 amps. (for those of you who do not know, this means you can weld 6 minutes out of 10 at 175 amperages and then the machine needs to cool down for 4 minutes)
Although the machine can run on low amps, when compared to more lightweight welders (like Hobart Handler 140 and 190 ), 230 always runs hot. The arc is just crisp and really hot even with a small wire and low settings, which is necessarily a bad thing. It just takes some time to get used to it.
Overall I am confident that the Ironman 230 is a lot better machine than the predecessors – Ironman 210 and 250, so you can be confident to invest in this machine.
Who should invest in Ironman 230?
Simply everyone should invest in this machine who has ambitions to work with thicker metals in the future. The Hobart 230 eats 1/4" thick plate so it is a great machine for heavy-duty work. And since it is a MIG welder with not many features, anyone can handle it, even beginners. Do not let the size of this machine fool you, it can still weld thin materials on a small scale.
You should not invest in this particular machine if you are looking for something more exclusive, something with a lot of extra features or a machine that is portable. Besides concrete, it is really difficult to move this machine around, even on asphalt, especially if you have the shielding gas bottle on.
All in all, it is suitable for:
Rental business
Home use
Fabrication jobs
Auto repair
How does it compare to another welder in the same class? Hobart Ironman 230 vs Miller 252
There are only a few, but at the same time, major differences between the two.
Miller is an inverter-based machine, and thanks to that it has a better duty cycle. If Hobart has a 60% duty cycle at 175 amps then Miller 252 has the same duty cycle at 200 amps, which is really a huge difference.
The voltage control of Miller 252 is infinite. As I said, it is not so important or me, but for some welders, it really is very important to have that extra option to fine-tune the machine.
Another extra thing that Miller has is small displays that show you the selected wire feed speed and selected voltage. It really is somewhat handy when you are fine-tuning the setting to get the best results.
Other than these three things, both machines are almost identical. They both are spool gun ready, they have wheels, and they can weld a quarter-inch plate in a single pass.
Hobart Ironman 230 Frequently Askes Questions
what size circuit breaker do I need for the machine?
For this particular machine, you would need at least 60 amp circuit breaker to run it on maximum settings.
How long ground cable and how long lead cable Hobart 230 has?
The machine comes with a power cord that is 10′, gun lead that is 15′ and with a ground cable that is 10 feet long.
What is the maximum size of the wire spool it can handle?
It is designed to hold a maximum 12″ big spool of wire
The Hobart 500536 inverter or transformer-based?
Hobart 500536 is a transformer-based welding machine.
Conclusion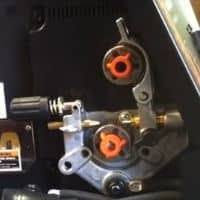 All in all, I would say that the Hobart Ironman 230 is the best 250 Amp Welder because it is simply built transistor-based workhorse that can tackle most MIG welding jobs that one might encounter. At the same time, the engineers have put some thoughts into the design of this thing. Just small things like the extra heavy-duty drive roll, double grooved quickly changeable drive rolls
---