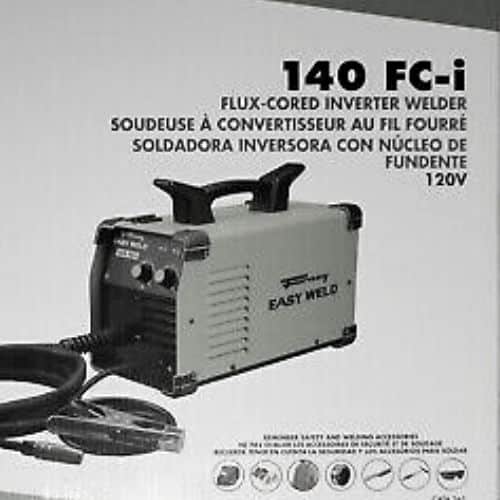 To start off, I have to say that for 200 bucks, there are not many adequate flux core welders available. Most that are available have very limited controls, with small amperage range that limits the projects that you can work on. So I decided to do some digging, and to my surprise, there is one welder, little over 200 bucks that just might help to get your feet wet in metal fabrication – The Forney 261.
It should be more than enough to keep you busy welding in your free time. Unlike many other FCAW welders at this price point, there are actually a number of reasons I would buy one myself if I was starting out as a beginner. Even when looking at it as an experienced welder who has used a number of welders, I think Easy Weld 261 will be my new favorite recommendation for beginners.
Forney Easy Weld 261 review
If you ended up reading this article, you probably are familiar with what is going on in the market. You usually can not get a high-quality welder for such a low price, even the used ones are quite expensive. Many of us do not have a ton of money laying around to spend, and that is why I decided to write this article. One thing I have to mention, however, do not expect this machine to last for generations – That is just something to take into account when buying such unit. Though it might just be enough for you if you are just starting out or you are not welding very often. I am sure that Forney 261 can last almost a decade if you take good care of it and store it in nice and dry conditions.
The features of this machine are not bad either, they are exceptional at this price point actually, so let's have a deeper look at what this unit has in store for us and why it is the best wire feeder for 200 bucks.
Usability of 261
As with all MIG, and wire feed welders in general, it is really easy to use this welder. Even easier than MIG welder with gas, not to mention stick and TIG welders. Since it is a flux core unit, I think there is no other machine out there that is more simple to operate. More than likely you can get this machine out of the box, up and running in five minutes, even as a complete novice!
From the material side that you can tackle with that machine, you can weld mild steel and stainless with flux core wire. I have never done stainless steel flux core welding, but I have heard it is possible, so that is great. But keep in mind that for stainless steel welding you will need a new gun liner if you have used regular flux wire with it before. The thing is, regular wire contaminated the gun liner, which makes it impossible to do stainless steel welding.
Controls of the Flux core welder
As I mentioned in the introduction, other welders in the same price range are usually with very limited controls, maybe allowing the only weld between 50-80 amps. This makes it difficult to work on a variety of projects with one machine.
This bad boy, however, has wire feed and voltage settings infinite. For those of you who know a thing or two about welding, infinite controls are preferred by many professional welders over tapped control ones. Infinite settings, as opposed to tapped control, gives you as a welder more freedom to fine-tune the settings while welding to achieve better results.
At this price it is unheard of, even welders with premium pricing do not have infinite controls. It is more of a rare thing to have infinite voltage control on 140 Amperage class welders.
The design of 261
Design of the Forney easy weld 261 is another thing worth mentioning. The most notable factor would be the weight. It is only 19 LBS, which is almost nothing. Since you do not need a gas cylinder and it is only 19 LBS, you even don't need to invest in a welding cart. The huge handle on top is really convenient as well, making it a breeze to carry around.
 Due to lightweight, I believe inverter technology is used in this model, which is also notable. Usually, machines at this price point are not using inverter technology, but regular transformers. It also might be a regular AC flux-cored welder. Unfortunately, I did not find any specific info on that, so I can not vouch for that. Considering the price I would not be surprised if it was AC welder.
AC welders handle a bit different, but for 200 bucks, it is not something to complain about.
The overall look of the machine is good and the outer shell is made out of metal, making it much stronger to stand the potential abuse it has to go through in a garage. The one thing that differs from the premium equipment however is the plastic drive roll system. Most manufacturers have it made out of cast aluminum since it is more durable. It is not a huge flaw in my eyes. For some, it can be a deal-breaker, but one of my welders has a plastic drive roll and it has lasted about 16 years without any problems. I believe it has more to do with the user sometimes than with the machine.
Power source for the welder
As expected, it will run on a regular household power outlet – 120 volts. As long as you have at least 20 amp breaker you should not run into any troubles using it. Since it might be an AC transformer-based wire feeder, I do not know if it can also run on generators. If that is important for you, you might want to ask them directly.
Talking about power sources, if you are planning to use it outdoors, you might also need an extension cord. I have a great buyer guide here which will help you to pick the right heavy duty one for welding.
Does it pack a punch?
The short answer is yes! It really does pack a punch, and since it is a flux-cored machine, you can tackle even thicker metals than with regular MIG. Talking about numbers, it is a 140 Amp welder that can weld 1/4 inch thick steel in one pass – according to the manufacturer. In my mind, it is a bit of an overkill. I would probably not weld structural beams with it as a beginner. Just something to keep in mind. Nevertheless, it has more power than you probably need if you are just starting out.
The duty cycle is decent as well. It is 30% at 90 amperages. That means, when you are welding at 90 amps, you can weld for 3 minutes straight (out of 10) and then the machine has to cool down for 7 minutes. It might seem short to you, but believe me, 3 minutes of welding is a long time.
From the safety side, it also has a led indicator on the front panel which lights up when the machine needs to cool down a little.
Some things that could be improved
I am not a huge fan of flux core welders in general, but I still decided to write this article for the ambitious enthusiast out there who are looking to get started at a low cost. For the money, you can not complain much, to be honest.
The drive roll could be made out of cast-aluminum and the ground clamp could be sturdier but these are only minor things that you can improve in the future. One other thing is that you can only use .030 wire with it. I do not know, if and how the machine could handle .035 one. Some beginners find .035 wire better to weld with, but I leave it up to you to test this out on your own in the future.  
One thing about Forney that has been stuck in the back of my mind is the welding wire that they include with the machines. It is not a great wire at all, many complain that it is impossible to weld with it. Here is my wire recommendation from Amazon. It is the best wire available in my opinion, and if you want, you can read a whole post about it here.
Why it is the best flux core welder for 200 bucks
For me, it is a no brainer. For little over 200 bucks on Amazon, you can get a welder that can do more than enough to get you started. Back when I started learning about welding, it was unheard of to get a new machine for such a low price.
To sum up all the pros of this machine packs, the most notable would be the infinite controls, followed by the amperage range and portability. One thing I forgot to mention is the length of the ground clamp and the welding gun. They are 8 feet long, which is longer than most premium machines include.
If you take good care of it, I believe it can last a good decade if not more. It is impressive, to say the least.
Some extra equipment to start welding
If you do not have any tools in your garage for welding, you also need to pick up some including safety gear like welding gloves and a decent welding helmet. Since Forney 261 is a flux core machine, you also need no remove the slag after welding, so make sure you have a wire brush and a chipping hammer.
You could also use some spare contact tips and nozzles. Please do me a favor and also get yourself a can of nozzle gel. I wrote a whole article about nozzle gel if you have not used it before, I recommend reading it. It is especially important with flux core welding.
Conclusion
As I mentioned at the beginning of the post, it definitely is a great product for beginner garage warrior starting out with welding. It also has a one-year manufacturer's warranty, making it an even safer investment than I initially thought. What's even better, it is priced cheaper in Amazon than it is in the manufacturer's shop, so you are definitely getting a great, convenient flux core welder at a very low price. I would not even consider another machine at the same price point. None of them can compete with the Forney Easy Weld 261.