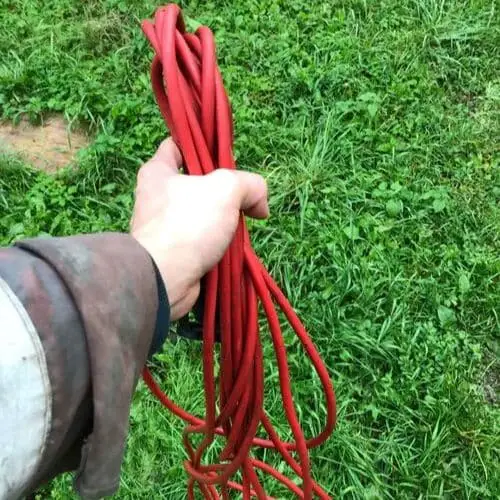 Equipment to do industrial work like welding, cutting and grinding are heavy-duty and they usually do not come with long cords, which oftentimes is necessary when you need to work outside. In general, welders buy extension cords for more flexibility while working.  However, if you want to do quality welds at high amps, you need to find the best welder extension cord that can stand the number of amps needed to weld.
 You will find a lot of videos online produced by welders on how to make a suitable extension cord yourself.  However, these do it yourself projects may work during an emergency or if you want to save some money, but most of the time, these experiments don't meet the standards. In case, you are not using a proper welder extension cord while working at your home, unfortunately, if something bad happens, then probably, your insurance does not cover the losses. I do not want to go in much detail, but a friend of mine had an insurance case related to welding and the electrical system in the workshop. All in all, the company did not cover the damage because part of the electrical system was not installed by a certified company.
Investing a few bucks for the extra cord can help you to protect and stop any unwanted things to happen beforehand. That is why it is important to get a reliable welder extension cord for your welding needs.
What To Consider Before Buying a Welder Extension Cord?
The features that you need to consider when purchasing an extension cord.  The list includes:
Length:
You need to find if it suits your requirements.  You can find the extension cords between 15 feet and 100 feet.  The best thing is, the price does not differ much with the length, but it doesn't mean that you can buy the longest cord, though you don't require that much length. Working with long cords, particularly in small places can be irritating and it can be a big mess. Not just that, they also very heavy to carry around.  Furthermore, the longer the cord, the less juice it carries, meaning, the longer the cord is the bigger is the voltage drop which goes hand in hand with your machine capabilities.
Gauge and Wire: 
The measurement of the thickness of the wire is Gauge.  The gauge measures the thickness of the wire and the bigger the gauge, the smaller the wire will be.  It means the smaller wires carry less electricity ( Less Amperage) and it also determines the weight and electric resistance.  The measurement of the gauge starts from zero and finishes at 30.  The smaller the gauge, the better for welder and the normal extension cord wires are between 8 and 12 gauge.
The gauge measurements are provided in this format, 8/4, 12/3, etc. The number that is given before the slash is considered as the gauge. The number that is provided after the slash is the number of wires inside the isolation cover.  For instance, the 8/3 extension cord contains three 8 gauge wires.  As a general rule, the thicker the wire, the more amps it can stand.  
Volts:
It is the dimension of electrical potential.  According to easer, it is the electrical pressure that the cord can take, (You can compare volts to the water pressure inside the watering hose)
Like any electronic equipment, electrical cords also have voltage ranges. The range will be around 110-120-130 V to 220-230-240 V.
Amperage:
It is the measurement of electricity flow, and it shows how quick the current flow in the cord (You can compare it to the amount of water that comes out of your garden watering hose in a given time period).  Mostly, the extension cords are between 30 (120-volt outlets) and 50 amps (for 220 V outlets).  
As I mentioned earlier, the thicker the wire the more amps it can deliver, just as water hose with bigger diameter can deliver much more water with lower pressure.
Wattage:
The wattage is useful only when comparing a stack of extension cords. If you use 120Vts with a 50 amp current flow, then the wattage is 600.
Volt*Amps = watts
Protection:
Protection is the major concern for welder extension cords.  The first level of protection is your perspective of the product. Ensure that the product is well-matched with your welder and outlet.
Also, some features in the wire protect the cord. A perfect cord is weather and heat resistant.  The cord should be made with top-quality materials that do not catch fire.
Can you use an extension cord with a MIG welder?
When buying an extension cord for MIG welder or any other welder, you need to look for various factors. The major factor is not get fooled by label 'heavy-duty'. Regrettably, considered a cord is strong does not mean that it is well-matched for welding equipment.  Whether you have a high range of multi-process welder or you have beginner welder.
It is important to look for IS (Industry Standard) cords and also it is vital to check the features carefully and ensure that it is suitable for your welding requirements. If you want a constant energy flow, then you should get six gauge wires although the gauge 8 can run 250 amp welder without problems. 
Mostly the energy fluxations depend on where the supply outlet positioned, and the length of the required cord. Most homeowners have a 230-volt outlet in the kitchen because most cookers require 50amps supply. If you use one in work on a regular basis, then you may need to get an appropriate circuit placed close to where you need to do your welding tasks.
One other important thing to consider when buying an extension cord for MIG welder is the length, and also, it is crucial to buy the length of the cord that is required for your job, not longer. If the length of the cord is longer, besides the voltage fluctuations you may have to face other irritating issues, especially when you are working in smaller places. 
Some even think it is reasonable to buy a cord on the reel so it does not take so much space and causes less trouble. But as a matter of fact, as you use your cord, you have to spin it all off the reel, otherwise, it will act as a heating spiral and get way too hot while using it and can catch fire.
Concerns to be deal with Welder Extension Cords:
When you are using the extension cord for your welding tools, then you need to take certain safety measurements to prevent any serious injuries.  The most common injury is tripping to the cord that is why you need to place the extension cord to the ground in a secure way to avoid tripping. You can either choose to stick it with the tape or place the wire under something, but remember the electric wires are also a potential risk for fire.
Make sure that the extension cords do not run through ceilings, doorways, floors, or walls.  Also, the welder extension cord should not be modified in any case. Some older wires contain four prongs whereas the newer outlets contain three prongs.  So, you cannot cut one prong from older wire to fit in the outlet as it can completely damage the cord, welder, and the outlet as well.
Does Your Electrical Network Support Your Welding?
It is necessary to check the circuits of your home before purchasing the welder. If they do not support the required amperage, then it is a waste of time and money. Usually, a standard outlet is rated for 15amps. But, you might need 30 amp rated outlet or even more if you have 220V welding machine
Most homes have a 220V outlet, which can support your welding tools. The220v outlet will be mostly placed where you have air conditioning units or HVAC system.
Southwire Heavy-Duty Welder Extension Cord:
Southwire STW 40 amp heavy-duty welder extension cord is durable reliable and built for work. The Southwire equipment and tools provide a wide range of top-quality hand tools, testers, contractor equipment, temporary power solutions, and extension cords. 
8-gauge STW offers the best performance and flexibility.  It comes with the lighted holder end to indicate when the power is on, and its molded end offers convenience and safety in the workplace. Also, it offers portability to welding tools. The extension cord is rated at 250V, 40amps, and 1,000watts.
Pros:
1,000watts, and 40amps.
It comes with 8-gauge Southwire isolation with a strong material so that it can last longer.
The receptacle-end-lights indicate when the power is on.
The extension cord is designed to handle heavier loads.
The molded ends allow you to use the cord safely at the worksite.
Cons:
The extension cord is strong and durable but it is a bit stiff. As per the users' feedback, they had trouble to keep the wire flat. If you are looking for a flexible wire, then this STW extension cord might not be the best
It is not the right option from 115V welders.
MaxWorks Plug Lighted Welding Cord - Best 40 amp cord
MaxWorks 80703 is a strong 40-foot Welding Cord approved by ETL.  MaxWorks cord is an 8  wire gauge (AWG) that contains 3C all-copper wires with 6-50 NEA connector and plug can be used for all portable welders. It delivers 40aps at 250V and includes a 50amp lighted molded plug and connector.
The MaxWorks is capable to hold industrial applications, it contains a 3-prong socket and plug and right angle wire plug. The extension cord is created keeping safety in Mind, a neon light end feature indicates the power is on.  STW jacket contractor-grade insulation offers high-performance and extra safety.
 The heavy-duty extension cord is designed for all portable welders in commercial and industrial applications.
Pros:
Features 3C all-copper wires and 8 AWG, and you can easily rely on this extension wire for strong and powerful welding jobs. It is designed to last long even with rough use.
Contains 6-50 NEMA plug, and it can work with a range of portable welding equipment.
It turns a neon light on and indicates that the welding cord is ON.
The cord is safe to use as its STW insulated
The 80703 extension cord from MaxWorks is very cheap compared to other brands with the same features.
It is a flexible cable, so you can place it to match your preferences and requirements.
Cons:
Some users complained about the connectors as they are a bit tight and it is not easy to disconnect.
Century Pro Grip - 50 ft welding extension cord
Pro Grip STW20-foot 8 gauge welding extension cord comes with lighted ends. This 40Amps, 250V right angle cord is designed for all portable welding machines. The extension cord comes with a neon light to indicate that the power is 'ON'.
The heavy-duty Pro Grip grounded welding extension cord is particularly designed for 40 amps or less portable welding machines. The STW jackets are made to stay pliable and flexible under full capacity or load. The clear NEMA 6-50 connectors and plugs come with built-in neon light to show the power is passing in the outlet and cord.
The convenient Pro Grip handle allows you to takeout the cord from the outlet and you can fold it easily when it not in use.  The STW jacket guarantees that the cord does not get brittle or crack even in below-freezing temperatures.
Pros:
This 20ft welding cord is an 8 gauge wire, and it performs better than other expensive ones available in the market.
It is a perfect option for hobbyists, beginners, land it is less expensive.
It is compatible with 400amps welders or less power. It is safe to use for how-power welding as it is grounded
Voltage drops are negligible
It is flexible and easy to store when you are not using the cord.
Cons:
It is thick and big compared to other brands.
Vevor Welding Extension Cord – Our Pick!
Vevor 50 Ft is the best extension cord, and this 30A extension cord is also suited for Portable Welders. The length of the extension cord is 50-feet it comes with the three-prong socket and three-prong plugs.  The wire is water-resistant and scuff-resistant as well. This extension cord is designed for outdoor and indoor industrial use and works for perfect with hobby welding machines.
This 10 gauge cord is very strong and comes with the STW jacket for powerful performance.  The 50feet cord is approved by ETL and is designed tough using high-quality materials.  The design is simple and easy to store. The 3 prong plug is corrosion resistant and comes with the lighted receptacles, which indicates when the power is ON.
Pros:
The 50ft extension cord is longer compared to other brands and it is a perfect option for bigger workspaces. Also, best for the people who work outdoors, but it doesn't include an outlet. It also contains three conductors for safety use during high-power welding.
It is made with high-grade materials and allows you to use the cord for many years in the future.
Easy-to-store
Stays cool even when you use it for a longer time.
Cons:
ABN Welding Cable 20 Ft 8 WG Welding lead:
ABN Welding Cord is a 20ft, 40A, and 8AWG extension cord with  STW jacket. It is a very durable welding cable and it is very strong and flexible. This heavy-duty 8-gauge cord delivers at 250V at 40A and designed for heavy-duty performance.  Also, this flexible oil resistant extension cord jacket is perfect for heavy tools, portable lights, welding equipment.  It offers convenience and safety on the job site.
Using a strong and durable extension cord is very crucial since cuts, abrasion, oil and water exposure, and burns fro sparks can easily break a weaker cable. This 20 feet welding cable offers safety and convenience to users and allows you to extend the welding tools by 20feet. The welding cord can be used for joining metals in different places that need a very flexible and strong cable with high ampacity.
Pros:
The extension cord comes with a one-year warranty
Its 250V and 40Amps of capacity can be used for different types of welders.
It is as durable as any other 8 gauge cord
It provides safety in the workplace
The STW jacket is strong and can withstand abrasions and cuts, and also flexible enough to roll it store it.
Cons:
The female end is a bit tight
The cord gets stiff in the cold weather
Conntek 15 amp cable- Best for 120 volt
As an extra here is a good extension cord suitable for 120-volt outlets. It has all the necessary features to perform with smaller welders. This one is available in 25,50 or at 100 ft in length and can stand 15 amps. By the way, if you need a reel for your cords, check out this post as well.
As always, so does this model has an LED indicator on the female side of the connector. It is heavy-duty, copper wire and AWG jacket that can stand rough conditions outside.
Pros:
Different lengths available
Cheap
Waterproof
Can stand a lot of abuse
The wire actually could stand 30 amps
Cons:
Female connections are tight
Can I use an extension cord with my welder?
Yes, of course, if you have correct sockets you are able to use an extension lead, but it is important to make sure that your extension cord is up for the task.
What kind of extension cord do I need?
This depends on the equipment you are using. If you have a small 120-volt welder you can use a simple 15 amp cord. If you have 220-volt welder I would advise you to cord that is at least rated at 40 amps.
What gauge wires should the cord have?
For 110 volt welder, I would say gauge 10 that can actually stand 30 amps. For 230 volt welder, I would at least have 8 gauge wires.
Conclusion:
Choosing the top quality extension cord for professional use is always important if you want to do the welding job safely. Also, finding the best cord is difficult as there is a lot of false representation and misinformation provided on the internet.  Before you buy the extension cord do some research and find the best one for your welding needs, whether you need a 50 feet long extension or something shorter, picking one from our list should be a safe way to go.
I hope this brief guide provided you some value and helped you make the right decision picking the right extension cord for your welder.