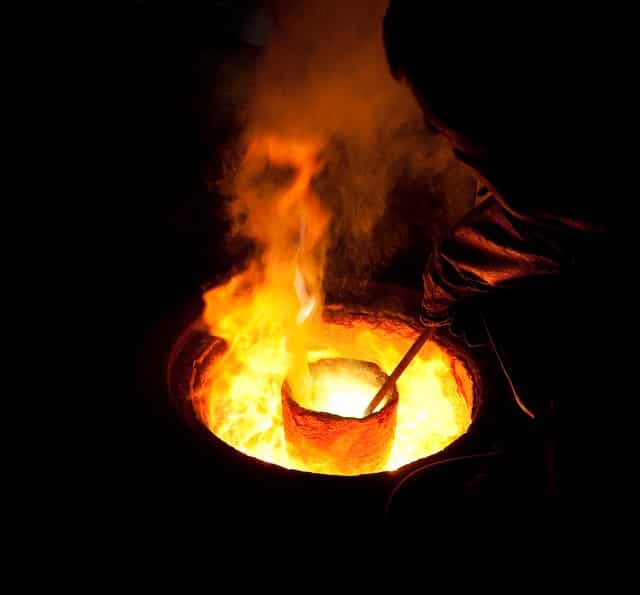 While working with hot metal, whether you are cutting, grinding, or welding, it is important that you wear the best protective equipment. Besides a helmet, jacket and boots you want to have top-notch welding pants as well.
I know from my own experience, choosing a new pair of comfortable welding pants is not an easy task. Since there are so many options in the market I decided to create a list of the top five fire-resistant welding pants that I have used myself over during my awesome career. After 7 years working as a welder, (Spoiler alert!) I think that Wrangler RIGGS WORKWEAR Men's Flame Resistant Relaxed Fit Jean is the best pants for welding that you can buy from Amazon.
If you are a beginner, buying your first pair, it is important to know that products listed in this post are not flameproof, but flame resistant, in other words, they are not designed to be in direct contact with fire for a long period of time.
So, without further ado, let's get right into it.
Top Welding Pants for 2023
| | HRC rating | Material | Durability | My rating | Check price at Amazon |
| --- | --- | --- | --- | --- | --- |
| Dickies – Best for hot weather | 3 | cotton | 4.0/5 | 4.3/5 | More details |
| Wrangler RIGGS – The most durable | 2 | cotton | 5/5 | 4.9/5 | More details |
| Caterpillar – Best for carrying extra tools | 2 | cotton/nylon mix | 4.3/5 | 4.5/5 | More details |
| Carhartt – The most comfortable | 2 | cotton | 4.5/5 | 4.7/5 | More details |
| Bulwark – Best for matching uniforms | 2 | cotton | 4.2/5 | 4.4/5 | More details |
Dickies Men's Flame-Resistant Duck Carpenter Jean- The best for hot weather.
Features & benefits:
ARC rating 39
Dual tool pockets
Heavy-duty button closure
Brass zipper fly
Likes: For me personally, I really like the functionality of Dickies. They look good (before wearing them at work at least) and they have dual tool pockets, heavy-duty button closure, and of course a brass zipper. Although they are not as thick as some FR denim jeans they meet the requirements of the NPFA70E, which is surprising.
They are not the most durable though. I see them as fit for people who teach welding, or for welders who need to move around a lot, especially in the summertime. They are not as rigid as jeans thus they breathe more.
If you really like to feel comfortable in the summer, and you are willing to spend a few bucks for your own comfort, I would recommend these.
Dislikes: Could be more durable and legs should be tighter.
Carhartt Men's Flame Resistant Signature Denim Jean Relaxed Fit- the most comfortable
Features & benefits:
NFPA 70E, NFPA2112 rated
HRC 2 label
Fire-resistant zipper tape
Relaxed-fitting seat and thighs
Likes: I must say, the material used for these Carhartt's is top of the line. Relaxed fit and quality material used makes these very comfortable to wear for long hours. There is plenty of room to squat, sit, and bend. Furthermore, thanks to double-stitched seams, the durability is fairly decent in my opinion.
They say that this model does not shrink, but believe me, they do, but I'm a smaller guy so that is not too bad, but some of my friends have had problems with this particular model. The main things for bigger guys are tights. After washing they could be looser since they are relaxed fit pants.
Dislikes: The positioning of belt loops could be better and the zipper could be a little longer.
Wrangler RIGGS WORKWEAR Men's Flame Resistant Relaxed Fit Jean- The most durable.
Features & benefits:
NFPA 2112, NFPA 70 E rated
Improved fit in the seat, thigh, knee and bottom leg opening
Nomex flame-resistant zipper and leg opening
Arc resistant button waistband closure with inner tacks to reduce heat conductivity
gusset for ease of movement.
Likes: For what I have used, these are by far the most durable pair of workwear I have owned. They look really good, they are quite comfortable, and even after months of daily abuse by my washing machine, all the buttons and seams were still intact, and most importantly, they were still fire-resistant.
I have heard a lot of great things about their brand in general and I believe that most welders have too. For summer they are a little rigid, but it is difficult to find anything more durable than these really.
Dislikes: They feel a little too stiff, but they will soften after a few washes.
Durable, heavy-duty welding pants go hand in hand with a durable welder, so check out my post about Hobart Handler 210 MVP as well.
Caterpillar Men's Flame Resistant Cargo Pant - Best for carrying tools.
Features & benefits:
Fire-resistant certified
Classic fit
Huge leg opening (20")
Cargo pockets, phone pocket, ruler pocket, back bellowed pockets.
Likes: With these cargo pants I really like the number of pockets and the heavy-duty material that they have used. If you are on the move often, these are definitely something for you, pockets can fit everything that you may need, a marking pen, a phone, or even a tape measure. I think that the classic fit is excellent because leg opening fits nicely overboot, so no need to worry about sparks flying in.
They are pretty underrated FR pants in my opinion. The price is cheap and they are somewhat good, not tight and the material itself is on the thinner side. For that reason, the air flows through them nicely and it does not get as hot as in denim jeans.
Really easy to move around, bend, squat and weld in awkward positions.
It's definitely a good choice for bigger guys looking for real heavy-duty pants. What's really important to know is that they don't shrink much after washing.  
Dislikes: Personally, I prefer a tighter fit and 100% cotton over cotton and nylon mix.
Bulwark Men's Flame Resistant Twill Cotton Pants - best for a uniform.
Features & benefits:
Comes in different colors
HRC 2
Possible to order in 5 different colors
Likes: I must say that these are one of my favorite ones since they really feel extra light and comfortable compared to other FR pants that I have used. I think the "kahki" color is good to wear if you have to work outdoors under the sun, simply because it does not get as hot due to blazing sun, making it even easier to work in these pants.
Really would recommend these if you have to work in hot conditions or if you are moving around a lot between the office and workshop because they look really formal. Furthermore, it is really great that these fire-resistant pants come in many different colors, so if you have a uniform, you can probably find an option to match it.  
Dislikes: They tend to lose their original color if not washed right and as always with the lighter work pants, the durability is not as good.
Frequently asked questions
What are FR pants?
FR stands for Fire Resistance, and as you can assume, FR rated pants are resistant to fire. That does not mean that the FR clothing is fireproof, not at all. It just means that the gear can stand higher temperatures and fire to some extent. Everything burns or vapors at some point. Moreover, fire-resistant pants are an essential part of Personal Protective Equipment for welders.
What are the best pants for welding?
There is no right answer to that question, every person has different needs and wants. Some people are looking for color, durability, some for price or quality and comfortability. For me, Wrangler provides good value for the money and they fit good on me.
How many times can I wash fire retardant clothing?
It depends on the quality of the materials and the way the pants are washed. For me, they usually last 1 year if washed twice a week. To be sure, always read the laundry instructions that the manufacturer provided with the protective gear.  
is 100% cotton fire resistant?
Plain and simple, NO! Pure cotton is not flame resistant although it is better than polyester, it is not fire resistant! The cotton has to be treated with special chemicals to make it resistant to fire.
What is NFPA rating on welding pants?
NFPA stands for National Fire Protection Association. The levels of protection rating are the following:
·         Level 4 – Materials that completely vaporize at normal pressure and temperature and burn readily.
·         Level 3 – Liquids and solids that can be ignited under the most ambient conditions
·         Level 2 – Materials that must be moderately heated before ignition can occur
·         Level 1 – Materials that must be strongly heated before ignition will occur
·         Level 0 – Materials that will not burn.
What is HRC?
HRC stands for Hazard Risk Category. Some workplaces are rated with HRC rating which indicates which level protective gear you have to wear in that area.
If you want to read more about the HRC/ARC rating and NFPA you can check this here.
Conclusion
After long consideration, I must say that in my opinion the Wrangler RIGGS WORKWEAR Men's Flame Resistant Relaxed Fit Jean's are the best pants for welding that you can buy from Amazon. Wrangler has nearly 70 years of experience in the industry and you can tell by the quality and durability of these pants that they know what they are doing.
As I said earlier, they are most reliable pants to wear for metalworking, and besides their longevity they have many other great features including FR zipper; improved fit in the seat, thigh, knee and bottom leg opening; Arc resistant button waistband closure with concealed inner tack to reduce heat conductivity; 0.5X2.5 inch belt loops and extra deep reinforced pockets. Although they are a bit dense at first, which goes hand in hand with durability I guess, after a couple of washes they will loosen up.
Because they have proved themselves to me over and over again, I would recommend these to anyone, it does not matter if you are a beginner or already experienced welder, these Wrangler pants are worth every penny.