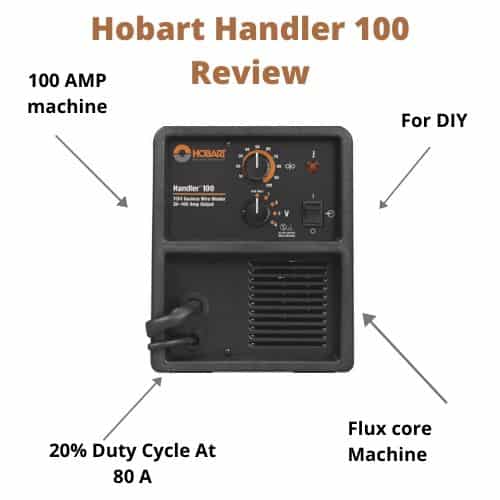 Hobart is a well-known brand in the welding industry and they certainly are good at what they do. What I like the most about Hobarts products is that the equipment is designed with practicality in mind. The Handler line of welders is nothing ultra-fancy. It's not featuring LED screens, whistles and whatnot, but they are durable, work perfectly, and are priced reasonably considering the quality.
Usually, Hobart welders are a surefire way to go when looking for new gear, but let's dissect the machine and its features to make sure it is a perfect fit for you.
Hobart Handler 100 wire feed welder review
To kick off this review, I have to say that for the money, that welder has more than enough to keep you busy for hours on end working on your projects. For me, it would be a winner every day of the week and twice on Sundays. Of course, like every machine, it is not perfect and it could use some minor improvements, but let's not forget that it is designed with practicality in mind.
With the reputation of the brand, it is safe to assume this model will easily last for decades to come.
Usability of the 500572 Hobart
Like all wire feeders, so is this easy and intuitive to use. It really does not require much skill to set up the machine and lay your first beads. How the beads turn out though is another story if you're a beginner. The FCAW still needs a bit more skill than regular MIG, but with some practice, it is possible to lay strong welds.
Now, it is a perfect welder for exhaust, roll gages, metal art, off-roaders, etc. Basically for every type of job where it is not necessary to weld materials thicker than 3/16 of an inch. It is the maximum rated output by the manufacturer and welding any thicker materials would really be pushing the envelope in my opinion. I would not go much thicker unless you are practicing or doing some metal art. No matter what I would not weld frames and constructional beams thicker than 3/16, even as an experienced welder.
For some readers, it might be important to note that because the Handler 500572 is a flux core welder, it is only possible to weld mild steel with it. Preferably this wire feeder should be used outdoors unless you have a great ventilation system in place. That is just something to keep in mind before you decide if it is suitable for your workspace.
Controls of the Hobart 100 A
Controls of the Handler, compared to similar, 90A class welders, is nothing to complain about, to be frank. Like all Handler models, so does this have a tapped knob voltage control, with 4 different setting options. This offers a wide range of settings to pick from, starting at 30 amps up to a maximum of 100 Amps.
As I said, opposed to most similar class welders, you have much more control over the amperage or voltage settings. The wire speed should be infinite, however, which is good.
The design of the welder
The design is very Hobart-specific. It looks very similar to their other Handlers, but it still differs a bit in weight and dimensions. It still is really sturdy and portable, but it weighs around 44 pounds. That is quite a bit of weight for a 100A machine.
What differs it from the rest though besides the strong overall built is that it can fit the huge 10-pound spool in it. It is a pain in the butt to get it installed since it is tight, but it does fit. If you weld a lot, it is a great way to save money on welding wire.
Power source for the 500572
This Hobart is designed for Do It Yourself welders so it runs on the regular household power supply. It is important to note that the recommended breaker should be at least 20 amps to avoid popping any.
For welders who are on the move frequently, if you have to use a generator as a power source then this welder is not suitable for you. Taking a look at its weight, it uses transformer technology that is not suitable to use with generators. There are some better, similarly priced machines, one of them would be the Everlast 140E.  
Does The Handler 100 pack enough punch for your projects?
As I already mentioned, it can weld materials anywhere between 18 Ga and 3/16 inches. For most occasional welders, that should be enough I believe. At least enough power to get you started with welding.
The duty cycle is okay-ish as well. You really can not expect anything more from a transformer-based 100 amp machine. At 80 Amps it is rated 20%. That means that out of 10 minutes you can weld 2 non-stop and then the welder has to cool down for 8 minutes.
To avoid overloading the machine with the welding time, no worries. You do not have to have one eye on the clock while welding. Luckily Hobart built-in self-resetting thermal overload protection to protect the transformer and your wallet.
Some things that could be improved
There is always something that could be improved, so does this Hobart Handler 500572. The other question is if the improvements really would be necessary?
It has a plastic wire drive roll system. Many professionals are not willing to even consider buying a machine that has a cast-aluminum one. My argument would be the fact that this machine is using soft flux core wire. For that, the plastic one will do the job unless you tighten it too much on purpose.
The other one would be the short ground clamp and the gun liner. They are only 8 feet long, so you must weld relatively close to your machine. The reason they are so short, I believe is that the longer the ground clamp and the welding gun, the more voltage the machine needs to produce for you to weld. In other words, fewer amps would reach your workpiece which equals less penetration which equals working with thinner base metals.
Overall I think that Hobart engineers are smart and they have built something really practical.
Who should buy this welder?
This 100 amp handler should be enough for any beginner, though I would prefer MIG, flux core will get the job done. Even more so if you do not have a garage and you have to work outside.  In that case, MIG is not a way to go.
Overall I think it is suitable for DIY metal workers and enthusiasts, or even for a professional if work with materials that are rusty and relatively thin.
With the machine, you can tackle most things you can find at the home shop starting from bicycles to cars, exhaust systems to fabricating sawmill frames, hydraulic presses and things to that nature.
The dislikes of the machine
Besides welders, Hobart produces extremely good welding wire, which brings me to the thing that bothers me a bit. They do not include a spool of wire with the new welder. Most brands, even the cheapest flux core welders do. Though the wire that comes with cheaper end welders is bad, at least they include something so you can test the machine right out of the box.
To save you from a trip to a local store, if you are looking for a great filler, I would pick up a spool of this INE from Amazon. It is really good, and if you like to read why, I have a whole post about the best FCAW wire here. If you are wondering if you should pick .035 or .030 then the smaller one with this welder is more suitable.
Some additional things you might need
As I already said, you need a welding wire. And do yourself a favor and do not pick up just some random flux-cored wire. Look for an INE wire or one made by Hobart Brothers.
Since you are dealing with flux-core, definitely get some nozzle gel or anti-spatter spray to make your experience more pleasant.
And last but not least, do not forget to take proper safety precautions. Get yourself a decent auto-darkening welding helmet, some fire-resistant gloves, welding sleeves or a jacket.
By the way, if you are going to work outside of your garage or shop, you also might need a suitable extension cord for your welder. I have a whole buying guide for extension cords here.
Conclusion
If you find Hobart 190 or 140 MIG too much for you then the 500572 is definitely something to invest in. Hobart has given its best to design this machine and I believe it is perfectly suitable for most DIY welders as well as professionals who have to deal with thin materials on a daily basis.
Is it suitable for your garage? Yes, for most jobs it would be suitable, but only if you have a good ventilation system. Otherwise, I would advise you to weld outdoors.  
Overall I hope that this article was helpful and provided you the value you needed to find the right welder for you.