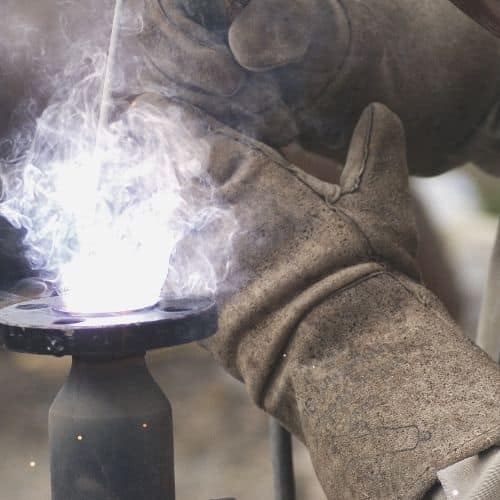 Welding is a dangerous job in many aspects. You might even get burnt or suffer serious damage to your health if the protective gear isn't as protective as you thought. In a scenario such as this, any welder would re-think their job before going into it every day. Safety should be the primary concern and if you're an owner of a place that offers welding services, you need to invest in some sweet gear to make sure your people are safe on the job.
Welding is a difficult task because you handle temperatures that are so great, they melt and fuse metals. Getting yourself out of the welding jacket and into a fire-resistant welding sleeve might do you and your workers some good. These are our top pick from Amazon.
What are Welding Sleeves?
When you enter the market looking for the best welding sleeves, you will be shocked to find all the brands and the type of gear available. Most welders opt for the welding jacket because it protects their entire body. But a more efficient way of welding would be to purchase welding sleeves. Their job is the same as that of welding jackets – to protect your body and in this situation, your arms from all the sparks that fly out while welding.
Welding sleeves are gaining popularity because they are much more comfortable and there is no need to wear a heavy jacket while working. While sweating is natural, it isn't exactly the situation anyone wants to be in while they work because the jacket can become too hot especially in the summer. Since welding sleeves only cover the arms, you don't have that problem anymore. Besides, they're much cheaper!
For starters, they reduce the unnecessary weight of a jacket in an already tense situation and secondly, they can be really useful in hot weather. Furthermore, they are an irreplaceable part of equipment when you have to work in awkward positions where your support hand has to be in contact with the base metal near the welding pool, the best welding sleeves in the market provide the best comfort and protection in most scenarios.
What kind of Welding Sleeves are there?
The market is filled with different brands and each specializes in a specific category. You need to decide at the end of the day which one is really worth it. There are two types of welding sleeves available and each has its own advantage.
Leather sleeves:
Leather sleeves are made from the highest quality cow leather. They are made to look good and are also much more flexible while you work. The leather sleeves protect you from welding sparks and can also be used while gardening and grilling. These sleeves have several layers that protect your skin against high temperatures. The best leather welding sleeves by far are known to have straps around the biceps so the sleeves don't fall off. They are also designed to completely seal away the wrists so no sparks can enter through.
Kevlar-related products are strong and cut-resistant as well as flame-proof which makes them the best materials for making welding sleeves. While welding, you are prone to pick up some weights or use sharp objects that might lean against your forearms. The Kevlar welding sleeve can protect you against the sharp edges while doing those chores as well as protect you against burns while welding. You can even give it a good scrub and wash it to make it clean because it can get dirty in the grime and dirt of the garage or at a workshop.
The best Kevlar welding sleeves are those that do not ignite even if you are working around a flame. This keeps its value exponentially higher as it is more preferred than the leather sleeves. However, there are minor problems with it as well including how the Kevlar welding sleeves shrink when you wash them.
Top Heat Resistant Welding Sleeves Recommended by Everyday Welders
Mechanix Wear MHS-05-500 Heat Sleeve – Best Overall:
These welding sleeves are premium quality and are a personal favorite of welders who understand their importance in the field. The measure of a good quality welding sleeve is in how much flexibility they provide along with the protection.
The Mechanix Wear is one of the best welding sleeves out there with a 100% Kevlar construction that offers you premium-grade protection against heat. The sleeves also weigh around 3 ounces, which is quite a lot less compared to welding jackets that can weigh several pounds. The company ensures further protection by coating the sleeves with Fibreshield that resists heated fluids and, in our case, molten metals. Lastly, you can wash these bad boys and they are also excellent for carrying out your daily workshop chores.
The product is up for grabs on Amazon at a relatively cheap (a lot less than the actual price). This product is bound to satisfy anyone who wishes to invest in its durability, strength as well as the protective nature that the company has imbued in it.
Pros:
100% Kevlar Construction
Easily Washable
Fibreshield treatment resists oil and other fluids
Cons:
Thick sleeves which may not fit into welding gloves
Final Verdict:
Good value for money and good quality. Recommended by Welders all over.
US Forge 99411 23-Inch Welders Sleeve – Best for Sudden Flame Exposure:
The product is known in the market for performing exceptionally well in high heat welding situations on larger projects. The industrial-grade product is one of the best welding sleeves in the market.
The US Forge 99411 is 100% cotton welding sleeves that are made from a specialized material known as Proban FR7A which protects the user from sudden sparks and high-temperature situations. Any splash of molten metal that occasionally comes out from the welding pool won't have any effect on your body so long as you wear these. The elastic at both ends of the product keeps it wrapped tight around your wrist and biceps. Several welder sleeves have the problem of sliding off because their primary mechanism is a strap on. Not so with the US Forge 99411.
We do recommend them if you require something cheap and durable. The flame-retardant manufacturing of the product is enough to convince anyone of its effectiveness. Lastly, the product is washable with hot water.
Pros:
Made from Flame Retardant with 100% protect against sparks
Cheaper
Washable
Cons:
Is known to rip in two after prolonged use
Final Verdict:
Lightweight and flame resistant, it is a great choice for getting cheaper welding sleeves by the dozen.
Black Stallion BSX Kevlar Sleeves – Best for Cut protection
The Black Stallion is not only one of the more good-looking welding sleeves in the market, but they also function far more efficiently than your average welding sleeves. The company has done several types of researches to be able to come up with this as an end product.
These welding sleeves are the type 2 Kevlar category and are double layered for extra protection. The double-layered Black Stallion BSX sleeves keep metals and other objects from penetrating to the skin. This gives it an edge over other welding sleeves that are single-layered and have to replace once punctured. Furthermore, the welding sleeves do not slide off because it wraps around your thumb with a thumb notch. There is only one size available that is stretchable enough to fit all.
Considering the cut protection and the flame resistance of the Black Stallion BSX, these welding sleeves are also one of the best welding sleeves in the market. Lastly, the lower end price keeps the welding sleeves affordable and easily replaceable if by any chance anything were to happen to them.
Pros:
Double layered protection
Cut resistant and flame resistant
Thumb notch for added grip on sleeves while working
Cons:
Sleeves sadly lose elasticity when they are washed
Final Verdict:
Welding hazards are a great probability and they can come from anything. Even while you hold sharp metals. The cut abrasion quality keeps the product as a high-end choice and we recommend the purchase.
Qeelink Leather Welding Sleeves – Best for Lower tier Welding work:
These yellow welding sleeves are one of the best leather welding sleeves in the market. The clear yellow color helps with locating them easily at the workshop and the extra comfortable layer underneath makes you feel relaxed as you continue with the welding.
This product is made from cowhide as well as Kevlar giving it the advantages of both. The mixture of the two allows the welding sleeves to be comfortable, flexible as well as durable and flame resistant. The outer leather layer is spark-proof while the inner layer is of the highest quality, providing the arms with maximum comfort. Furthermore, the Velcro helps keep the welding sleeves in place as well as the elastic cuffs that help tighten the grip around the wrists, letting no spark inside. Cover the area with gloves and you have an impenetrable surface. 
Lastly, the company has guaranteed their product is as durable as they get. The company, therefore, has placed a large bet that if the product doesn't satisfy the consumer's need, they have set in place a 100% refund policy. The reviews online only speak of the pros of these welding sleeves.
Pros:
Superior heat and cut protection
Extra thick and soft inside
Perfect fitting with elastic cuffs
Cons:
The lining inside is made of cotton with some plastic that poses risk
Final Verdict:
Good for amateur welders who start working out in this field. Lack of professional use hence should be kept on medium and lower end welding jobs.
Lincoln Electric Black One Size Welding Sleeves – Best Budget Product:
When you think about welding sleeves, you want them to be durable and be budget-friendly at the same time. That way, you don't have to make several round trips to the store to get new ones. This product is cheap and has several features that will incline you to make the purchase on its own.
The Lincoln Electric welding sleeves are one of the best welding sleeves currently in the market. They are made from 100% flame-resistant materials and are lightweight at 9 ounces per yard. The ends comprise of elastic cups that hold the welding sleeves in place as you get the job done. The overall sleeve length is 21 inches long and they come in with a sophisticated design with the universal color black.
The provides you with the best industrial-grade value. The product is most suited for heavy welding scenarios and can easily protect you for lower-tier welding jobs. They also do not get hot and so, protect your skin from any kinds of burns.
Pros:
Slip-on Pair that makes it easy to wear them
Made from 9-ounce, 100% flame-resistant material
21 inches sleeve length, adequate for all types of bodies
Cons:
Not available in any other colors
Final Verdict:
Smooth, comfortable with protective features, this product holds the bar high up for a lot of other similar products. Worth the purchase.
The Best Welding Sleeves – Our Buying Guide:
To be able to choose the right product for yourself, you need to answer several of your questions first so that you may understand what you are looking for. To understand what you desire in the product will get you to purchase the best welding sleeves ever. Welding sleeves come with several features that help them stand out as the company's race for maximizing sales. This goes forward to benefiting you in the long run. After all, who needs welding sleeves that would end up tearing or worse, catching a fire?
Here is what you need to know in order to make a well thought out purchase.
What kind of hazards do I need protection from?
Once you get to know what kind of hazards welding brings with it, you will better be equipped to look for the right welding sleeves for yourself. The different kinds of hazards include.
Intense Rays:
This hazard has nothing to do with welding sleeves but is one that must be known by all vendors out there. The intense light that comes from the arc while welding can temporarily or permanently blind someone and it will burn your skin if you do not cover-up. It is a kind of a solar flare that ends up damaging your skin and eyesight which is why when setting the budget for welding sleeves, make sure to invest in a good welding helmet as well.
Just when you think it cannot get any worse, your sense of smell gets attacked. Toxic fumes can damage not only your nose but might also end up in you passing out. Welding metals like chromium, nickel, arsenic, and others emit toxic fumes in the air that can cause lung and kidney damage. While setting up the budget, make sure you have enough for everything, welding sleeves, welding helmet, and a respirator or proper ventilation.
The sparks that emit from the fusion of true metals produces really high temperatures. If the sparks touch your skin or penetrate through your protective gear, you can end up with serious burns that might not heal. Which is why buying 100% flame-resistant welding sleeves would be the best choice for you in the summer.
What should I look for in Welding Sleeves?
As with all the other PPE like fire-resistant welding pants, or buying welding sleeves that don't fall off after some use, you need to set your priorities straight. Here are the things you should take into account before you buy your welding sleeves.
Inner Material and Comfort:
Some of the best welding sleeves have cotton inside of them wrapped in a sort of plastic that puts the customer at risk. Suppose you are welding and by chance, one spark ends up getting through the material. The welding sleeves would catch fire in a matter of seconds which defeats its overall purpose.
Flame resistant Exterior:
This brings us to our next most important feature. Are the welding sleeves flame-resistant or not? The very thought that any moment, one wrong spark can set you on fire can be daunting. Welders often buy jackets to protect their entire bodies from sudden sparks that come out while welding. However, jackets are too expensive so going for flame-resistant welding sleeves is an alternative to that. Usually, it's your hands and arms that are at immediate risk of the heat.
That is the reason why people prefer Kevlar or flame-resistant cowhide welding sleeves that assure them that their arms will be safe. Usually, ones with the guarantees are most preferred so make sure you check the market for them. The ones we mentioned above are all 100% flame resistant with guarantees on them.
Just like it is with anything you purchase; the price factor comes into play whenever you are deciding what to purchase. Welding sleeves are not that expensive if compared with a welding jacket. However, you should go for the one that not only provides a cheap price but also great value. Answering the above questions and knowing what you want can help you set a budget. That way, you can look for welding sleeves according to your desires, even if it is based on color.
Color can be important not only because it's a personal choice but because of its visibility. A brighter, more profound color will be beneficial because you'd be able to spot it easily in the workshop with the rest of your equipment. Since sleeves don't take up much space, you can end up putting them somewhere and completely forgetting where they went. Getting the color you like helps!
FAQ Section
What are the average prices of welding sleeves?
The average prices of welding sleeves range from $14 to $20 depending on the quality of the sleeves.
What is the correct length I should purchase?
The suitable length for grown men is anywhere between 20 inches to 24 inches in length. Welding sleeves are somewhat flexible what makes them easy to fit anyone
How durable are the welding sleeves?
The welding sleeves mentioned above are all great for doing medium tiered welding work to high-end industrial welding. They are extremely durable and quite easy to use as well. Buying anyone of them can last you for years even if you do not take care of them much.
Do the welding sleeves help against electric shocks?
Welding requires low voltage to work. But low or not, electricity is electricity. If your job requires welding sleeves that are good insulators and protect your arms from accidentally getting an electric shock, I would go with leather ones.
What are the most frequently purchased welding sleeves?
The widely preferred welding sleeves would be in the Kevlar category because people have the misconception that leather sleeves have a higher chance of catching fire. That is only partially true.
Conclusion
Welding sleeves are an essential piece of equipment and with all the evidence provided above along with the comparison, you can clearly see that they are better than jackets. Choosing the best welding sleeves can be much more comfortable for you compared to jackets but make sure you wear good quality gloves and helmet as well. The arms aren't the only body parts that require your protection after al