If you have seen Ironman or even Transformers, you would know the amazing things welding can do.
Welding is the process that joins together two materials through high heat, usually, metals or thermoplastics, to create an outer frame for machinery. Even if you are not into vast projects like creating a framework for a superhero suit or a car that can transform into a robot, welding has many other applications. People who are into this field or are welding hobbyists, find small projects to make them busy. Welding finds its use from inside the house to garage for your DIY projects. And if you take up bigger ones, you can always work as a welder in factories or make some nice side income as a local welder.
In welding, the most important accessory is the welder. The final product of your project depends on how is the machine set-up and how good you are with the tool.
Finding the right one that matches your needs becomes a little difficult because there are multiple factors to be considered. Depending on how busy you are, you might not even have time on you to research for the best welder.
We have got your back. The two most famous and best welders out there in the market are the Hobart 190 and Lincoln 180. If you are the sort of person who wants the best of the best, continue reading to help you decide which one will match the job you are looking to perform.
| | Hobart 190 | Lincoln 180 HD |
| --- | --- | --- |
| Max amperage | 190 | 180 |
| Duty cycle | 30% @ 130A | 30% @ 130A |
| Weight (pounds) | 68 | 66 |
| Dimensions | 10.625 x 12.375 x 19.5 Inches | 14 x 10.15 x 18.6 Inches |
| Input voltage | 220-240 | 220-240 |
| Link to Amazon | More details | More details |
Hobart 190
Hobart Handler 190 is believed to be the most powerful and popular welder amongst its class. It is thought to be super reliable and easy to use when compared with other welders. And without a doubt, it has some of the most amazing features that a welder can possess.  Some of these features are discussed below.
Features
Usability:
This is a powerful welder and can easily weld a number of materials. They include stainless steel, aluminum, and mild steel. This welder has a number of voltage options and the controls are easy to understand. This product comes with 7 settings of voltage output. This feature makes sure you are provided with the flexibility to get clean and quality weld. The chart on the inside of the machine makes it easier to understand the settings and use them.
Power:
The output of this product ranges from 25A to 190A. The duty cycle of 30% at 130 amps gives it a good amount of power. This welder can be used for DIY projects in the comfort of your garage or even heavy projects on remote sites with the help of a generator.
Easy to carry:
The weight of this welder is 68 pounds. This is not too heavy to carry from your garage to the outside. Although it is still recommended that you put it on wheels before transporting it from one place to another for your own safety.
Price:
Though this device is a little expensive if we weigh out the quality product it produces, this price is justified. Also, this is quite durable and will last until you get your money's worth, probably even much more.
The warranty that this product comes with also gives you free of charge replacement if something breaks down.
Pros
Some of the advantages of using this welder are given below.
This product gives you infinite control over the feed speed of the wire.
It is the easiest to use for people who are just beginners at welding. It comes equipped with a guide which is helpful for newbies.
This is easy to set up especially considering the given instructions.
This product has 7-voltage control settings. These high numbers of outputs help you in controlling the welding of your project and give a high-quality finish if you use this device correctly.
This device is ideal for DIY projects that you can take up inside the comfort of your home. Hence, this is the best choice for somebody who has taken up welding as a hobby.
This device has a built-in safety feature included. It has a heat measure which resets the thermal overload and protects the motor.
It is compact and comes in a stylish design.
Cons
With so many advantages, there are bound to be some drawbacks of the product. Everything can't be perfect. Although these disadvantages are few, they will give you an idea if this device is the one for you or not. These are listed below.
This welder requires a 220V outlet. Thus, it is not suitable for the power supply of the household.
Some people are concerned about the price of this device since it is more expensive than some other welders.
Even though this is a powerful welder, but it is still not suitable for industrial work. This is the perfect one for your DIY projects.
All in all this product is durable and gives you the products worth your money with ease. Even though this might seem like an expensive investment, you will not regret it if you are into welding. It also has a good warranty. This is one of the best welders when compared to the ones in its class. If you have the budget for it and end up getting this product, this might even outlast you. It is true that good when it comes to performance and durability. You will begin to love this for your welding projects.
Lincoln 180
Lincoln Electric is a renowned manufacturing company dealing with the successful business of producing welding products and electric motors. The success of this company is due to the values it has incorporated in its system and the policies followed by it. Lincoln electrics provide one of the best long lasting welders.
Features
Diamond core technology:
This product gives an amazing output. It delivers a forging arc and a low splatter action. It has a good voltage at a given feed speed of the wire for steel, aluminum, and stainless steel.
Easy to use design:
The design is tool-free. You don't need any extra accessory for changing the wire or mounting the spool gun. It is a tool-free, easy to use design.
Ready to use spool gun:
If you have to use the spool gun, all you have to do is unmount the standard MIG gun and plug in the Magnum spool gun. This gives enhanced aluminum feed performance.
Strong PC board protection:
This product comes with reliable protection against shock. It seals the sensitive components from the environment and gives added rigidity.
Pros
Buying this product comes with its own advantages. Some of the advantages of using this welder are given below:
It has a brass-to-brass connection that enhances the conductivity of the product giving a better weld.
The device is durable and will give you good performance throughout the years. You don't have to worry about having your money wasted as this will stay with you and give you products worth your money.
It has a fully adjustable drive system. This reduces the chances of getting wires tangled or crushed.
It is easy to use and has a spool gun ready if you want to use it for aluminum welding.
Another factor that improves its performance is the drive motor with enhanced torque.
Due to its weight, this welder is easily portable. For people who have a vast use for a welder and keep on moving it from inside the garage to outside for heavy-duty projects, this is one of the best designs.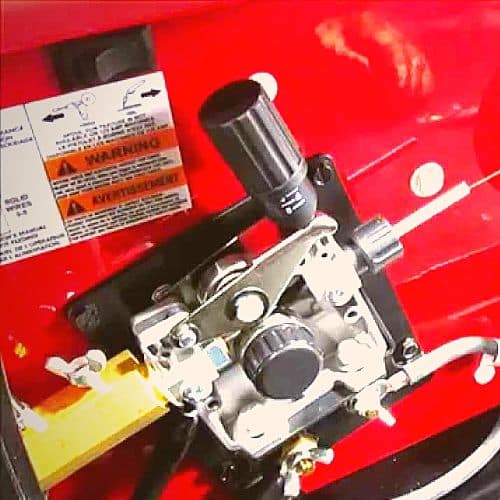 Cons
There are not many disadvantages to getting this system. If any it is the price of the product.
Lincoln Electrics provide durable products and will not disappoint you.
Which one to pick: Hobart 190 versus Lincoln 180
This is the only guide you will need when it comes to choosing between Hobart 190 and Lincoln 180. Most of the capabilities of both these products are the same. There are very minor differences depending on the need you have for welding. Although when you go to buy a welder, you should be very clear about your requirements and the work you wish to take from these welders.
Since they are both very good welders, they are close together in actual characteristics.
The most important difference is in the inputs of both the products. Hobart takes 240V as input whereas the Lincoln 180 takes 120 to 240 V as input.
If you are a beginner at welding and don't have budget constraints, you should look into getting Hobart 190 over Lincoln. Because this is not only easier to use with a better instruction guide but also has a better and high performance. It also has a variety of output settings and best when it comes to DIY projects. Although this is not best suited for industrial use, this will stay your friend in your time of need with household projects.
If you are more of a commercial welder, you should go with Lincoln 180. This should be one of your top choices if the welding work you do involves fabrication and automobiles and body panels. This is designed for heavy-duty commercial welding as well. While this welder is best for professional use, it also works wonders with home welds in your garage.
Frequently asked questions
Can I weld aluminum with Lincoln 180?
Many welders are faced with the challenge to fix something that involves aluminum. It might be a small project they had taken up or something around the house needs to be repaired or modified. Working with metals such as aluminum can be quite tricky to get a hold of. Aluminum is conductive and very soft. To work with these properties, welding heat needs to be spot on.
Lincoln 180 comes equipped with a spool gun. Therefore, if you are thinking of getting that product, you wouldn't have to worry about going around town looking for a spool gun in your spare time.
What is the intended use of Hobart 190 and who should use it?
This is a very simple and easy to use welder that is suitable for use in workshops and jobs that require occasional heavy-duty work. Hobart 190 is not suitable for consistent heavy-duty work but it is ideal for repairing car bodies, for maintenance work and DIY projects.
This is also intended for beginners who need an easy to understand controls and instructions for first-time use. It also has a built-in safety feature that helps the newbies with their safety as well as the safety of the machine itself.
How to use the spool gun?
Both the welders mentioned come equipped with a spool gun. Spool gun gives a better performance for aluminum wire welding. This gun can easily be plugged in and used in place of the standard gun. It doesn't require any additional tool for changing the guns. There is no need for an adapter or a control box to use the spool gun by either of these welders. The installation and use is actually more intuitive than it may seem at first.
When should the Hobart 190 be used?
Hobart 190 should be used for welding projects that require more welding power. These include welding automobile bodies, farm and garden equipment, metal sculpture and exhaust systems. There are many more uses of Hobart 190 welder.
What does the Hobart Handler box contain?
There are many components in the box of this welder. Some of the components include a built-in gas valve, a dual gauge regulator, gas hose, power cord, user instructions, and flux-cored wire.
These are some of the major contents of the box. Although there are some other components as well, this will give you the idea regarding the box and what it contains.
Conclusion
As a final verdict, both the products have their own advantages and disadvantages. There are many similarities between these two products. However, the Hobart 190 is better than Lincoln 180 when it comes to performance. It is also one of the best ones even if we consider more expensive welders.
In order to make the right decision, you need to consider the factors that affect your work the most. Both these welders are great, but Hobart 190 finds its edge in the sense that along with having a better duty cycle, even people who do not have that much experience with welding can use this to work on a project because of the ease of controls and the instruction this welder comes with. But getting this can be a bit problematic for you if you are on a budget. This is expensive when compared with the Lincoln welder.
It is a little heavy but it is durable and comes with a long term warranty. If you do decide to go with this product, you will find this to be a good investment. This will give you better performance and easily controlled output producing finer and better results. It is the best when it comes to farm and household welding.
However, no matter what the features, when you go to buy a welder, you should have the requirements of your work clear. You want to buy the product that is best for the type of work you will be doing and not the one that is best in the market. Otherwise, you will end up making the wrong decision or getting the one that gives less power than you need and this will end up in costing you more in the long run.