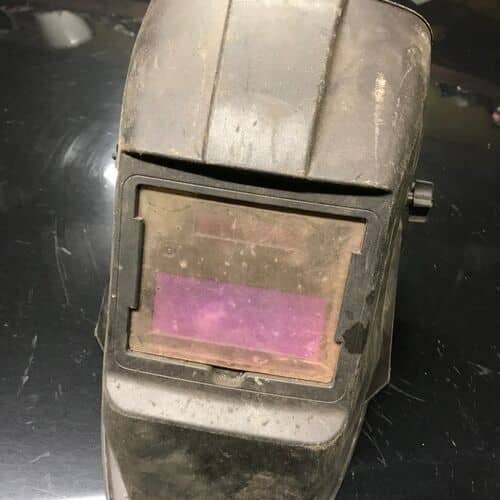 Whether you're a professional welder or not your safety should be your top priority. In fact, this is one of the main reasons why a welding helmet was invented – to keep you safe. This type of helmets will keep you safe during any kind of welding process and in a very comfortable way when compared to fixed lens welding hoods. However, if you're wondering how auto-darkening welding helmets work then, read on.
An auto-darkening helmet or any welding helmet will surely take your safety to a higher level, any welding helmet is a heck of a lot better than no welding helmet. Even though a passive helmet has helped a lot of welders throughout the years, it has downsides when it comes to user-friendliness, which in my opinion is a determining factor, especially for newcomers.
Generally speaking, a welding helmet is capable of protecting you from different situations during the welding procedure like damaging your eyesight due to the ultraviolet rays or infrared produced by the welding arc.
Aside from that, welding helmets will also protect your face from high temperatures, burns, and debris.
Despite the fact that a passive welding helmet provides great protection, which is even argued to be better than auto-darkening helmets provide. But still, the one with an automatic lens will make the process much easier and faster without sacrificing the quality of the work.
Welding Helmets: How Do They Work?
Because of their design, auto-darkening welding helmets are known as high-technology equipment. Such helmets let a welder work without any pauses and distractions (which is bad when you have to work in the manufacturing industry I believe). As a matter of fact, this makes a welding helmet a beneficial tool for welders who wish to weld effectively.
Well, I am no expert in this filed but I did some research and as the name implies, this kind of welding helmet utilizes auto-darkening filter lens (ADF) – it is a kind of a liquid crystal display (LCD) which is the same to what clocks, TVs, and other devices use in order to show time or indications which may help you in operating the device.
To power the filter cartridge, manufacturers combined solar power and batteries. As a result, an auto-darkening welding helmet work for long periods of time without any problems.
In order for the lens to darken as you start welding, there are light sensors installed near the lens so that the helmet could detect the welding arc instantly to then darken you welding lens in a fraction of a second.
One reason why an auto-darkening welding helmet helps every welder work faster compared to other types is that when not activated the lens will apply a shade of three or four. Meaning, the welder can see the workpiece easily without taking the helmet off or flipping up the lens, as opposed to regular welding helmets.
Auto-darkening welding helmets are like regular protective glasses when you are not welding. Why? Because they protect your eyes while doing other errands as well, for example, most helmets provide grinding mode so it is possible to even grind with the welding helmet. In fact, it comes conveniently throughout the welding procedure because when the arc isn't active, welders can locate their tools like a torch or MIG gun while checking the details of their job.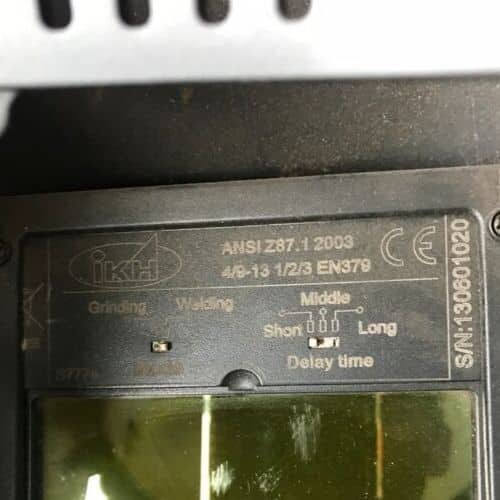 Further, if you light the arc, the lens's filter will be activated again. The helmet's sensors will determine the arc that automatically activates the filter. Also, the shade will go up between 10 and 13, and what is even cooler is the fact that you yourself can regulate how dark the lens will go.  
How Long Do Auto-Darkening Welding Helmets Last?
In point of fact, it is hard to estimate how long does an auto-darkening welding helmet last. Some of these helmets are solar-powered while others use batteries.
However, often the cheaper ones will last for about three years of continuous welding. While the expensive units can be used for five years or more.
Actually, there are lots of factors that affect the lifespan of an auto-darkening welding helmet. For instance, if you're taking good care of it, obviously it will last longer. But if not, then you can't expect it to lasts long.
How to Test Auto Darkening Welding Helmet
Here are some tips on how to test an auto-darkening helmet:
Consider Sensitivity
One of the most important parts of auto-darkening welding helmets is sensitivity. It is hard to pre-program the accurate amount of sensitivity. That is why the majority of such helmets come with adjustable knobs.
When you are testing the sensitivity of your helmet, it should respond to alterations in light effectively. However, the helmet should not be too sensitive that it will darken with just an insignificant increase of light, such as a spark.
NSF or National Safety Standard
If you are not familiar with the NSF or current auto-darkening lens technology, choosing the best helmet can be challenging.
The latest safety standard for a helmet is ANSI Z87.1-2003. According to this safety standard, helmets, as well as manufacturers, must validate their marketed specifications. These include darkness shade settings, switching speeds, and other specifications. They should be validated via an independent lab test to promote amenability.
Auto-darkening welding helmets with substantial weight will cause a lot of uneasiness. That is why, when testing, you should opt for a model that is made of lightweight materials but durable. Fortunately, most of these helmets feature a custom fit so that the wearer will be able to move around hassle-free.
Every welder is using different techniques and processes. That said, different processes and techniques need various levels of protection and a different shade, depending on the material and the amps used.
Thus, it is very crucial that your welding helmet comes with different lens shades that can be adjusted. Usually, modern auto-darkening welding helmets have lenses that range between level 9 and level 13. Take note, this range is ideal for making a small project as well as industrial-sized welding jobs.
Welding helmets that have no optimal visibility are worthless. This is why you need to check the visibility of the helmet you're considering. You should see everything clearly once you wear the helmet.
Reasons Why Your Auto Darkening Welding Helmet Isn't Working Properly
Poor visibility
Even though you have the best helmet with the best visibility, there are some instances that you cannot see out of it. So if you experience it, consider cleaning it.
Welding helmet doesn't feel right
Wearing a helmet that feels unreliable or is falling down, moving, slipping is really frustrating especially when you are in the middle of the welding process. Thus, if it doesn't feel right then you should tighten it.
Weld looks too bright and hurts your eyes
When just starting out, you probably choose a welding shade that is either too dark or not dark enough. I would refer back to this article, which would help you to pick the right shade. But for your own safety, if it seems too bright, just pick a shade higher. You do not want to burn your eyes and feel the sand in the eye feeling.
If you are in search of a great welding helmet then I would recommend this one: https://amzn.to/2QWmeoQ
It is really high-quality and safe. I am using it, my friends are using it, and I have not heard a single complaint from them.
Conclusion:
Every welder, professional or not should invest in an auto-darkening welding helmet. This piece of equipment will be able to save you from a lot of dangers during the entire welding process. However, if you've decided to get one make sure to check and test it properly to ensure that you're getting the best auto-darkening welding helmet. I will definitely write a post about this in the future, but for now, I would recommend this one from Amazon.