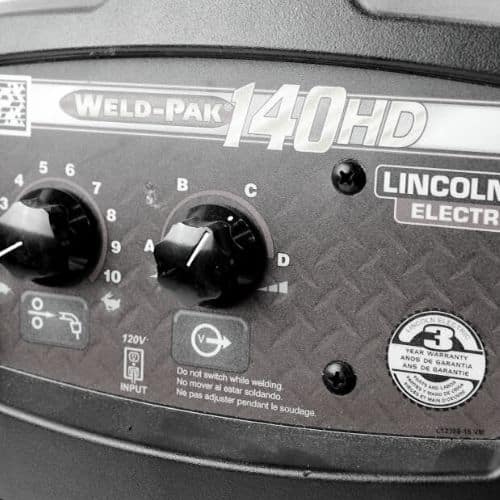 Introduction
To begin with, I must say, this is a really decent wire-feed welder. The WeldPak 140 HD should be on top of the shopping list if you are looking for a welder that is suitable for auto body welding, as well as metal art projects and small repairs. This includes fixing corroded latches, gates, and doors. It is versatile enough to be used for the improvement of homes and farms as well. This is a machine that can run off on home voltage – 120V power supply and can be used pretty much anywhere indoors. It comes with a chart that also gives some easy to follow instructions, which also gives easy to understand settings for the machine configuration. The main purpose behind designing this machine is to give professional results to users who welding at home at a reasonable price, it covers all the aspects that a good welding machine should have, and that too at a lesser cost.
Features of the Lincoln 140 HD
Two-Knobbed Tapped Control
The Lincoln Electric Weld 140 HD has a tapped control, that can be considered as a downside if you are looking for more control over the welder settings, but for beginner welders, it makes life much easier by not over complicating things. Many welders hate tapped control system, but it gets the job done with no problems at all.   
The double-knobbed tap control makes the setup very easy. So, even if you are new to this machine or to welding, the set-up and installation will be a breeze. This means that, if you need to weld something in a hurry, this is the machine for you. There simply is not much room for error when picking the right settings.
It is a versatile product that works equally well for thin gauge steel, aluminum, as well as stainless steel welding. Lincoln welder can be adjusted accordingly to perform gas-shielded MIG welding as well as flux-cored welding if needed. Hence, it can be easily said that it's one of the more flexible and useful than beginners typically need. It further becomes more prominent within its competition due to having a strong case that delivers a precise and strong drive roll system, along with a full list of typical accessories that are needed to start welding. These include the user manual and reference chart.
What Makes The Lincoln 140 HD Such Good Piece Equipment?
When you are considering purchasing a welder, it is obvious that you are going to spend some amount of money, so you should be able to judge and justify it well before you make the purchase. However, if you are planning to buy Lincoln 140 HD, then there is no need to worry at all. It's an amazing product with some strong product features. For the price and the features, it is a great welder that will get the job done.
Things That Set the Lincoln 140 HD Apart
Due to the trust of the industry, Lincoln has quickly become a favorite to many welders when it comes to the welding community. They kept up a pace of improvement, as well as innovation. Anyone who is seeking the right welding gear with simple features like portability and excellent performance, this product is for them. It is equally suitable for novices, as well as professionals. This product from Lincoln is best for novice welders, as it runs easily and smoothly on 120 volts, and provides decent results for a reasonable price.
Let's take a look at the features of Lincoln Weld HD 140:
Lincoln device is a small, yet you cannot describe it as being a lightweight machine. This is specifically significant due to size, which is small but packs a punch similar to all welders in this class. Although the product is built compactly, it weighs around 70 pounds. However, this weight makes it more durable and sturdy.
One of the features that make it stand out to an extent is the fact that it runs on the traditional residential power supply. Welders usually go for devices that are versatile and compact; this device delivers on versatility and can be used anywhere around the house on any kind of metal.
Aluminum is one metal that isn't welded by most welders. If you are looking to weld aluminum, this welder is for you. You may require an extra spool gun, but other than that, this is a pretty powerful welder and welds aluminum without much hassle.
The Lincoln Electric Weld Pak can be counted on every time, due to its flux-core wire capabilities. By following the given leaflet, you will end up with smooth welds, and consistent beads. Users have given particularly positive reviews about the flux-core wire because it doesn't require shielding to work, it also makes it possible to use the welder outdoors.
Things to Remember Before Buying
There are a few things that you must remember before buying the Lincoln Electric WeldPak 140 HD. This device can actually only support 120V and you need 220V for heavy-duty welding work. However, this power is sufficient for smaller projects. This device can feel a bit bulky due to it being packed tightly with its components.  If you are looking for a machine that will do the smaller jobs, as well as mid-level gear, this will be too small for you. Therefore, make your decision wisely.
Things That Can Be Improved
Nothing created is ever perfect; the same goes for the Lincoln 140 HD welder. While the Lincoln Electric 140 HD is a really good machine in terms of performance, it needs to be kept in mind that it is not perfect, and you should not be fooled by the five-star reviews on online shopping sites.
For one, the machine does not come with an adapter for a welding wire's large spool – it is quite cumbersome to shop for the adapter separately. And another big disadvantage of this is that it is not as popular as its counterparts. Many consider it a hidden gem, while many don't consider it to be a good machine. Personally, if you are looking for a Lincoln welder, I would recommend the 140C model over the HD model.
Conclusion
The Lincoln Electric Weld Pak 140 HD truly is a good piece of machinery. It has many amazing qualities when it comes to smaller and mid-level welding jobs, especially indoors and around the house. In terms of gauges and metals, it is excellent for welding smaller pieces of metal together like auto sheet metal. There are quite a few drawbacks to this machine as well, but given the price tag, it is actually a good value for money.