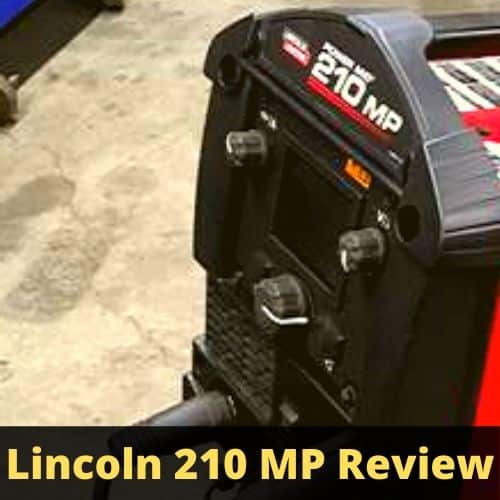 Introduction
Are you in search of a welder that can do all types of jobs? In that case, you will be glad to know that there is one out there that fits the description. Lincoln Electric has provided us with a fantastic welder named Power MIG 210. It is surely the best welder for production work and home use available in the market nowadays. It offers all the features and super easy-to-use display that will help you in creating the most beautiful welds; while the ease of use makes it a suitable product for novice welders.
If you are a small contractor and hobbyist who needs a versatile machine to do TIG, MIG, Stick, and flux-cored welding with, this Lincoln machine is the perfect option for you. It offers great performance and excellent features, which make it one of the best welding machines available. Take your time to choose the best, and spend your hard-earned money wisely. This review article contains Lincoln Power MIG 210's main features that will help you in finalizing your decision. After going through this article, you will surely find this machine to be a perfect choice.
Versatility
An experienced welder will notice the machine's versatility as the first thing to judge its capability. For the spectrum of professional, artisan-related users and hobbyists, the first question that comes to mind is "can this machine able to tackle a wide range of welding tasks?" Here, for the Lincoln Power MIG 210, the answer is in affirmative.
Versatility is the second name of this machine. It provides great performance for difficult tasks as well. The machine can use a wide range of electrodes for different tasks and has the power to handle all of them. The support for the foot paddle also makes it a decent DC TIG welder.
Power
The dual input voltage feature adds up a great value to the MIG 210's versatile capabilities. You can either plug it into your standard household 115 V outlet or operate on 230V option if the task at hand requires more power. It also offers a variable output power range for the voltage being used. It is between 20 – 140 amps for 120V operation, whereas 20 – 220 amps for 230 V operation.
Using Lincoln MIG 210, you will get a good duty cycle of 25% at 200 amps and 40% at 100 amps, which is far better than a lot of other welders that operate on 115V input voltage. Note down a bonus here that it comes with 2 fans in the back of the welder that maintain the temperature and keep it cool during the operation. The power can tackle welding jobs of up to 3/16'' aluminum (optional spool gun is needed), 5/16'' stainless steel; while the flux-cored feature is suitable for thickest metals up to 5/32''.
Portability
Imagine carrying a machine that is heavy in weight, and difficult to carry around. These features make a machine fairly useless. A welder would definitely go for the one that is easy to carry around. Lincoln Power MIG 210 is built with portability in mind. Due to its inverter technology (it is an inverter-based welder), it weighs only 40 pounds. This lightweight of the machine makes it easy to use for on-site welding. MIG 210 is much lighter, as compared to old transformer design welders.
Inverter technology of the machine offers another advantage: if you are using it in remote locations, and if you face any power problems, you can hook this machine up to a generator and continue doing your work conveniently.
Usability
Lincoln Power MIG 210 features a digital display, which is a huge plus not only for novices but for those who are unfamiliar with these kinds of products as well and want to start their experience; this makes this machine really easy to use. If you are not experienced enough, this feature is really a blessing, and comes in handy to help remember the setting, and also gets you ready to step in and start welding in no time. Intuitive push-and-turn digital controls make setup a breeze, while the interface is simple to understand, and guides you through the setup process.
The MIG 210 is a combination of 4 different welders that provide a tidy unit. It has all the features and capabilities of a small MIG welder, a large MIG welder and can easily perform Stick and TIG welding. To do TIG welding, simply connect its TIG torch to the negative terminal of the DC power supply and group clamp. Then change the digital control to TIG, and you are ready to start your weld. Stick weld can be accomplished following a similarly simple process. However, you will need an optional spool gun to MIG weld aluminum.
Durability
Lincoln Power MIG 210 is built while keeping the durability of the product in mind so that it does not have to face failure regarding this aspect of the machine. Heavy-duty plastic reinforcement is used to construct the sheet metal frame for all the seams and fittings of the MIG 210. The substantial and robust hard plastic handle at the top providers the ease for almost everyone to move it around. While its casing contributes to its ability and durability to take enough amount of pressure and force, as one moves it from place to place.
Tough wire drive makes MIG 210 rugged and ready for any job in small shops or homes. The machine has gone through several tests to ensure longevity and durability. It can handle a great amount of pressure while providing the same performance as the manufacturer company has promised.
Price
As it offers many features, great performance and is close to perfection, all these in a single package do not come cheap. The extra features are really a big bonus. It is an excellent all-round package for beginners. But one thing you should keep in mind is that if you go to buy TIG machine, MIG and Stick welder, it will cost you quite a lot, but the Lincoln power MIG 210 provides you with all these separate machines in a single package. Also, if you are looking to upgrade your low input voltage power welding machine, the MIG 210 is definitely a perfect choice, that is reasonable and pocket-friendly in comparison to the rest.
Warranty
Lincoln welders are usually very reliable, but in case something goes wrong, you have a way to get out. MIG 210 is backed up by a 3-year warranty. However, if you want to protect your welder further, you can pay an extra of around $100 to extend the warranty for 2 more years.
Specifications
MIG 210 is capable of running four different welding processes that are TIG, MIG, Stick, and flux cored welding; it is a multi-purpose welder. It is better and more convenient to own one welder for multiple welding types.
The dual input voltage supply (115 V and 230 V) allows you to choose any one, according to your preference and need. With output power up to 220 amps, the most demanding welding task can also be done with ease.
Strong and robust design not only increases the durability of the product but also allows you to carry it around easily without facing any difficulty.
This product is ideal for use in small-scale welding, home workshops, small or educator contractors, and hobbyists. It is suitable for light industrial applications, farms application, auto-body work, repair, and maintenance.
Easy to use push-and-turn digital controls and a large color display make the setup process a breeze, and provide useful guidance. Due to this reason, it is the most user-friendly welder in its own class. The machine is not only easy enough for beginners, but also powerful enough for experienced workers and professionals.
Intuitive and easy-to-use digital interface makes setting jobs easy for you. It recommends settings for specific welding thickness, welding job types, and wires.
The lightweight, compact size, and inverter technology make it easy to carry around and use almost anywhere.
It comes with 2 built-in fans that maintain the temperature within the machine, and keep it from overheating.
Conclusion
Welders have praised the Lincoln Power MIG 210 for its versatility, portability, and durability. Moreover, the warranty that it comes with makes a great impact. The users have appreciated the fact that it is a complete package that offers many benefits in a single product.
However, as it runs only on DC current, it is unable to weld aluminum sheets and tubes. Also, some beginners find this product a bit expensive, but as it has the capability to run 4 different welding processes, it is not that pricey as compared to the total of buying all 4 welding machines separately.
Regardless of the minor flaws exhibited by the product, the fact remains that MIG 210 offers greater value than other welding machines regarding versatility. If you value this fact, the Lincoln Power MIG 210 is the perfect option for you.