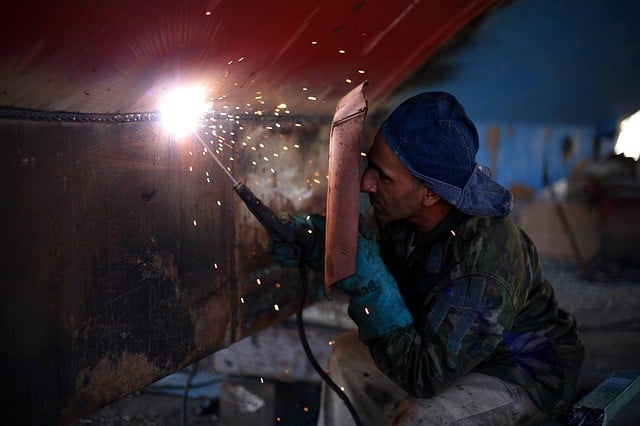 If you are someone who spends most of the time inside the welding shop amidst the flying sparks, then you definitely need a welding cap. The market is filled with equipment in different sizes, shapes and in various prices. Choosing a badass welding caps could be a little bit tricky and that is the reason we've come up with this article to provide you all the information about why you need it and how to pick the best one.
Why you Need a Welding Cap?
The main reason most welders use a welding cap is to protect their head, neck, and ears from the welding sparks flying all around. The cap also provides some cushioning on your head. While welders use face shields or welding helmets to protect their eyes and face, it helps in protecting your head from the boiling heat. Some welding caps are also made to be fire-retardant and absorbent as well as they help in absorbing the sweat from your head and prevent it from dripping into your eyes while welding.
Welding caps are generally made using high-quality cotton materials making them quite comfortable over the head. Some caps also come with a sweatband along with flaps on the sides to protect your neck.
Things to Consider Before Buying a New Cap.
When it comes to choosing the best welding caps, you need to take into a few things before buying. Let's look at some of the factors you need to consider:
They are available in different types including beanie cap, skull cap, baseball cap, rag cap, etc. Choose a welding cap that suits our requirements and that fits into your kind of style the best.
Your First cap make sure to choose one that fits perfectly on your head. Because at the end of the day you don't want to be wearing a cap that is too loose or too tight on your head as it could be annoying while you are laying beads.
It is also highly important to consider the materials with which the welding cap is made of as caps made of cotton materials are highly comfortable and wick the sweat away easily. Cotton is also breathable whereas polyester is not and is also doesn't contain the absorbent capacity as well. Make sure to go for welding caps made using 100% cotton materials.
I would recommend you to buy one that is multi-panel one because they provide you with a precise fitting and more comfortable than caps with no panels.
Top 4 Best Welding Caps
A good welding cap provides you greater protection while welding for your head and neck but choosing the best cap can be a bit confusing and hence we've provided you with the best 5 welding caps in the market, in our opinion, you can not go wrong when owning a one of those mentioned below.
Lincoln Electric Welding Cap
When looking for the best welding cap, the first thing that comes to your mind is the Lincoln Electric products, as they made using the highest quality cotton fabric material to provide you all day comfort over your head. It also comes with a 2-way airflow feature that ensures all the sweat that is created is easily removed and prevents it from trickling on your eyes.
The cap also comes equipped with an elastic headband which ensures that it stays put perfectly on your head for a long time. Another highlight about the cap is its design as it gives you an American vibe when wearing it over your head. Overall, Lincoln Electric is one of the best welding cap.
BSX Gear BC5B-BK Welding Beanie One Size Fits Most
Next in our list of the top 5 welding caps is the BSX Gear BC5B-BK welding beaning. It is designed specially to provide complete protection while you are at work. Made using high-quality cotton materials, the cap gives you a comfortable feeling when you wear it on your head. The cap looks stylish and doesn't look like a cap used for welding at first look with a beautiful logo on the front. Although I have not used one myself, a couple of friends of mine have recommended this one and when you look up that welding cap on Amazon, customer reviews mostly are positive.
Black Stallion BSX BC5B-BLU Black/Blue Cotton Beanie
There is not much to say about this particular model, Black Stallion BSX BC5B features in our list mainly because it is made using flame-resistant cotton that provides all the safety need for your head and neck. The cap also looks very stylish and pretty much comfortable to wear all day long.
Fashion Style Welding Caps for Welders
If you are looking for the best welding cap that not only protects your head from the fiery flames flying around but also need to make a fashion statement with I, then better check out the Fashion style welding caps. They come with a unique design with coconut trees and comes in a refreshing blue color and gives you a nice feeling that you are on a beach, not at work.
But for a welding cap, the quality is more important than the style statement and these caps don't disappoint you. They are made using top quality materials and are highly comfortable to wear as well. They also come with competitive pricing and provides everything you will be looking for.
Mission Enduracool Cooling Helmet Liner
If you are looking for a welding cap that cools automatically when it gets wet, then better check the Mission Enduracool Helmet liner welding caps. They are made using advanced technology and designed to cool itself instantly when it becomes wet due to all the sweat generated. This ensures that your head is always kept cool. Made using proprietary weave materials, it instantly absorbs all the sweat. These cool welding caps also look extremely stylish and will last for a long time.
Picking the Right welding cap- How to make the right choice?
Mostly the welding caps, on the first sight are all the same, but how they feel might differ a lot. All products included in this list are highly reliable and made out of quality materials so you can not go wrong here. If you are a hobby welder then just for fun you might like those badass welding caps with more eye-catching style or if you are after really high quality by a well-known brand, then you can't go wrong when buying Lincoln.