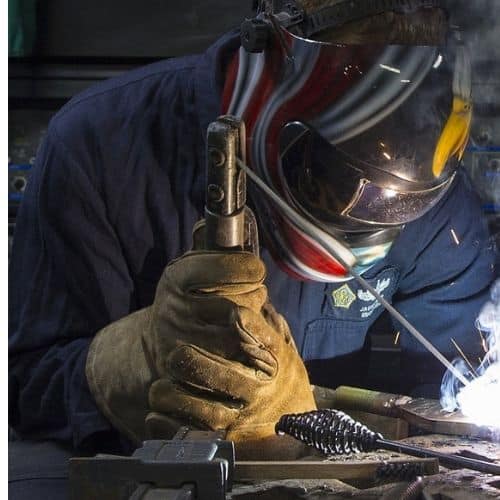 Welding is a fairly expensive and freaking dangerous occupation I know, but it is awesome! Although it is dangerous I think it is still better to be a welder than sitting in the office all day long. Luckily we can reduce our health risks with quality gear, and that's what this post is all about. The purpose of this post is to separate the wheat from the chaff and bring you our list of best welding shirts on the market. (My pick from Amazon)
Choosing the right gear has always been a headache for me, and for that reason, I am trying to provide the maximum value through this list of my top FR welding shirts. It is purely based on my own opinion, which is formed by trying a ton of different products, but what has worked for me, might not work for you.
So without further ado, let us get right into it!
Lincoln Electric Premium Welding Shirt – Most extra features
For those of you who do not know, Lincoln is clearly a veteran in the welding industry, so I just can not go on without mentioning their product. This welding work shirt is a little more expensive than some other shirts, but when buying their FR gear you can not go wrong. As always they provide top of the line quality with some extra nifty features other manufacturers don't offer. Although it is debated in the welding communities if they are asking too much, I would say that it is a solid investment and you probably will not regret buying the Lincoln Fire retardant shirt.
Since Lincoln has been in the welding industry for so long, they know what is best for the end-user when it comes to comfort and features. Overall I must say it is good, durable, and adjustable cuffs come in handy. The shirt is breathable and the pockets are not too big or too small, they can easily fit and protect my precious smartphone, and thanks to the reinforced design it lasted longer than most work shirts in my arsenal.
Likes
Comfortable
Big pockets
Neck protection
Machine washable
With anti-static coating
Important parts like shoulders, neck and button columns are double layered.
Dislikes
Comes with a heftier price tag
Carhartt Men's Flame Resistant Shirt – Best lightweight welding shirt
Probably anyone reading this post is familiar with Carhartt at some level. For those of you who don't know, It is really freaking old company based in the USA who produces workwear. They sure do know what they are doing because they have been around a long time (since 19th century) and as you can expect, their FR clothing is top-notch.
Normally I do not wear clothes with nylon mix, but way back my wife bought it for Christmas so I was bound to wear it and act as I liked it. Which I did. Nothing bad to say about this product actually. It held up for longer than I thought and the anti-odor and work-dry treatment helped to some level, but let's be real, if you are welding for hours every day, nothing can keep you from smelly armpits. I think the anti-odor treatment was the main reason my wife bought it for me if you know what I mean.
Being in the industry for that long, they sure do know what to focus on, below are some of the thing I like the most about this FR shirt
Likes
Anti-odor treatment which is useful.
Wicks away moisture at some level
Only 6 ounces, which is really light.
Machine washable
Dislikes
My personal preference, but they have mixed this wonderful shirt with nylon
Wrangler Riggs FR Shirt- Best price-quality ratio
Another well-known name worth mentioning in this list is Wrangler. Wrangler is one of my favorite brands when it comes to PPE equipment, besides excellent fire-resistant welding pants produced by them, or any other piece of equipment, you can not expect anything less than a quality product for a great price.
The cotton is nice, but slightly thick, making it heavier and more rigid, which is great in terms of protection, but a pain in the summertime. It is relaxed fit tough, making it a little bit more comfortable to wear even in hot weather. Similar to Lincoln, this too has nice pockets and the cuffs are not too lose. Overall great shirt and it did not fade much after washing it, maybe because it is gray you can't tell the difference.
I think they have the best price-quality ratio when compared to other brands. For me, Wrangler is a winner five days a week and even twice on Sunday.
Likes
Made out of 100% cotton
Machine washable
Classic, comfortable
Really durable, it almost seems impossible to ruin it. After many washes, the buttons are all intact.
Does not fade after washing
Dislikes
It is not as light but more rigid
 Ariat Men's Flame Resistant Shirt- Best for hot weather
Ariat was founded in the 1990s and is based in Union City, California. I know, not the most well-known names in the welding world, but I have heard a lot of great things about their products, so I decided do give this shirt a go. And sure enough, I did not have to be disappointed. The Shirt was better than expected and I still have this one, and probably will buy another one for next summer.
This one I would buy 7 of them to wear every day of the week. I really like the fact that it sits nicely on me and it does not have button closure. It just lasts longer because I do not have to worry about lost buttons and in some ways is more comfortable. In summer it breathes really well and in the winter months, I can use it as an extra layer of clothing to keep me warm.
Although the company is still relatively young, it has everything to compete with the giants in this industry.
Likes
Cotton!
Machine washable
Repels moisture at some level
Comfortable, easy to move around
Lightweight, perfect for hot weather
No buttons!
Dislikes
I should have bought one size bigger, sits too tight on me.
 Bulwark Men's FR Welding Shirt- The most budget-friendly
And last but not least Bulwark! Bulwark, similar to Ariat has been manufacturing PPE equipment, more precisely FR clothing since 1990. I would say it is a great alternative to Wrangler products for a slightly smaller price tag.
The product itself is great, I like it but if you are like me and have to keep your phone in the pocket at all times (because of my wife) then this one is no go. Besides that, I really like the texture of the material and in the winter months, the extra-long version comes in handy to keep my back warm.
Though it falls in the category of the cheapest welding shirts in this list, it is worth considering buying it, and a high level of positive feedback by the customers only strengthens my opinion about this product.
Likes
100% cotton, I like the texture of the shirt, looks good enough to go to a party with it.
Thanks to Sleeve vents It perfect FR shirt for summer.
Durable
Machine washable
Light, only 7 ounces
Dislikes
It is a little bit too long, for a smaller guy like me, it looks like wearing a dress.
Picking The Best Shirt for Welding – How to make the right decision
Now, you got the list of our top picks, but you might still have a dilemma on which one you should really pick. And there is no right answer to this question, the only thing I can recommend you do is to consider a few things before making the final decision:
Material type: For me personally, I always prefer denim and cotton rather than any other material, because I find natural materials more comfortable although leaving denim aside, shirts with nylon mix tend to be more durable.
Weight of the shirt: Yes heavier shirts are more rigid and provide better protection but it do you want to feel yourself like you are in an oven all the time?
Your line of work and experience: When you are just a beginner, you might not want to spend a lot of money after buying your first welder, but I encourage you even if you buy the cheapest one, it is for your own good. You can also consider welding sleeves, which are even cheaper.
Your work environment: If you are working in the manufacturing industry you are probably familiar with the regulations that need to be met in your environment. I just want to remind you that you might want to have a look at the NFPA and ARC rating.
Size: Shirts for the welders are generally bigger than regular clothes, so before ordering definitely read some of the reviews other customers have given.
Frequently Asked Questions
What is the best welding shirt?
There is no right or wrong answer to this question. It is debatable and the answer depends on various factors such as your workplace requirements, working conditions, your line of work and the experience level you have in the world of welding.
What are welding shirts made of?
Usually, shirts for welding are made of 100% of cotton, sometimes cotton is mixed with nylon, although nylon is not as good, because it melts at low temperature.
Are FR shirts good for welding?
Yes, they give you an extra level of protection against hot sparks, which would easily burn through regular shirts.
What is FR shirt?
FR stands for Flame Resistance, which means the fabric of the shirt is treated with chemicals to make the material more resistant to fire, thus providing you an extra level of personal protection against flames and sparks. It is still important to note that this does not mean that FR rated clothing is entirely fireproof.
How long does FR clothing last?
As a hobby welder, Fire Resistant clothing can last 5 years or even more, depending on how often you use it and in which conditions. For regular welders who work on that field day-to-day, I would expect quality shirts to last 6-8 months depending on how often the clothing is washed and are the instructions provided by the manufacturer properly followed.
Does FR clothing shrink?
Yes, it does, and that is because the clothes are mostly made out of cotton, which will shrink when it is washed.
Is cotton good for welding?
Yes! If you do not have money for properly treated fabrics, the least you can do is wear cotton! By all means, AVOID nylon because the sparks will melt right through them and the plastic will melt into your skin.
Conclusion
I hope I did not make your life too difficult listing five of the best welding work shirts in this post. As we all know, the more options we have, the more difficult is to make the decision. If I would make a recommendation for my friend, I would still struggle to say which one he should buy, I think it is important just to make the decision and buy one based on what catches your eye and seems to relate with your requirements the most. All the fire-resistant shirts listed here great, no doubt about that.
If you still can not make a decision just reconsider Wrangler from Amazon, it has everything you might look for in a welding shirt and even more for a good price.