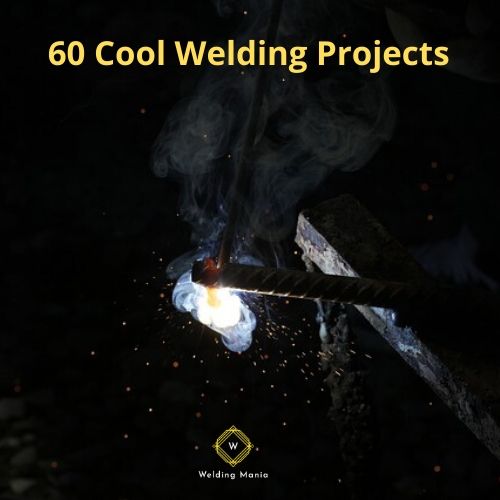 If you are searching for the ultimate list of welding projects for beginner, intermediate, and professional welders, you have come to the right place! Let's be honest, welding is a lot of fun but only when you know what you want to achieve. Whether you are a beginner or have achieved the status of a professional in the field of welding, finding a welding project to work on during your spare time as a hobbyist is one of the most challenging parts of the process, in my humble opinion. The options are endless and, due to this, we often find ourselves in a situation of paralysis by analysis. As a result, we get nowhere.
To help out all my readers, I decided to create the best resource of welding project ideas to keep you busy for at least a year. The number of projects listed here should be more than enough to keep you and your hands occupied for a long time to come!
If you find yourself at the end of a list without a new project idea or without a clue on how to start, head to the download section of the website and you might find something for yourself there! I am doing my best to compile and create a ton of DIY welding plans and blueprints complete with necessary instructions to build projects from start to finish. This is a great option if you lack the knowledge on how to build a project from start to finish or if you would like to save the time spent on figuring out what materials and how much of them exactly you would need for the project you selected.
Without further ado, let us explore the potential projects you could very well be indulging yourself in very soon!  
WELDING PROJECTS FOR BEGINNERS
Washer Bowl. If you are on the hunt for easy welding projects for beginners; washer bowls are the starting points for many welders all around the world. They are among the easiest to weld and serve many purposes from organizing and holdings your things in an aesthetically pleasing manner to being a lovely decorative handmade gift for a cherished one. All that you will need for this project are stainless steel washers and a steel mixing bowl. This is the "as easy as ABC" project of the welding world!
Planter and Flower Vase. Another easy welding project which can serve as both decorative and functional is a planter and flower vase. Yes, a multipurpose 2 in 1! Planter and flower vases are feasible in many different shapes, sizes, and designs but one thing that they all have in common is that they are all very easy to weld. This project can be done using materials you can easily find in your welding stock such as few metal sheets, steel rods, and plates. Besides the washer bowl, this is a must-try and a must-have in every welder's household!
Stools. Stools are pieces of furniture that add seasoning to a flavorful house and as a welder, you have the ability to spice up your home with stools using your special knowledge and skills. There is a great variety of stools you can weld for yourself from simple steel stools to industrial ones, each with just as much ease as the other. It's as simple as it looks with most stool designs requiring the basic four legs, four frame pieces for the top, and another four for the bottom as well as the platform piece to sit upon. A house can always use an extra seat!
Coffee Table. A coffee table is a standard, staple product in every household. They are customarily the centerpiece of a living room, which is a representation of your personal style and aesthetic, and if rustic and industrial are words you would use to describe your sense of fashion then why not weld your own coffee table customized to your own personal preferences? With some wood and some reclaimed metal, you are good to go for a strong and sturdy, simple, and stylish coffee table of your own!
Storage Rack. The benefit of a storage rack is within the name itself and it is a significant one indeed. Storage is an absolute necessity in every home and what's better than being able to cater to your necessities by bringing their providers to life yourself? A storage rack is a simple and straightforward article to weld and due to it being such a commonly welded structure, there are countless designs and plans available for you to refer to. Give yourself and your home the gift of the organization by building your very own storage rack! 
Coat Rack. While on the topic of organization, let us give appreciation to coat racks which break the cycle of transferring clothes between our bed and chairs and creating bundles of messes in the room during the process. Coat racks are as easy to weld as they look, purposeful and even the newest of beginners can master them in no time. You can weld both hanging and standing coat racks with the use of reclaimed wood and metals which you can easily find. One in the entryway can even stand to impress your guests with your welding skills!
Hanging Shelves. If you find yourself in a situation with an utter need for shelves but with no floor space to make that feasible then hanging shelves are the way to go. Hanging shelves are amongst the simplest structures to create so much so that the trickier parts would just be hoisting and securing them to either the ceiling or the wall. Hanging shelves are one of the most efficient solutions to organization and space management within a household and you would be doing yourself a lot of good by welding a few of these bad boys!
Metal Trellis. A metal trellis us yet another ornamental structure which is very advantageous for those growing climbing flowers and plants as it helps arrange them in a suitable manner, protects them from the elements and other pesky animals which may be threats to the growth of your flora. It provides a strong and sturdy framework to support the weight of pots and the metal ensures a longer lifespan than wood and plastic trellises. All you will really need are metal posts, rails, and slats; easy to find materials and easy to follow instructions.
Fire Pit. A fire pit is an ideal outdoor appliance that can provide warmth and comfort for both yourself and also gatherings with your family and friends. While this project might be a level above the aforementioned ones on this list, it is definitely apt for and doable by beginners. Most fire pits are as basic as being comprised of just steel plates, bars and tubes and there are several designs you can select from according to what's most practical for you. You won't be creating just the fire pit but also many wonderful memories around it!
Barbecue Pit. Who doesn't love barbecue? It's not just about what's cooking on the grill but also about the unique taste and aroma of delicious food being smoked and charbroiled in the outdoors via natural methods. You can bring all of this magic into your own home with your own two hands! This project may require more time and effort than the others we have explored but the outcome is definitely worth the investment; you will have a lean, mean grilling machine that can provide for your plate for many years to come.
Recommended reading:
WELDING PROJECTS FOR YOUR WORKSHOP
Grinder Stand. A grinder is one of the essential items that metalworkers must have in their workshop. Grinders have a variety of uses according to the necessity. More often than not, the grinder is attached to a regular welding table and it is not the most practical way to operate; extra space for your projects is always a good option. A grinder stand is very easy to build, does not require a lot of material, and helps you save a ton of space in your welding area. All you need is a top plate with around 3/16-inch thickness, a bottom plate that is about ¼ inch thicker than the top and 3×3 square tubing. The size of the plates may vary, depending upon the size of the grinder, but it is recommended to ensure that the bottom plate is at least 3-4 times bigger.
Welding Table. A welding table is one of the things you that will definitely need as a welder and if you don't already own one, why not build one yourself? Buying one will cost you an arm and leg so why not take the opportunity to save yourself some money? There are numerous ways to build a welding table and coming up with an exact plan might prove to be difficult so I would recommend that you head on over to YouTube for plans and suggestions based on the materials you have available and I am sure you will find the inspiration to carry through with your project.
Welding Cart. If you own a MIG welder or two then you have to invest your time or money on a decent welding cart. If you are more of a flux-core wire guy or a stick welder then this might not be something for you but you cannot get by without a welding cart if your machine does not have wheels. As far as the design of welding carts go, there are many for you to choose from. You can build one with a single-tier if you own just a welder or ones with two and even three tiers. There is no right or wrong when it comes to welding carts; your choice should be based on what is most convenient for you. The best thing about building one yourself is that you can customize it to meet your own needs precisely.
Steel Racking Systems. Steel racking systems are, without a doubt, the best way to store your metals and keep them away from damp floors to avoid corrosion. Depending on the size of your workshop, you may get by without one but it would be a fun and easy welding project to complete. It is challenging to recommend a plan or dimensions for a project of this nature as it is dependent upon the size of your workshop. However, if you are a beginner, it is best to ensure that the rack is enough for all welds to hold up. The last thing you need is for the rack to collapse under the weight of your materials and potentially hurt someone.
Car Ramps. If you are working on vehicles then a car ramp is something that should definitely be a part of your workshop to increase safety and improve your overall working experience. This project is considered to be costlier and more labor-intensive than others on this list but the benefits it provides justifies the time and cost you will be spending on it. If you find yourself in need of a car ramp and also a challenge to keep your gears working and occupied for the time being then this is the one!  
Box for Scrap Metal. Welding a box is a simple task, especially if you are an experienced enough welder to already have your own workshop and scrap materials that require storage. The more you progress in your welding journey, the more storage you will need, and thus, you will definitely be needing a few of these boxes down the line. Why not take the opportunity to weld them now? They are inexpensive, easy to create, and great solutions for space management which is something you will certainly need for your workshop!
Chipping Hammer. If you have a considerable amount of welding experience then you surely understand the importance of a chipping hammer. Instead of adding it to your shopping list of welding equipment, why not weld one on your own? Welding a chipping hammer is a very simple task that is essentially just mounting a handle to a head. You can easily accomplish this with materials you may already have lying around and assuredly be using this for many welding projects in the future.
Tube Bender. A tube bender may seem like a complicated contraption to construct but it is a doable one with the right amount of patience and perseverance. If you work with a lot of tubes, this is a worthy investment which will save you a lot of time and money in the long-run. There are several sources that will provide you with detailed instructional step-by-step guides on how to build a simple yet efficient tube bender for your workshop.
Cylinder Cart. Cylinder carts are functional for, you guessed it, helping you move around hefty cylinders from one place to another. Having to haul the cylinders on their own is a laborious and exhausting task which is why the cylinder cart exists to help you conserve your time and energy for more important things such as the actual welding process. Cylinder carts are uncomplicated, you can easily build one in no time and enjoy how it relieves your troubles in the workshop!
Tool Racks and lead reels. Anyone who owns a workshop knows the significance of it containing a tool rack. It is an essential instrument for containment and organization which will grow in importance the more you weld and the more the collection in your workshop accumulates. As with most other racks, tool racks are simple to weld and you can opt for either hanging or standing ones though there is no harm in going for both! Include hooks or pipes to hang your tools and you are now one step closer to the ideal workshop!
WELDING PROJECTS TO SELL AND MAKE A PROFIT
Metal Brackets. Metal brackets are useful for a multitude of diverse purposes and thus, they are a commonly sought-after product by the general population. If you own a steel frame, you already have the capacity to weld metal brackets and they are truly an easy project to take on as the processes are simple and straightforward. You can easily sell them on various platforms and there is certainly profit to be earned from delving into this project.
Jewelry Holder. Almost everyone who owns a sizeable collection of jewelry and accessories needs an object to hold them and that's a lot of people with the same need so why not satisfy it with your skills? There are various designs for jewelry holders and most of them are as easy as welding together straight and square steel pieces. If you can weld a selection of these holders, you can definitely stand a chance to make a good amount of money from them!
Pen/Utensil Holder. Pen and other utensil holders are items that exist in almost every household and you will surely fare well by welding together a few of them for the market. They are easy to weld, all you need is hollow tubes and flat pieces of steel. They do not require much time or cost to produce and in addition, you can offer simple customized paint and polish decorations for a substantial price that people will be more than willing to pay for!
Doorbell. Doorbells are devices that I can assuredly state that every household makes use of and you can definitely earn some income from selling an object that is extensively used. You will just have to utilize scrap steel and an argon cylinder and you have got yourself a doorbell that is ready for sale but of course, everything sells better with some detail and design added to it. Those who appreciate a unique rustic aesthetic will definitely be interested in this one!
Hanging Pan Rack. Hanging pan racks are yet another efficient method for space management in the kitchen, pantry, and areas alike. In an era where minimalistic styles are trending, the demand for structures which can save space in a room as effectively as this one is rising and you should decidedly take advantage of this to cater to a ready market. Welding this rack together is a simple task; one that can be as easy as welding the brackets of tubing together.
Gate/Fence. Gates and fences are necessary protectors of private property and you can imagine the demand out there for these barriers to entry. Although gates and fences may be bigger projects than the other items in this category, being able to creatively and efficiently weld together a gate/fence that either complies with the general standard or is customized to a specific order will definitely ensure a substantial amount of profit for yourself.
Yard Arts. There are many individuals who love decorating their yards with sculptures, ornaments, and the likes; all of which can be classified as "art". As the objects which fall under this category are of a large variety and wide range, there is no doubt that you will be able to profit from serving yard decorators with their wants and needs. The ambiguous nature of this project is also an advantage to you as you have the leeway to create objects which not only interest the customer but also yourself.
Horseshoe Objects. Horseshoe objects appeal to much of the population due to their rustic and vintage style but especially horse lovers. Thus, you already have an existing market for said objects. There are a number of objects you can construct with horseshoe such as horseshoe puzzles, horseshoe bookends, horseshoe candle holders, etc. and most of them only require you to weld horseshoes together in different formations!
Interior Decoration. Interior decoration covers a broad scope of objects which can be used in the embellishment of a room. The possibilities of projects in this classification are endless but they all have one thing in common; they sell. Everybody searches for projects which represent their styles to decorate their rooms and homes and you can be a person who fulfills these desires by welding common items such as sculptures, photo frames, light fixtures, etc. Better still if you can do custom orders!
Model Vehicles. Model vehicles are always fascinating to the eye but there exist vehicle enthusiasts and collectors who are willing and able to pay hefty sums of money to purchase these miniature replicas! Naturally, there has to be skill and craftsmanship incorporated in the design and manufacture of these models but if you are a proficient and experienced welder who is capable of making them, you should not hesitate in selling them! 
ART WELDING PROJECTS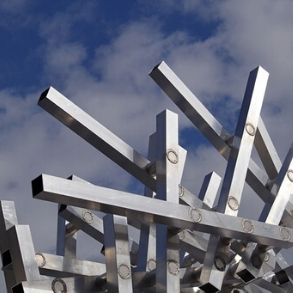 Animal Sculptures. Some of the most creative and artistic creations of welding are animal sculptures. There are countless possibilities as to what animal you can weld and how you can weld it and there is a great number of designs and plans available for you to use as guidelines were you to search for inspiration online. If you love animals or if you have a loved one who does then this would be the perfect idea for your next welding project.
Figurines. Figurines are akin to sculptures but typically depict human beings. Once again, there are many ways in which you can weld these figurines together to illustrate the concept you have in mind and there are many suggestions available online on how you can do so. Figurines are also great objects for customization which you can gift your loved ones or sell for a profit. You can even produce generic designs for tabletops and mantlepieces.
Monograms. Monograms are the subjects of many artistic welding projects and chances are that outlines for the specific initials you may want to weld already exist on the Interweb. Monograms are simplistic in design and just as simple to create by means of welding. They can be used as decoration within rooms and households and also for events such as weddings, birthdays and many more so if you find that you have a skill in welding monograms, you might want to start profiting off of it!
House Numbers. Sharing a similar nature with monograms, house numbers can be made decorative and attractive to appease those living in the house and those seeking these identifiers alike. Though they are not major in size, they definitely can play a big role in beautifying the exterior of the house. Again, since this is an element common to just about every household, if you find a taste for welding artistic house numbers then you should definitely look into selling them.
Metal Heart. Another common art welding project is metal hearts. Metal hearts, though they come in one obvious shape, can be of various sizes and designs and of course, you can very easily find inspiration and instruction for your metal heart online. They are very simple to weld and you can easily implement different designs. If you find this easy to weld and are looking to make sales, you are going to be one rich welder come weddings and Valentines' Day!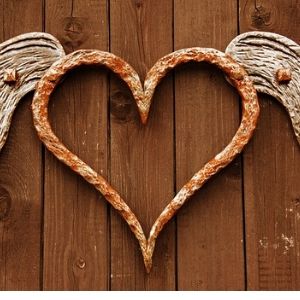 FUN WELDING PROJECTS TO DECORATE YOUR HOME
Hanging Signs. Hanging signs are a great aesthetic for your home and they are not only relatively easy but also fun to weld! You can use them to decorate your entryways, rooms and walls. Hanging signs are products which are great in demand and good for decoration but there is always the problem of not finding exactly what you are looking for and this is one you do not have to face yourself if you have the skills to weld your own!
Lamp Shades. If you have a lamp, you will need a lamp shade and if the lamp shades which are readily available in stores do not suit your taste buds then you have all the right reason to weld one which does. Lamp shades are common items to weld and therefore, you can even find many established designs and schemes which you can follow or use as inspiration for your own project. Impress your guests with how you can turn a common object into a decoration with your welding skills! 
Wall Clock. A wall clock is an interesting and challenging welding project to take on but if you successfully manage to weld one, you will have a beautiful masterpiece to adorn your wall it. You can make the design as basic or as intricate as you would and while there is a diverse range of designs you may use as reference; you can easily apply your creativity as you wish once you have the basic framework set in place. This is definitely a fun project which will keep your hands and your mind occupied.
Hammock Rocking Chair. A cross between a hammock and a rocking chair; this apparatus is not only fun to work on but also combines two articles of furniture used for relaxation to create fun for the household. All you have to do is weld together the frame of the rocking chair and then drape a hammock over it; as easily done as it is said! This unique furniture will relax you and decorate your home at the same time and what better dual-purpose can you ask for than that?
Screen Door. If a screen door is essential for the security of your home then why not enhance it by making it decorative to suit your personal taste and style? Although it is a sizeable structure, welding a screen door is not too difficult of a task and it is an implement which will serve its purpose for years and years. Once you have the dimensions and the frame as are necessary, you can customize the design according to your requirements and have a lovely yet secure installation at your entryway.
WELDING PROJECTS WITH REBAR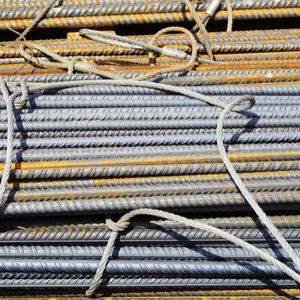 Rebar Table. An ordinary table but with a frame and legs made of rebar; this table is a lightweight and purposeful option which can be constructed using just rebar and wood. This table is not only easy to build but also simplistic and can add a touch of flair to the room it is placed in.
Rebar Stool. Rebar stools definitely fit the vintage industrial aesthetic and if that is the décor you are going for then these stools are what you need to be working on. Though they do vary, most rebar stools have a solid oak seating and consist of rebar for legs attached with steel flat bars and screws.
Rebar Stair Railing. Rebar is a great option for railings and is not only a considerably affordable alternative but also produces a rustic look for the stairway as a whole. They are simple to create and integrate with the wooden banister and steps as well as ensure a strong and sturdy structure.
Rebar Wine Rack. One of the most popular welding projects utilizing rebar is the rebar wine rack. Rebar wine racks are very easy to construct and can save you a lot of money compared to purchasing a similar item from a store. You can design the wine rack and adjust the shelving and spacing as you desire to accommodate your requirements.
Rebar Art. As rebar has a unique appearance and is relatively easy to bend into different forms, the vast majority of art welding projects incorporate rebar in them. You can use rebar to construct just about any artistic concept you have in mind that is feasible via welding.
WELDING CHRISTMAS PROJECTS
Miniature Christmas Tree. A miniature Christmas tree is just about one of the easiest welding projects you can assume! Believe it or not, there are different distinguished designs for this simple decoration and every one of them is as easy to create as the next! A minimal yet beautiful piece of décor to add some Christmas flair to your home.
Christmas Tree Ornaments. What's a Christmas tree without the decorations that make it special and distinct from the average tree in your garden? With your welding skills, you need not pay for the expensive ornaments that the shops try to sell you when you can easily weld together festive ones of your own. What could make your Christmas tree more special than that?
Lawn Ornaments. Christmas is a festive and joyous time and we try to embody that by means of decorating our houses as extravagantly as we can and lawn ornaments are usually part and parcel of the experience. Instead of dishing out precious pennies, you can add a personal touch to your lawn by welding your own ornaments this Christmas.
Star Light. The starlight is a welding project that is in progress in many welders' workshops around Christmas time and this year, it could find yourself in yours too! Beautiful incorporation of steel rods and LED lights, this artifact will definitely bring much light and warmth into your houses and your hearts.
Candlelight Tree. Similar to the structure of the miniature Christmas tree, this candlelight tree does not only serve as a Christmas decoration but also holds your tealight candles for you in a warm and beautiful overall display. Easy to create, this item will surely just as easily please your soul.
WELDING PROJECTS WITH SCRAP METAL
Suspension Stool. You can create beautiful suspension stools using just domed and curved circular steels amongst other scrap metals. This is one of the best and highly recommended welding projects using scrap metals and is also easily achievable and very functional.
Scrap Metal Sculptures. Though welded sculptures have been mentioned on this list, scrap metal sculptures are on a different league as they do not constitute of the same consistency and uniformity as regular art welding projects. Scrap metal sculptures simply involve fusing different metals of distinctively different natures, shapes and sizes to create an overall image.
Wagon. That's right, a wagon is one of the simplest yet one of the most useful structures in existence to haul goods around and you can very easily make one of your own using only scrap metals. All you have to do is weld the frame, support and wheels spindle together to create a simple flat wagon but of course with a little more time and money, you can build yourself a more functional one.
Firewood Caddy. Exhausted from lugging your firewood from Point A to Point B every single time it is needed? Worry not, you can easily weld yourself a useful firewood caddy to do the job for you using scrap metals you can easily find from your nearest local sources. It is inexpensive to build and can bear the weight that you shouldn't have to!
Wood-Fired Pizza Oven. Though this project also requires tanks which need modification, this pizza oven is comprised of just the modified tanks and a variety of scrap metals. It might stand out from the other welding projects on this list but it is a surprisingly commonly recommended scrap metal welding project and you will not have any difficulty in finding its design and plan.
PROJECTS TO SHOW OFF YOUR METAL WORKING SKILLS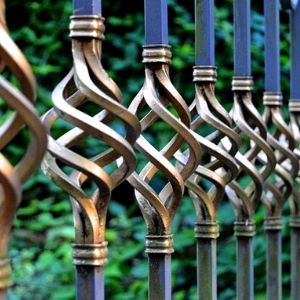 Smoker. A step up from the barbecue pit, you can weld together this cooking appliance to impress not only your dinner party guests but also your fellow welders. You will need two tanks; a big one for the smoke chamber and a small one for the fire box, as well as a number of other metals and materials but this is certainly a feasible project that you do not need to be a professional to successfully execute!
Wood Burning Stove. Similar to the smoker, this wood burning stove is yet another construction that can show off your welding skills. Though it might not seem as complicated as the others in this category, there are a few technicalities which go into its design that are challenging to implement and being able to do so will demonstrate just how good of a welder you are!
Tandem Bike. That's right, you can disassemble two identical bicycles and weld them together to create your very own tandem bike! This project will impress even welders who are experts in their field and while it may require much time and cost to bring into effect, the final product and the satisfaction it brings will all be worth it in the end.
Go-Kart Buggy. A step up from the tandem bike though, this welding project will definitely impress the professionals and believe it or not, despite being a substantial project to take on, it is actually relatively easy and affordable to construct. If you are looking for a challenge then this one is it!
Life-Sized Sculptures. We have discussed sculptures and general artwork on multiple occasions within this article alone but if you truly want to show off your creative and artistic side with integration to your welding and metalworking skills then life-sized sculptures may just be the easiest yet one of the most effective methods of doing so! Everybody is impressed by art and the only thing that makes it more impressive is its scale in size. If your miniature sculptures impress then perhaps you should truly bring them to life!
Frequently asked questions
How can I weld without a welder?
There are numerous methods you can employ to join metal parts together without welding amongst which are brazing, soldering, riveting, spot welding etc.
Where to buy metal for welding projects?
There are several places in every area where you can source your metals from. The most commonly available options are local businesses, hardware stores, warehouses, scrap yards, junk stores and even online.
What is the highest paid welding job?
Some of the highest earning welders are pipe welders, underwater welders as well as aerospace welders along with military support welders.
How can welders make extra money?
The easiest way would be to offer your service to friends and relatives. a good alternative to that is working on simple projects on your spare time, such as shelves, storing racks, smokers and then selling them for profit.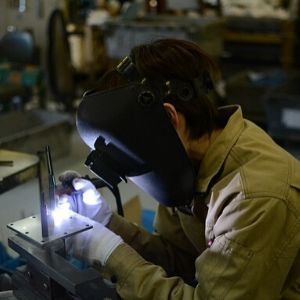 CONCLUSION
You have now reached the end of this ultimate list of welding projects. My only hope now is that I have inspired you with the projects listed above and motivated you to work on some of them in the near future.
Welding is a wonderful hobby as it teaches you persistence and gives you the ability to create one of a kind things for yourself and for others. The sense of accomplishment that one feels upon completing a project and seeing the creativity they brought to life is like no other; handmade is and always will be special.
There are numerous welding projects within numerous categories for you to explore; you were enticed by the world of welding for a reason and the possibilities that exist for you within are endless. If you were motivated to pursue a project on this list and if you have successfully completed it, please do share it with us for we would love to see what your talented hands are capable of producing! To quote the famous Charles Dickens, "Life is made of ever so many partings welded together", and I believe this quite literally applies to us so why not make the most of the experience by welding away!
Before you start welding, if you are a beginner, it is important to remind you to pay attention to the safety side of things. It's better to play it safe! The same goes for the wiring system and circuit breakers in your workshop. They have to be up to par with your machine.