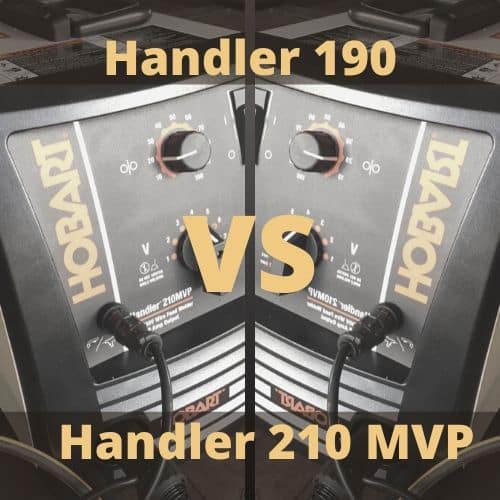 Hobart's line of welders is one of my favorites. To give you a brief history lesson, Hobart was founded in the beginning of the 20th century being one of the few pioneers in the welding industry. Hobart knows their things pretty well when it comes to welding equipment and the 190 and 210 MVP are not an exception. So I believe the reason why you are here is to find out which of these models is more suitable for you?
To find the answer to your question, let's put these machines side by side and compare every aspect starting from the power source to run the machine to the output and ending with the usability of both of these models.
| Specification | Hobart Handler 210 MVP | Hobart Handler 190 |
| --- | --- | --- |
| Input | 120/220 volts | 220 volts |
| Duty cycle | 120v 30% @ 90A / 220V 30% @ 150A | 220V 30% @ 130 A |
| Max/min amp range | 25 – 210 Amperages | 25 – 190 Amperages |
| Max/min metal thickness | 24 Ga up to 3/8 inch | 24 Ga up to 5/16 inch |
| Spool gun capable? | Yes | Yes |
| More details on Amazon | More Details | More Details |
The power source to run the 190 and 210 MVP
Since most of my blog readers are beginners or weekend warriors this part perhaps the most important aspect of this comparison. The source of power is an important factor to keep in mind when looking for a new welder.
Not all welders run on the 120-volt system nor do all of them run on a 220-volt system, so keep your eyes peeled for that. Some might be 220-volt only, and some might be multi-voltage welders, while many only can be used on a 120-volt outlet.
Everyone has 120 V outlets at home, but if you do not have an electrical system supporting 220-volts then you have a lot fewer options when choosing the right welder.
210 MVP
A huge advantage that 500553 has over many welders, is that it is possible to use it in a regular household electrical system, as well as in 220 V outlet. As a matter of fact, the MVP stands for Multi-Voltage Plug.
190 Model
Unlike the MVP, the 500554 can not run on a regular 120 V system. For some, it might be a downside, but as I mentioned earlier, not all welders can. For model 190, rated input is 220 volts only.
If you are looking for a welder that could run on the 120-volt current system, you should take a look at 140 amp class of welders.
Verdict
For me, the point goes to The Hobart Handler 210. The reason is that the multi-voltage plug makes the machine more versatile. Thanks to the 120 and 220-volt compatibility, it can be virtually be used everywhere.  
Do these machines pack a punch?
Indeed, every welder packs some punch, but the question is does it pack enough punch? Since you have made it this far, you probably are already certain that you have a 220V outlet. That is a good thing because it gives you the possibility to get quite a lot of oomph out of it as opposed to smaller cheap welders.
Let's have a look at how the Handles compare.
210 MVP
Handler 210 has more versatility in terms on outlets you can use it in, but when looking at the output range, it actually does not matter at all. The MVP system only helps out in terms of versatility – where you can use the machine. Many people tend to claim that the multi-voltage system or welding at the 120V system helps with thinner materials, but it is complete nonsense.
To make it even more clear, you can use both outlets to weld 24 gauge no doubt about that. The thickest you can go with 120V however is 3/16 of an inch, and with 220V remarkable 3/8 inches should be doable.
This 210 amp machine should eat ¼ inch plate without any hassle. So it is capable of small scale industrial projects.  
In terms of weld time, or the duty cycle in other words, is rated in the 115V outlet at 90 amps 20%. It is decent but nothing phenomenal. In 230V outlet, the duty cycle is much higher. At 150A it is rated 30%.
Now you might ask, what do these numbers mean? Simply the duty cycle % indicates how many minutes you can weld at a given amperage in a row. For example, at 150 amps, you could weld up to 3 minutes straight before the machine needs to cool down.  
Handler 190
The handler 500554 is only 220V machine but it does not limit much. The thicknesses you can weld range from 24ga up to 5/16 of an inch. It is a little less than the 210 amp machine which is to be expected.
With the smaller amount of power, the duty cycle is little shorter as well. In this case, you can weld three minutes at 130 Amps. To put that in numbers it is rated 30% at 130 amps.
I hope that the duty cycle part is clear enough for you now.
Verdict
And again, +1 to the MVP from me. Thanks to the amount of power it can produce, it can tackle bigger projects for longer periods of time as opposed to the 190 models. As you can see, both can handle ¼ inch thick materials. As a matter of fact, for 1/4 thick mild steel, 180 Amps would do the job, so the Hobart 190 is more than capable of that.  
The overall design of the Handler models
The overall design of the Hobart welders has stayed pretty much the same over the years. They seem to be really well-designed but they are quite heavy. Thanks to sturdiness, from the durability aspect, you do not have to worry about breaking it due to constant moving.  
The design aspect form the user perspective is as intuitive as it can be. Simple two-knob system to select the wire speed and voltage. They have not overcomplicated things but kept the design practical. That is one of the main reasons why they can offer such great machines at such competitive price welders.
Controls of the Hobart 210 and 190
The setting controls are not the most important part of the welder, but there are many machines that lack setting options. There are also many that have features like auto-set feature and whatnot. So before you buy a new welder, it is great to know what you get exactly.  
To make an example of why exactly I want to cover this part is, for example, the Hitbox multi-process welder does not have a manual wire feed speed option. It can be a pain in the putt if you want to fine-tune the machine or when you have to weld with a wire that's thickness is not compatible with the factory's auto-set feature.
As I already mentioned a few paragraphs back, Handlers have a simple two-knob control system. One is for wire feed speed and the other one for setting the voltage. What might bother some welders are the fact that voltage control is not infinite, but it is stepped. For beginners, it gives less room for error, but on the other hand, for professionals, it disables the ability to really fine-tune the voltage. Nevertheless, it is not a huge downside, both beginners and experienced welders can get the job done with it.
Weight and portability
Neither the 210 MVP or the Hobart 190 are the most innovative welders on the market. They started manufacturing them way back. This brings me to the technology that is used to create an arc. Namely, they use transformers for that. Due to that, they are heavy, a lot heavier than more innovative machines with inverters. The higher the output of the welder, the bigger transformer it needs, and that brings me to the weight of these welders.
The 210 MVP weighs little over 87 pounds, add a shielding gas bottle to that and a spool of wire and it is not so portable anymore. Unless you are going to weld with flux core wire.
As for the Hobart 190, it is not much lighter welder weighing 78 pounds, it is quite a bit of weight. Again, it is more portable with flux wire, but I would consider making a welding cart or buy one. Maybe I am lazy, but you can really hurt your back when dragging one of these around your shop. Welding cart would also fit a shielding gas bottle on it and a place to store your tools, really neat thing to have.
If you are into stick welding, read our guide on how to store your welding rods here.
The safety side of the machine
What should give you peace of mind with both, 210 MVP and 190 Handler have a 5-year warranty on electrical components like transformers and PC boards. 3-Year warranty on drive systems and a 1-year warranty on welding guns.
Furthermore, to lower the risk of ruining any electrical components, both of those welders have thermal overload protection systems in place. The protection system will shut down the machine if the components inside exceed a certain temperature. It can happen if you weld way over your duty cycle or in very hot conditions.
Usability: Handler 210 MVP vs 190
As far as the usability goes with these two machines, they are both pretty versatile in terms of what you can work on.
They are both able to run flux core wire if you need to work outdoors, they are also spool gun compatible for welding aluminum, and it also can run stainless steel wire with proper shielding gas.
Overall the projects to work on should not be a concern. They both can get anything done as long as you are not going to marry extremely thick materials.
Some things that they both would be suitable:
Any kind of maintenance and repair if you can clean the surfaces from rust and paint. For example, repairing exhaust.
Auto bodywork because they can run on 25 amps minimum
Light fabrication like cycle frames
Hobby welding
You can almost tackle any projects with these, except for cast iron and some of the more exotic materials that require TIG welding.
Things that could be improved
They are not the newest models on the market, but they are durable and reliable nevertheless. The Handler line of welders, any one of them is probably a way better than many cheaper end machines that are manufactured to be pocket-friendly.
I would not change a thing about those welders except the weight. With today's technology, it is possible to make 2-3 times lighter machines with the same output capacity.
Who should invest in these machines?  
As we have discussed, they are pretty much suitable for anything, but they can not do what TIG welders can, so if you are looking for a welder to do weld porn and weld exotic materials, it might not be the best option.
Besides that, they would suit almost anyone who has a 220V outlet available. Like most of the MIG welders, they suit professionals and beginners both. And taking into consideration the number of projects you can weld, as an average person, you more than likely ever use all the capabilities of those welders.
Hobart Handler 210 MVP vs 190 Frequently Asked Questions
How long is the power cord of these machines?
I believe the power cords on the machines are both 6 feet long. They are not as long as they could be, but you can always use an extension cord.
Can you do plasma cutting with these machines?
Unfortunately, it is not possible to do plasma cutting with these machines. They are designed to do flux core and Gas Metal Arc Welding only.
What size wire spools do they fit?
Both the Hobart 210 MVP and 190 can fit 8-inch or ten-pound spools of wire.
What's the warranty on them?
Both of these machines should come with a 3-year warranty on PC-boards and wire feeding systems. 5-year warranty on transformers along with stabilizers. Last but not least a 1-year warranty on welding guns. It is important to note that it also depends on from which supplier you decide to buy. The terms might vary according to the reseller rules.
Some extra equipment you might need to start welding
Both of the machines come with a spool of a sample of 2 LB flux-cored wire. To weld with regular wire, you need to buy a new roll. Besides that, for regular MIG, shielding gas is needed, but more than likely you already know that.
The most important thing I have to bring out is you make sure you take proper safety precautions when welding. Wear a welding helmet, and fire-resistant welding gear as well. I can not stress this enough, protect your eyes and skin from burns with the proper gear!
Every once in a while I see a video on the internet where someone is welding in shorts, without any protective equipment besides welding hood. That is unheard of.
Conclusion
As a conclusion to this comparison between the Hobart Handler 210 MVP and 190, it is safe to say that they are both suitable welders virtually for any task. I guess it all comes down to your budget, the input as well as the output of the welders.
If you need a Multi-Plug Voltage System, and you need a lot of oomph, go with the 210MVP. Full review here.
And if you only need 220v machine that has a bit less power, go with the 190 amp Handler. Full review here.