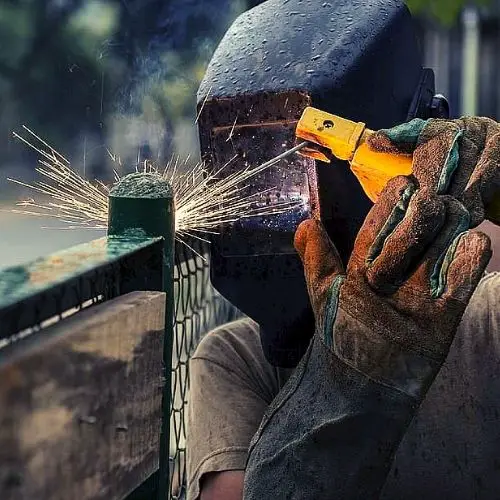 Probably one of the most annoying things about welding for most people is the spatter which will form. It can be a huge nuisance which not only ruins the quality of the weld but also takes a lot of time to remove. As a new welder, it is very important to understand the reasons why spatter is formed and any tips which can improve your final welds. Let's take a look at the basics of spatter formation.
You can greatly reduce spatter formation if you make sure to take the necessary precautions for it – this includes cleaning your base metal, using correct settings, and using proper shielding gas. Even if there is some spatter, you can use sprays and gels to prevent them from sticking on the base metal. That way they will be easy to remove after welding. If you do not have spray or a gel at hand, remove them by using any of the old methods like grinding or chipping.
WHAT IS WELDING SPATTER?
Have you ever seen those cool welding shots in movies where huge chunks of sparks are flying from the weld, well this might look cool but this is the thing that most welders dread the most. Welding spatter is the term for molten metal debris that becomes dislodged from the metals that are being welded together. As the molten metal is extremely hot, it can be dangerous and is generally an unintended byproduct which most welders try to control or prevent altogether.
In reality spatter is a form of defect which consists of pieces of metal which are molten and come flying out of the weld.
They tend to create multiple problems, the first, of course, being the safety issues. If spatter ever lands on your bare skin, it can burn right into your body. This is the reason why it is very important to wear all your safety equipment during the weld.
The second reason relates to the quality of the weld. Because spatter consists of liquid metal when it originates it tends to stick to anything it lands on. A lot of times when they land on the base metal you are working on, they can be pretty hard to remove.
WHAT CAUSES SPATTER IN WELDING?
When it comes to the reasons why spatter is formed, there can be a lot of them. There is no way that you can completely stop the formation of spatter but at least you should know the reasons that can lead to their formation.
Let's have a look at the most common reasons.
COMPOSITION OF THE METAL YOU ARE WORKING ON
One big factor which a lot of people don't address is the quality of the metal you are working on. Some alloys or types of metals are just not as weldable as others. while some metals which are of a cheaper quality can have a lot of additives present in them which can lead to higher spatter formation. A lot of these cheaper quality metals have contaminants that may not be suitable for welding.
COATING OF THE METAL
Basically, a lot of times manufacturers coat the metal with some layer to increase either its life or to give it a shine, or to protect it from rust. These coatings can be anything ranging from zinc, chrome to paint.
A lot of times these coating can cause excess spatter. Some types of coatings can actually help you during the weld but those are pretty rare.
DIRT
By dirt, I don't mean just dirt, but any contaminant which hasn't been cleaned from the surface of the metal before you started your work including oil, grease, and even marker lines. The presence of any of these can greatly increase spatter.
FILLER MATERIAL
It is not true that good things cost money but in this case, I am afraid you might have to dig a bit deeper into your pockets. If you are using high-quality filler materials of course the amount of spatter which will be formed will be very low. In a sense, this point is similar to the first one.
You can read more about my MIG wire recommended: Insiders Guide How to Choose the Right Filler Wire for GMAW Welding
For FCAW here. 3 Best Flux Cored Welding Wires That You Can Actually Marry Metal With
DIFFERENT TECHNIQUES
It might not matter what your travel speed is or if you are going to be using the push or pull method. But one thing which a lot of people don't realize is that the angle you will be welding with can greatly impact the amount of spatter. Steeper angles mean more spatter formation.
WRONG SETTINGS
If you are working with the wrong settings on your welder it might be the reason for increased spatter. For example, if you are working with GMAW then too high amperage settings will lead to more spatter. As the amperage is determined by the speed with which you are feeding the wire, you can slow it down to cut down on the amperage.
Similarly, not enough voltage can also lead to increased spatter formation as well as using high settings with small diameter wire.
WELDING GAS
Some gases will lead to more spatter formation while some might produce less. For example, CO2 is the most common gas which is used because of it being cheap but at the same time, it is also notorious for producing a lot of spatter. You are better off using CO2 and Argon blend if you want to reduce the spatter.
You can read more about welding gases here:
WELDER POLARITY SETTINGS
One of the things that often gets overlooked is the polarity settings you are using. It is especially important when you are stick or TIG welding. A lot of times, including myself, forget to change the polarity when switching between welding different metals or between different methods.
Like switching from MIG to FCAW, switch the polarity from DCEP to DCEN.
HOW TO REDUCE SPATTER IN WELDING?
As I mentioned before, there is practically nothing you can do to completely stop any spatter formation but there are things you can do to keep it under control. To begin with, try to make sure that the equipment you are using is of high quality. Including the base metal, shielding gas, and filler material. Lower-quality materials will only make the matter worse for you. But even if you cannot afford a better quality material there are other things you can do to ensure less spatter.
These should be the basic thing any of us can do as a welder:
Grind off an extra layer of protective coating on the metal, which takes me to the next point which is to properly clean the base metal before working on it.
You should also make sure you are working with the correct settings.
Check that you have a good ground connection.
The most common angle to work with is considered to be around 15 degrees so try to be as close to this number as possible.
Check the polarity of the welder
IF I CAN'T PREVENT IT, HOW TO REMOVE IT?
This might be the most annoying part of welding when you have to clean the final weld from any spatter which may have formed. The thing is, even if you take all the precautions, chances are that you will face some level of spatter.
There are majorly three ways of removing or cleaning spatter from the surface of your metal. Grinding, chipping, and wiping after using sprays.
Grinding is the most commonly used method out there, this is because of its cost-effectiveness. At the same time, if you decide to take an angle grinder and get to the job, it can be quite tedious and time-consuming.
The second method would be to use a chipping hammer and chip away the spatter. This method is more commonly used when you are dealing with smaller quantities of spatter.
The last method is more of a preventive step. Using anti spatter spray or even nozzle dip. I will address this in the next section in more detail.
HOW TO GET SPATTER OFF CLASS & CAN SPATTER DAMAGE CLASS
One of the most annoying things which can happen when someone is renovating a house or working on a car, doing a weld next to the glass and getting the spatter on it. You have to keep in mind that spatter is very hot metal particles that hit the glass at considerable speeds. Usually, if you are welding near glass without taking any precautions spatter can get burnt into the glass surface.
If this happens it can be a considerable annoyance to remove, glass polishing is usually the way to go. If you haven't ever done it before I would recommend seeking help from a professional. If the cleaning job is just for a home hobbyist then there are do it yourself kits available out there.
You can read more about it here.
WHAT'S THE USE OF ANTI SPATTER SPRAY & NOZZLE GEL
The use of anti-spatter sprays is kind of controversial, some people like using it while some never use it. The thing is that you need to know what the spray is used for and why you should use it. Anti-spatter spray is not meant to stop spatter formation, on the other hand, it is used so that the spatter doesn't stick to the base metal. Using the right spray can make the spatter particles just slide off.
But if you use too much of the spray it can lead to further problems like porosity in the final weld. Another preventive method is the use of welding tape to stop the spatter from sticking to the metal, this method is pretty cost-effective but can take a lot of time to implement.
A nozzle gel I quite commonly used majorly from stopping the spatter from clogging the welding nozzle. The gel can greatly increase the life of the welding tips, but I have seen people used it if they don't have the spray at hand to protect the base metal in critical areas.
FREQUENTLY ASKED QUESTIONS
Knowing about spatter formation can significantly improve your welding experience and leverage your time associated with welding. I will try to address the most common doubts related to the topic below.
CAN SPATTER FORMATION BE COMPLETELY PREVENTED?
As I stated earlier, stopping spatter completely is pretty much impossible, there will always be some sort of spatter. But you should always aim to lower the amount of spatter being formed.
WHAT ARE SOME OF THE OTHER DEFECTS RELATED TO WELDING?
There are a lot of defects that you will come across as a welder including cracks, undercut, craters, porosity, distortions, and incomplete filling.
WHAT IS A GOOD ANGLE TO WELD ON?
Most people agree that unless otherwise specified, 15 degrees is a good angle to work on to minimize spatter.
WHAT STEPS CAN BE TAKEN IN RELATION TO USE OF CONSUMABLES TO REDUCE SPATTER?
Make sure you are taking proper care of the consumables like cleaning and properly storing them. for example, even though stainless steel doesn't rust you should properly wipe them before using them. even with stainless steel, you should have them covered in case you are going to be grinding steel next to them.
CONCLUSION
To sum it all up, spatter is one of the most notorious defects of welding. You can greatly lower the spatter formation if you keep in mind the precautions and reasons for its formation in the first place. Make sure you are using the right settings and shielding gas and everything is clean before you start the project. Also, make sure to read up about the different things you can do for removing the spatter like grinding and chipping.
Additional reading: