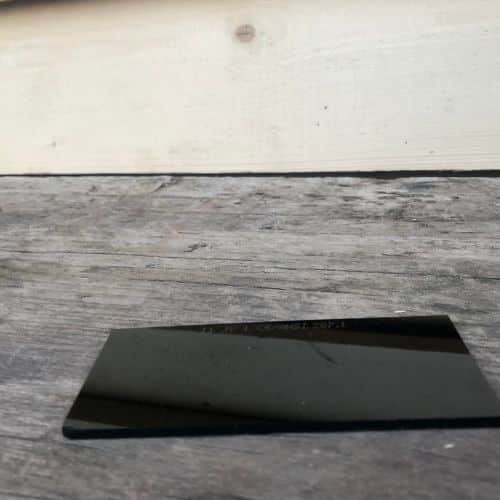 Welding is a very important occupation, though the risks attached to it make it a hard job to accomplish. When you work with extreme heat with a very high chance of you suddenly catching fire, you tend to be on edge. Not only is the body at risk but your eyes are as well. Welding uses extreme temperatures to fuse two metals together. The process ends up producing intense light that can temporarily or permanently blind a person if you are not careful enough.
Fortunately for welders, the advancements in today's technology have helped make exceptional protective gear that can not only protect their bodies but their eyes and ears as well. Passive welding lenses are the best way help welders to stare down at the metals as they work to fuse the metals in the right place. You have to see what you're doing in order to do it well and to protect yourself from getting blind.
Product Reviews:
The core function of any passive welding lens is to protect the eyes from the intense light that can damage the pupils and end up blinding welders. People purchasing secondhand equipment might be the wrong way to go about things in this case because the efficiency of the lenses in protecting the eyes is severely compromised, and the lenses are not actually that expensive. This is why we have provided a list of 5 best passive welding lenses that you could purchase for yourself.
Forney 57070 Lens Replacement Gold Welding Filter – Best Overall:
Forney is known for its great welding products worldwide. The company's products range from welding jackets to even welding sleeves. The Forney 57070 Lens Replacement Gold Welding Filter welding lens is probably one of their best passive welding lenses. Their product comes in a replaceable gold coated color with top tech lens quality that is patented to the company itself.
The optical clarity you achieve through their product is mind-blowing, considering you cannot stare into intense light for long. Attaching this lens to any helmet can help you withstand any bright light, which puts the product on top of the market.
Key Features:
Amazing  5 1/4-Inch x 4 1/2-Inch plastic welding filter lens that is enough to look around completely and make sense of the metals you are working on.
The gold coating reflects 90-Percent of radiated heat. This helps protect your face from any nasty burns or even the probability of some cancers.
It provides 99.9-Percent UV/IR protection which is more than most lenses in the market. The standard average is set around 98 percent because human eyes cannot tolerate being exposed to such lights for long.
It can be used in tighter spaces as the design has a narrow shell that can fit into any tight spot while providing the user with great comfort.  
The product has a warranty claim within 90 days that gives customers the flexibility to inspect the product properly.
Easy to fit in, easy to carry because of its lightweight quality and large viewing area that gives customers the ability to look around with ease.  
Pros:
Standard 10 shade protects the eyes from discomfort
Wide display for viewing welding work
Good quality, flame resistant surface
Optical clarity through lens unmatched
Gold coating reflects 90 percent of the light.
Cons:
Cannot be used for large-scale projects
Forney 57008 Lens Replacement Hardened Glass – Best Lightweight Lens:
This welding lens has given countless vendors that vintage feel. The product is made in the United States with state-of-the-art tech that has maximized its hardening potential. The Forney 57008 Lens is not only comfortable and easy to use but also has great flame-resistant capabilities, going up to temperatures of 130 degrees. Quite affordable and stylish, this product is one of the best passive welding lenses out there. The large viewing panel is what attracts the welders first and the flame-resistant glass provides the additional benefit. Its performance equals that of any auto-shading welding helmet out there.
Key Features:
The lenses can resist heat up to 130 degrees Celsius, which makes the product durable in some of the harshest situations known to welders.
The lens has a wide 4 1/4-Inch x 2-Inch display with shaded see-through glass that protects your eyes from the intense rays of light.
The standard 10 shaded lens that is enough for any welding work. Your eyes will be protected from the intense light that shines through.  
It isn't the best gold welding lens but it gets the job done.
High-quality material offers superior protection from dust, weld spatter and impact
Pros:
It provides 99.9 percent protection against UV light from the sun.
Flame Resistant
Wide viewing area to cover more ground on welding
Affordable
Cons:
Not enough viewing space for larger heads.
GLASS GOLD Shade Welding lens– Best Looking Welding Lens:
This welding lens has been known to be one of the most good looking and stylish welding lenses out there. Anyone looking for something out of the box and much more profound can purchase the lens and enjoy the perks that come with it. The gold-plated surface has a 98 percent protection rating and the product has two variants that customers can choose from. The most prominent feature is how the welding lens ends up fitting all variations of welding helmets out there.  
Key Features:
2 x 4.25″in. viewing area that allows enough space for you to view your surroundings as well as get clarity while working on the metals.
Standard 10 shade which helps protect the eyes against light changes.
Fits all sorts of welding helmets that are available in the market.
Perfect for large-headed people who are looking to work in the field of welding and require a welding lens for a larger helmet.
Pros:
Stylish gold-plated design
Wide lens for clarity
Two different variants available as per customer choice
Adjustable headgear for maximum comfort
Cons:
Quite heavy
Slightly expensive
Gold Coated Green Welding Filter – Best Optical Clarity:
The trickiest bit while looking for a welding lens is to find a product that allows you to view the welding work easily without damaging the eyes. Electric lenses nowadays protect the user from intense heat as well as intense lighting from the fusion of metals but they still fall short to the Gold Coated Green Welding filter. It helps provide a crystal-clear optical quality and is one of the fewer green colored welding lenses available in the market.
The Green Athermal Welding lens features protection against not only light but is also sensitive towards the touch. Make sure you wipe the lens with proper cleaners before you start using it.
Key Features:
The top-quality Scott German glass keeps the radiation from reaching your face while protecting your eyes from harmful UV rays. All this and it is still crystal clear to look from.
The lightweight, high-density glass edges and center are all flame-resistant.  
It does not produce any sort of bubbles or form other defects under stringent situations where several fusions produce large amounts of heat.
Pros:
Premium quality glass
Wide 4.25 x 2 x inches lens
Standard 10 shade
Lightweight and dense core
Cons:
Lack of visibility in almost dark situations
Forney 57052 Lens Replacement Hardened Glass – Best Budget-Friendly:
If you're in the market looking for a welding lens that is big enough that it can match your ideal requirement but at the same time is cheap, this is the one for you. The viewing size of the Forney 57052 Lens is one of the best there is in the market but the sheer protective quality of the lens with a dense glass is enough to get you going. The overall weight of the welding lens is around 3 ounces which is light enough to be used more frequently and for a longer duration. This is one of the best passive welding lenses in the market right now.
Key Features:
Lightweight and easy to use for hours without resting. The glass is flame-resistant and can fit almost all helmets.
High-quality material offers superior protection from dust, weld spatter and impact.
Convenient bendable design to keep the overall quality of the lens worth your while
Two modes where the glass can become even darker if need be. The extra shader is attached and can be lifted up when light conditions are fine.  
Pros:
Cheap
Easy to install
Top-quality glass with clarity
One-for-all design to fit all helmets
Lightweight
Cons:
Too much bend and the glass can break
Buying Guide- How to buy the most suitable welding lens
The above mentioned best passive welding lenses are all great, known in the market for their quality as well as their heat and light resistance. However, these aren't the only things that you look for while purchasing a welding helmet. A good welding helmet and lens require several features to be in place and taken into consideration like comfort.
Knowing what to look for in the welding lens can help assist in the purchase. Here are several characteristics that can make a difference.
Types of Welding Helmets?
There are two kinds of welding helmets available in the market. Depending on your requirements, you can choose between the two.
Best Passive Welding Lenses:
These types of welding helmets and their lenses are popular in the market as they are known as the traditional choice for all welders. They come usually with shade 10 in all the best passive welding lenses which means you cannot adjust the helmet's capability to turn the shade darker or lighter. There are several advantages to that which include how the passive helmet uses ultraviolet and infrared coated glass that helps protect the eyes from any unnecessary flares of light.
Furthermore, they are far cheaper than those of auto-darkening welding helmets which means you get great value for a cheaper price. The standard welding helmets are mostly made from molded plastics which is the reason behind the cheapness of these products. The lens, however, is brand new and different companies have added in their own features over the years to make them a more attractive option.
Auto-Darkening Welding Helmets:
These types of welding helmets do not require the welder to frequently flip through the welding lens because the auto-darkening feature takes care of that. Although these helmets are pretty expensive, they provide additional care for the eyes and better clarity when working on projects in poor light conditions. The auto-darkening feature in these helmets has multiple arc sensors that detect light and provide shading on the screen accordingly.
The major advantage of these welding helmets is that you can carry on with the welding work without any disturbances or you losing your concentration. These helmets are particularly made for big industrial welding projects that require welders to work non-stop for hours. You can read more about these helmets here
Viewing Size:
The viewing size is one of the most important things you check while purchasing your welding lens, it has to match with your current helmet. The viewing size allows welders to comfortably look around and grab the full picture. Narrow viewing sizes are very annoying and can meddle with your performance overall. Most of the welding lens sizes range from 5 to 7 inches which is more than enough space for you to be able to view your task properly and complete it in the most professional manner possible.
Athermal or Non-Athermal lens?
The Athermal green lenses offered by Phillips Safety Products, Inc. are made in Germany by Schott Glass. This high-quality welding glass offers protection from all three kinds of radiation present during welding operations. These lenses provide extreme optical clarity and visual acuity while the grey-green color helps prevent eye fatigue by dimming bright flares and reducing scattered light.
The high optical clarity achieved through such lenses is the entire reason why customers prefer them over other lenses. Even gold-plated lenses have some limitations when they are compared to Athermal green lenses. This is the reason why the above mentioned green lenses were much more expensive than the standard gold plated lenses.
However, they can also be very fragile and one drop is enough to end up breaking the glass and damaging them. Therefore, you need to be really careful while handling welding masks.
Gold Coated or Non-Gold Coated welding lens?
All of the benefits of lenses plus the addition of extra protection from infrared radiation. These lenses are comprised of the standard lens with a gold mirror coating. This coating reflects 90% of infrared radiation and reduces the heat to which the eyes are exposed. It also reduces eye strain to a greater degree than the green lens due to the reflective surface which reverts both IR and UV spectrum radiation at a higher rate than the standard lens.
FAQ Section:
What are the prices of gold welding shade lens 12?
Good welding lenses can range anywhere from 5 to 200 bucks depending on whether they are passive welding lenses or auto-darkening welding lenses with sensor technology.
Which welding lenses do welders prefer more?
That would mostly depend on their requirements. If the workshop is small and does not require large scale welding work, welders usually purchase the standard welding equipment. However, if the work is industrial grade, the auto-darkening welding lenses are preferred more.
What is the key characteristic to bet your decision on?
That would be the viewing size. You can purchase the best of the best but if it has a small opening through which you cannot see properly, the whole point of the lenses and helmet just vanishes.
Is Buying a Cheaper, standard passive welding lens worth it?
Yes, it is. Standard passive welding lenses are preferred by beginners as well as professionals who like to keep in touch with the old days where technology wasn't as advanced.
Conclusion:
Finding the best passive welding lenses for yourself might seem like a huge task right now but once you get done with it, you will feel the difference between the old and the new. Assuming you were already using an old helmet with an old welding lens, a new one will work like a charm and the investment will definitely end up optimizing your performance. This ultimately impresses your customers with your fine work.
If you are a beginner welder looking for a small welder to practice with, take a peek at my brief review on Century FC 90