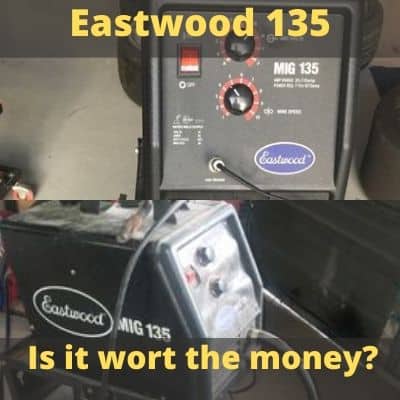 Finding the right welder without burning a hole in your pocket is difficult. Most of the welders recommended by professionals will cost you an arm and leg. To cost of the machine add the gas cylinders as well as safety gear and without noticing you have spent a couple of thousand bucks. But is the Eastwood 135 MIG welder a more reasonable option? We will find that out in this review.
So without any further ado, let's go over the details of this machine to get a better understanding of what you are buying exactly.
Eastwood 135 welder Review
Eastwood was actually founded in 1978 and its main focus is providing automotive restoration solutions. 1978 is not so long ago compared to some giants in the welding world, but as of today, Eastwood has become a huge company offering thousands of products from chemicals for rust removal, coatings, paint and gear for metal fabrication and welding.
As you can assume that because their products are mainly designed for restoration projects, so are the welders. That, however, does not mean that the welders can not be used for other types of jobs.
Let us go deeper to find out more about the machine and the potential applications of it.
Power source to run the welder
Not all welders can be used in 120 or 220-volt outputs. It varies from machine to machine, some are even using Multi-Plug Technology which makes it possible to use a welder in both circuits.
If you are a beginner welder, you more than likely are looking for a machine that can run on a regular household electric circuit. Luckily, 135 amp Eastwood welder does just that. Like all welders that produce less than 140 amps, so does this run a 120-volt current, making it possible to use virtually almost everywhere. It is important to note though that you would need at least 20 amp breaker to power the machine without issues.
Does Eastwood 135 MIG pack a punch?
This Eastwood 135 MIG can produce anywhere between 25-135 amps of juice. For you as a user that means you can weld from 24 gauge up to 3/16 of an inch thick mild and stainless steel with it. 3/16 might not seem like a lot, but for most auto bodywork and restoration, it is more than enough actually. The same goes for novice welders – at the beginning, you probably will not tackle bigger projects anyway. It is far more important to get your feet wet in the beginning for a reasonable price. Later on, it is possible to expand your arsenal with more heavy-duty machines.
If the 3/16 is not enough, and you really need to weld some thicker steel, then with flux core wire you can squeeze a little more out of your welder and go a little deeper. Up to 1/4 inch if you have some skill under your belt.
The specs are decent, but if you are familiar with welding, you also know that every welder has its own duty cycle. The duty cycle represents the time you can weld at a given amperage out of 10 minutes. The time you can weld is always represented by a percentage. So for the Eastwood 135, it is rated 20% at 90A.
Based on my previous explanation you can understand that at 90 amps you can weld two minutes straight out of ten before the thermal overload protection kicks in and turns off the machine.
The thermal protection is used to protect the electric components of the welder overheating.
The overall design of the welder
The overall design of the Eastwood 135 is nice and up to par with the quality which you might expect from slightly more expensive machines made in the US. It does not feel cheap at all although the welders are made in China.
One thing that could be improved is the drive roll system. From a 90 amp flux wire welders, I would not expect a cast aluminum drive roll, but this should have one. It is designed to use with regular welding wire which is a lot more rugged than soft flux core. In the long term, you might encounter some problems feeding problems due to that.  
Controls of the machine
Controls on the Eastwood welder are simple and intuitive. It has two knobs – one for voltage and one for wire feed speed. Both of them are infinite, which means you have more control over the settings. Infinite voltage control is still rather a new thing, and it is a huge plus for a small welder like this. This makes it possible to get really great results with sheet metal.
For flux core welding if you did not know, you have to change the polarity of the welder. With this MIG it is a breeze to do. For that, you just have to switch two cables right where the drive roll is placed, and if I am correct, you do not need any extra tools to do that.  
Weight and portability
From the weight side, it is as to be expected from a 135 amp welder using transformer technology. It is roughly 60 LBS if you use small wire spool. It is not a lot, but it could be lighter if the inverter was used. 60 LBS is fairly portable, but carrying a shielding gas with you, depending on the size of the bottle might be quite annoying. So I would advise you as a first project to make a decent welding cart for it.
Besides that, if you are using a flux core, it is one of the most portable machines you can get your hands on.
Usability of the Welder
As I mentioned, Eastwood is geared towards restoration and fabrication work like welding body panels or fixing exhaust pipes, welding bicycle frames, etc. However, that does not mean it can not be used for other stuff.
You can tackle a ton of projects with it as an artist or just a novice welder. It is perfect for virtually any job as long as the metal thickness ranges from 24 gauge to 3/16". It would even be suitable for farm use thanks to flux core capabilities.
With Eastwood 135 machine, it is possible to use a spool gun as well, for more delicate sheet metal work and potentially even aluminum. That is a nice little feature that most of the welders at this price range do not have.
Things that could be improved
For the money, you really can not complain. You get well over your money's worth considering it is a MIG welder with infinite controls, portable, packing 135 amps while being spool gun compatible.
What's even more, the ground clamp they include is actually better than most welders in the same price range include, same goes to the welding gun. They do not feel cheap, but more like a mid-range in terms of quality. They even include gas regulators with Eastwood 135 adding even more value. Usually, gas regulators like this go for 30-50 bucks, so it definitely helps you to save spending on extra equipment.  
The one thing is the wire drive is made out of plastic. The cast aluminum would be a more durable option but that does not mean it is not going to last. In fact, it can work for years to come so I would not worry about that
Why it is a good option for beginners and thin metal
MIG welding, in general, is really beginner-friendly method to learn and that is one of the reasons why this machine would suit novices perfectly. Besides the intuitive systems, and perhaps the most important factor, it is also relatively cheap welder to start on learning the craft.
It is only a 135 Amp machine, making it perfect for working on thin materials since it does not burn as hot as heavy-duty welders. If by a coincidence you are a metal fabricator, more than likely it would be suitable for you as well. As long as you do not need to weld extremely thick materials for long periods of time. If that is the case, I would recommend a more capable machine.
Some extra equipment you might need to start with welding.
If you are a beginner, do not forget the importance of safety. It is really crucial to use proper personal protective equipment to avoid damaging your health. As interesting welding is, it is also a dangerous profession.
If you are not familiar with the topic, the first few things you need are welding helmet, welding jacket, and welding gloves. These are essential and you can not get by without them. I have a ton of articles on my site and if you look around a bit, you will find everything you need.
Also, you need a good welding wire to get quality beads. From wires, I recommend this one from Amazon. I am using it and it is really good.
Conclusion
To sum this review on Eastwood 135 MIG, I must say that this welder is a great option for the bucks you have to spend. I would prefer a more powerful machine myself, but if you are just starting out, it is more than capable for a beginner.
If you have a 220-volt system and you are considering a machine that has some more oomph to it, check out this article as well.