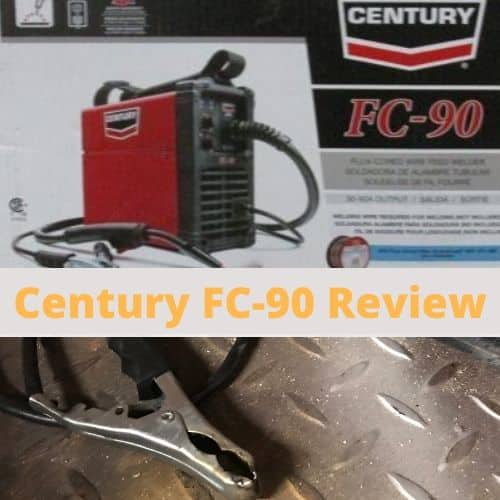 To start off this review on Century FC 90, I would like to note that for the money this welder costs, there are not many good options available on the market. Most of the welders at this price point will get the job done, but almost none of them are designed with the end customer in mind.
Century welders should be owned by the Lincoln Electrics which is a very well known brand all over the world. The quality of the products that Lincoln Produces is top-notch, but is that the case with Century as well?
Let's have a deeper look into the details into this machine to have a better understanding of what you will get for your money.
Century 90 flux core welder review
If you are reading this review, there can not be many reasons behind it I believe. Probably one of them is that you do not want to waste a ton of money on a welder, but you really do not want to go off and buy that cheap Harbor Freight one either.
Maybe you are an occasional welder or hobbyist that just does not need to weld on a daily basis, but still, you are looking for a good quality machine. Well, (Spoiler Alert!) This flux core wire welder is one of them, if not the best 90 amp class welder you can buy.
But let's dissect the machine and discuss each and every bit it has to offer.
The Power source to run the welder
As expected from such a small machine, it runs on a household 120-volt outlet. I would advise you to make sure you have at least 20 amp breakers, to avoid popping it. Some claim that 15 Amp works for them, but a bigger breaker would save you from unnecessary exercise to the fuse box after every couple of beads.
What's even better is that the machine can be used with generators to my knowledge because it is inverter-based. Not that you might need it to be used in remote places, but you will never know what life has in store for you.
Controls of the machine
Since the K3493-1 is not a fancy machine with many features, it only has two control knobs. From there you can set your voltage and wire feed speed.
What makes this Century stand apart from similar welders, or even from some premium ones, is that the controls are not tapped but infinite. What that means is, you can tune the voltage output slightly more according to your project.
That is really crucial if you are working with sheet metals like exhaust, fence tubes, etc. Or with projects that have to be more pleasing to the eye like bicycle frames.
The overall design of FC-90
The overall design of the machine speaks quality. It does not feel cheap, but sturdy thanks to the outer metal covers.
Besides the nice red color, even more, pleasing is the portability of the welder. It weighs roughly 19 pounds. For a welder, it is really light, thanks to the inverter tech. To make it even easier to carry around, it comes with a shoulder strap. And since you can use it with generators, carrying it around between different projects is a breeze.
From the safety side, it has also thermal overload protection. It is important to have it if you are welding for long periods of time at high amperage. This protection system shuts the welder down if it needs to cool down to prevent the heat from ruining the inverter.
The only things that bother me from the design side of things are the short cables, so you might need an extension cord depending on where you and on what you are working on.  
Does Century 90 Amp machine pack a punch?
To be frank, it does pack a punch, but it might not be enough for some. It is rated for ¼ inch mild steel by manufacturer, but it is only possible to operate the machine between 30 – 90 amps. The more reasonable maximum thickness would be 3/16, but even for that, it is not the most perfect welder.
To lay down welds on ¼ inch, you should bevel your material or at least weld it from both sides of the joint. Another way to add some extra penetration would be to preheat the base metals before welding. In that case, it might work fine.
The thinnest it is rated is 18 gauge at 30 amps, but I reckon it is possible to go a little bit thinner if you dial down the setting to the minimum. When working with anything lower than 18 Ga, you should be extra careful to not blow holes in your work. It would be reasonable to run short beads to avoid heating the metals too much, which increases the blow-through chances.
Overall, I think it has enough oomph for hobby and occasional welders along with metal artists.
Usability of the K3493-1 Wire feeder
This 90 amp is a flux wire machine, so it is only limited to welding mild steel. This might be an important piece of information for some who would like to tackle other projects in the future.
Besides that, it is really a breeze to use. It is even more intuitive than some other, more advanced premium machine since it has only two knobs to control the settings. To make life even easier for you, it also has the recommended settings chart behind the spool lid.
It is rated to use with .035 wire, but for a machine that can only produce 90 amps, I would try out .030 as well. For some, it works better, depending on your skill.
To conclude, it is suitable for most jobs, as long as you are dealing with mild steel between 18 Ga up to 3/16 (just to be on the safe side). Whether you are working indoors on some metal fabrication or outdoors in the yard or perhaps on the farm. For farm use, it might be a bit too small machine, but it definitely is portable, so if your equipment breaks down on the field, you can repair it wherever if you have a generator.
Things that could be improved
There are some things that could be improved with every machine. The first thing I would do is switch the ground camp to a better one. The one they include is good enough, but for better connection and welds for that matter, I would buy studier one with copper teeth.
Secondly, the welding gun is a lower-tiered one, but it functions great, and if you are not an everyday welder, it more than likely will last for a long time.
The third thing is that they do not include filler wire with the machine. It can only fit 2 LB spools, so make sure you pick up one .035 diameter one. I would recommend this one from Amazon.
Just buying a random spool would not be a great option. Usually, most of them are crap. To save you from the potential hurdles, pick the one I recommended or find some made by Hobart Brothers or Lincoln electric.
I have a whole guide about FCAW fillers here.
Why it is a good welder in my opinion?
Well, if compared to other 90 amp welders in the same class, for the money you will get a lot more. The FC 90 is built with quality and end-user in mind. It is fairly cheap and light and considering it costs around 200 bucks it would be my pick every day of the week and twice on Sunday, but only if I was looking for a welder that can tackle smaller jobs around the house.
The 3/16 inch is not a lot, but it can be enough to get a lot done, but if you are potentially looking to tackle bigger projects in the future, I would consider getting a 140 Amp machine.
Some extra equipment you might need to start with flux core welding
I have seen countless videos on the internet where the people are just dumb not wearing any safety equipment. It feels like some people are just going to have to learn in a hard way.
Anyway if you are not one of those people, make sure you have at least a pair of welding gloves and a decent welding helmet. Besides that, if you have the budget get a decent welding jacket as well. These should be the bare minimum items you are using to protect yourself from the spatter and sparks. Whatever you do, do not wear nylon! Sparks will melt right through nylon and melt into your skin, and it feels horrible.
Since it is a flux machine, I also read this post about the importance of nozzle gel. It is cheap and will help you to save money on contact tips.
Besides that, a wire brush is needed. If you already have one, great! If not, you need it to clean the flux from the beads after welding. A grinder would be a great idea as well.
Conclusion
I did my best to keep this review on Century FC90 short and sweet as possible, and to sum it up, I believe it is a remarkable piece of equipment to invest in. The FC90 just has an edge over its competitors with the quality design, and it crashes every other 90 amp welder by far. Since it is inverter-based, it runs much smoother than many other transformer machines, while being more economical and lighter.
Without a doubt, you would get a lot of work done with this little booger around the house.
Overall, if you have made it this far, I would encourage you to make the hard decision and make the investment. I am more than sure you will not regret it.